Gunshot wounds and blood are unable to conceal the text on the red shirt worn by labor rights leader Dandy Miguel the night he was killed: 'Sahod, trabaho, karapatan, ipaglaban'
Slain Pagkakaisa ng Manggagawa sa Timog Katagalugan (PAMANTIK-KMU) vice chairperson Dandy Miguel was always one of the first people to stand up for, and be in solidarity with, workers facing labor issues in the region.
His courage was admired not just by workers, but also the human rights community. "Pang Dandy," as he was called by his colleagues, radiated a strong sense of determination and grit that inspired many – from his union members to even the youth sector.
But in the aftermath of the March 7 police crackdown which saw 9 activists killed in Calabarzon, many of whom were his colleagues, Miguel admitted to Rappler that he felt scared and nervous.
Asked why he continues despite the danger, Miguel said that turning one's back to the labor rights movement and those who need help the most is counterproductive. It wasn't his fight alone, after all.
"Hindi lang ito para sa akin, para ito sa aking kapwa manggagawa, sa aking mga magiging anak at magiging apo," Miguel, a father of two, said.
(This is not just for me, but also for my fellow workers, future children, and grandchildren.)
On March 28, exactly 3 weeks since "Bloody Sunday," 35-year-old Miguel was gunned down while riding his motorcycle in Calamba, Laguna.
He carried the fight for fair labor up to the very end of his short life.
Gunshot wounds and blood were unable to conceal what was printed on the red shirt worn by Miguel that night: "Sahod, trabaho, karapatan, ipaglaban" (Fight for salary, jobs, and rights)
Not terrorism
Miguel was born to a family of workers. He was raised in Valenzuela City, attending Malinte Elementary School and Valenzuela National High School.
In 2006, Miguel started working for Fuji Electric Philippines in Laguna. He went on to become the president of the factory's independent union in 2017, leading 400 workers.
At the time of his death, Miguel was vice chairperson of PAMANTIK-KMU, a labor rights center in Calabarzon. The group marked its 37th year anniversary on Monday, March 29.
Miguel's work included documenting labor rights violations in the region known for its various industrial zones. He was one of the strong voices calling for minimum wage increase and an end to contractualization.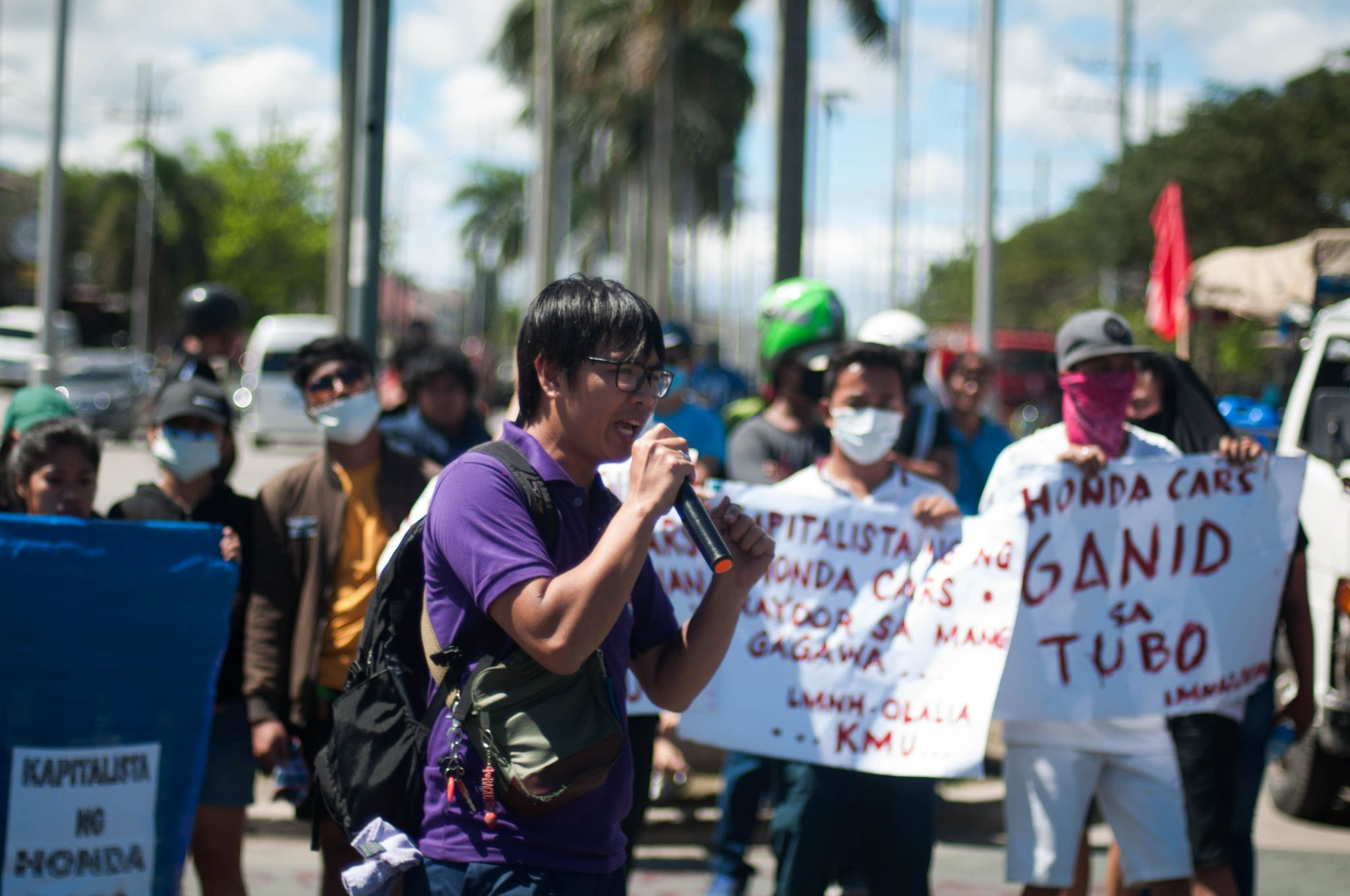 Because of the nature of their work, PAMANTIK-KMU became a frequent subject of constant red-tagging and villification both online and on the ground.
"Hindi po terorismo ang aming ginagawa, hindi terorismo ang pagtulong sa kapwa manggagawa at mamamayan na inaapi at pinagsasamantalahan ng mga mayayaman," Miguel said in a March 9 interview with Rappler.
(What I'm doing is not just for myself, but also for my fellow workers, my children, and my future grandchildren. What we're doing is not terrorism. Helping workers and citizens who are abused is not terrorism.)
In fact, Miguel is the 3rd PAMANTIK-KMU officer to get killed, following the killing of then-president Diosdado Fortuna in September 2005 and Rey Malaborbor in 2019.
He also served as the president of Lakas ng Nagkakaisang Manggagawa ng Fuji Electric-OLALIA-KMU and was KMU national council member. Miguel also worked as regional coordinator for Bayan Muna Partylist.
Miguel assisted workers who were laid off at the height of the strict lockdown because of the coronavirus pandemic. He also led negotiations with Fuji Electric management to implement health and safety measures for employees.
He was reelected union leader in 2020. Before the year ended, Miguel successfully renegotiated a collective bargaining agreement which increased the minimum wage for the workers – an increase of P40 in 2020 and 2021, and P50 in 2022.
Voice of reason
All of these were signs that Miguel valued and embraced as a union leader, Mia Antonio of LIGA-Southern Tagalog said. He was invested in the causes of the labor sector and was always on the frontlines during protests on the streets and negotiations with companies, she recalled.
"Si Dandy iyong tipong hindi mo na kailangan sabihin kung ano ang dapat niyang gawin para tumulong," she said, in between tears, during a press conference on Monday, March 29.
"Minsan may problema siya, syempre tao lang din siya, pero mas nangingibabaw sa kanya ang pagiging isang lider," Antonio added.
(Dandy is the type of person who knows exactly what kind of help you need. Even if he has a problem, because he's human after all, he will still place the welfare of others above his own, like a true leader.)
Antonio had known Miguel for years and he helped her navigate the movement that can be tiring and frustrating at times.
He was the voice of reason for many activists. Soft-spoken but firm when needed, Antonio said it was easy to be engrossed whenever Miguel spoke during mobilizations or even engaged in simple conversations.
"Siya ang labasan ko ng sama ng loob at palaging sinasabihan ko ng problema, pero ang sinasabi niya palagi ay huminga ka lang, kailangan pa tayo ng sambayanan," she recalled.
(I talk to him about my problems, but he often tells me to just breathe, because the country still needs us.)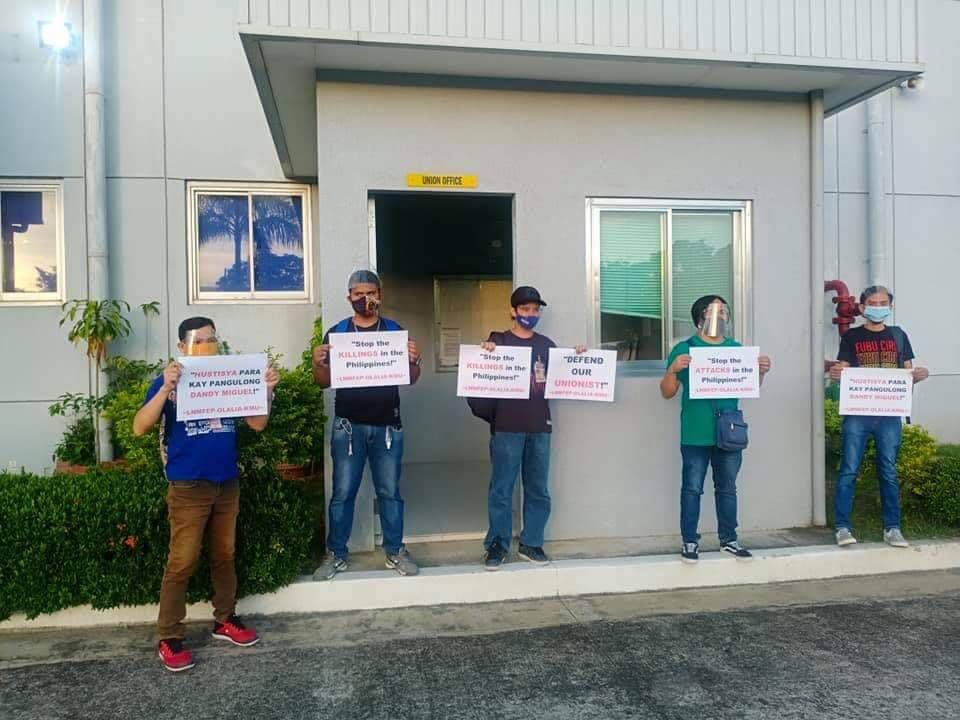 KMU chairperson Elmer Labog, meanwhile, said Miguel always went over and above his responsibilities to address the issues hounding communities.
He recently helped farmers in Hacienda Yulo in Laguna.
"Ang paglilingkod ni Ka Dandy ay hindi nagtatapos sa hanay ng mga manggagawa," Labog said. "Masigasig siya sa paghahanap ng solusyon sa mga problema ng iba't ibang sektor."
(He doesn't limit himself to helping workers. He also looks for solutions to problems of different sectors in the region.)
End to violence
In the aftermath of the Bloody Sunday incident, he tirelessly helped file complaints with the Commission on Human Rights (CHR) regarding harassment and surveillance of unionists.
On March 28, Miguel became the latest activist slain under President Rodrigo Duterte. As of March 7, CHR data showed that 130 activists have been killed across the Philippines under the present administration.
Since July 2016, rights group Karapatan recorded at least 30 activists killed in Calabarzon alone.
Human rights and progressive groups, both local and international, have called out the culture of violence in the Philippines under Duterte.
"Mas uunahin pa [ng administrasyon] na patahimikin ang mga manggagawa na humihingi lamang ng sahod at karapatan bago pa ito tutugon sa pangangailangan nito," Defend Southern Tagalog spokesperson Charm Maranan said.
(The government will prioritize silencing workers before giving them better living wages and respecting their rights.)
How many more of the country's citizens will end up dead fighting for what they believe is right? – Rappler.com