Public health workers and barangay officials ride boats, walk under the cruel sun, and endure hours-long neighborhood meetings to help lessen vaccine hesitancy among Filipinos
The coronavirus pandemic showed the lengths frontliners would go to serve. For nurse Jorick Alorde, fulfilling his oath involves a treacherous ride on a small fishing boat.
Jorick is a rural health worker in Barangay Dikapinisan, a remote village of 2,300 people in San Luis, Aurora. Nestled between mountains, the coastal community is a two-hour boat ride from the town center – 3 hours when waters are rough.
This is the journey Jorick has gotten used to since starting in public health service in 2013. He lives in the community, but travels frequently to and from the main health center to fetch medical supplies for the barangay.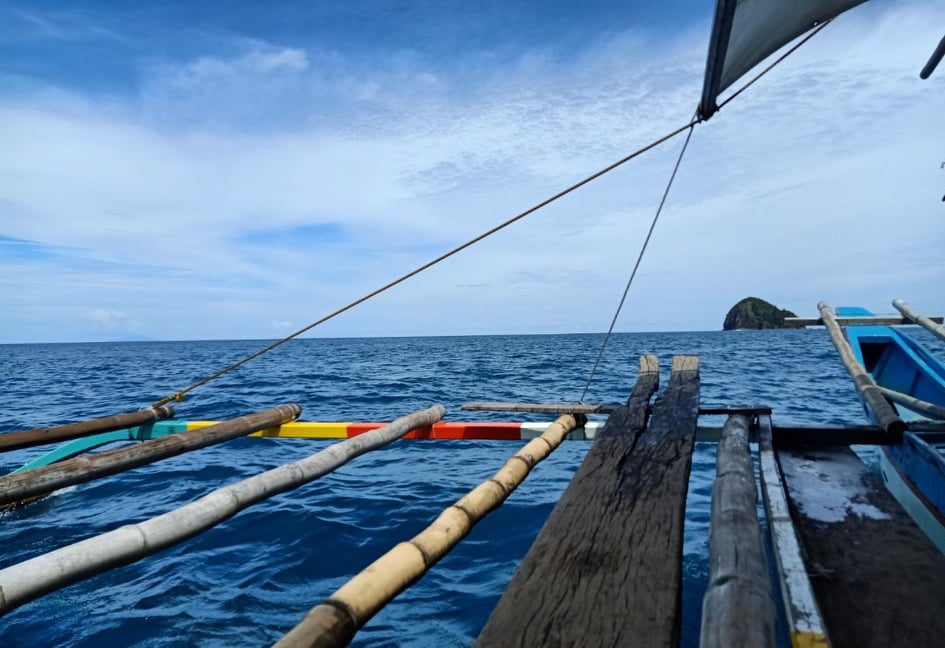 As the threat of coronavirus grew bigger in 2020, so did Jorick's responsibility. The past few months came with another task that proved to be a challenge: convincing residents to get vaccinated against the coronavirus disease.
Jorick started holding discussions on the coronavirus vaccine in his small health center in February, inviting no more than 10 residents at a time. When people don't show up, he'll gather his materials and venture out.
Carrying his megaphone, Jorick would visit small houses scattered all over the coast, maintaining a safe distance from residents. Sometimes he'd talk to people taking a break from the day's work in makeshift sheds under coconut trees. No matter the situation, Jorick is always ready with his spiel.
"Kaya sinasabi ko na magpabakuna. Bukod po sa proteksiyon nila ito para sa kanilang sarili, para ito sa kanilang pamilya," Jorick told Rappler in a phone interview on April 14.
"Kahit malayo kami sa mga lugar kung saan maraming kaso, may mga tao pa rin na pumupunta sa amin, at delikado kasi hindi mo alam kung ano'ng dala nila."
(I tell them they need to get vaccinated. This is to protect not just themselves but also their families. Even if we're far away from the epicenter of the pandemic, there are still a lot of people who come to our barangay That's risky because you don't know what they'll bring.)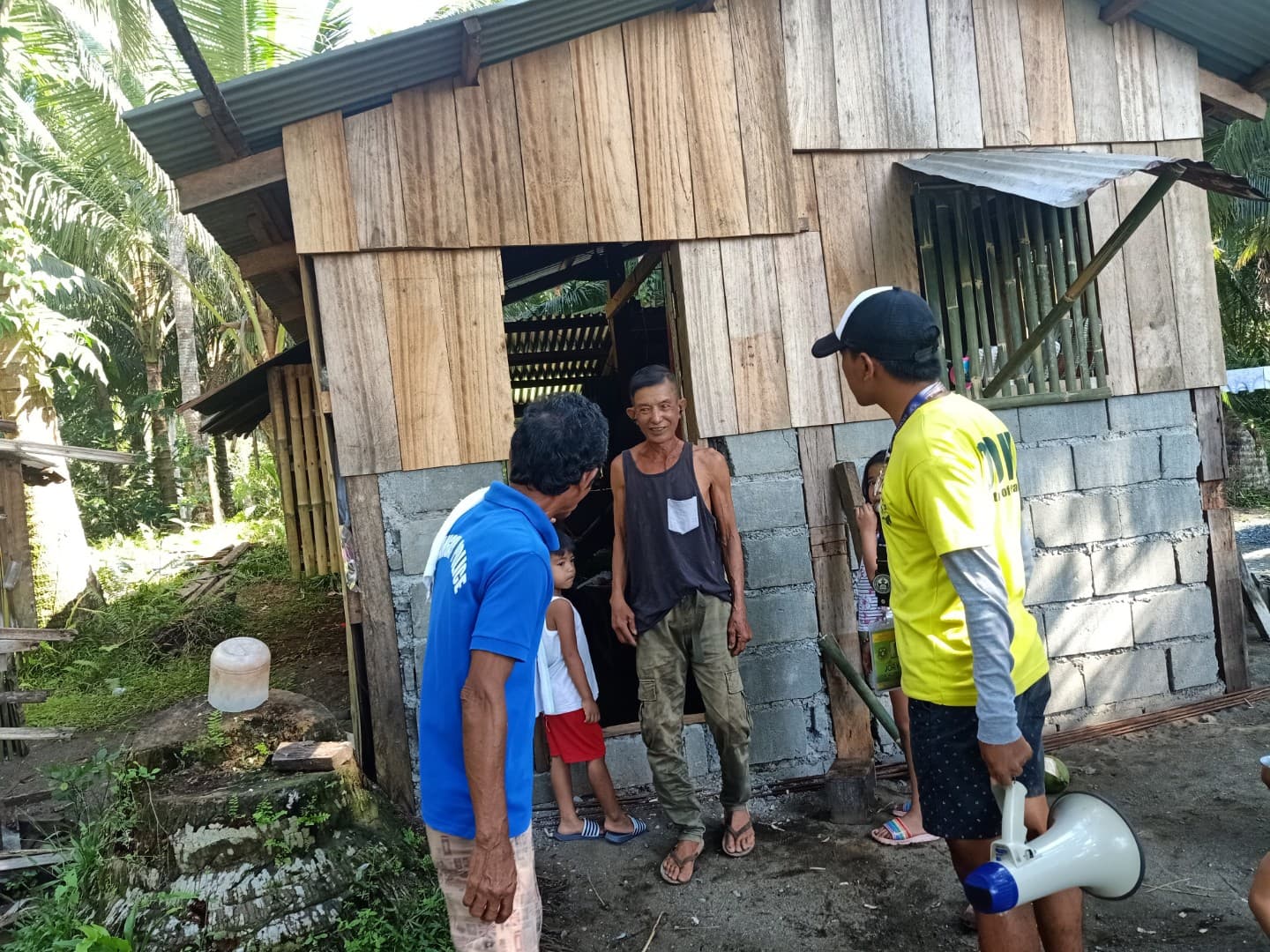 Self as an example
The concerns aired by residents are almost always the same, according to Jorick. They are still wary of vaccines in the aftermath of the Dengvaxia controversy – when people got scared after findings were released that the dengue vaccine could lead to more severe cases for some people. These fears are compounded allegedly by the things they hear on the radio.
The vaccine hesitancy in Barangay Dikapinisan is not unique. It reflects the wider situation in the Philippines. In late February, Pulse Asia found that 6 out of 10 Filipinos didn't want to get vaccinated against COVID-19.
The poll also found that the top 3 reasons for refusal included not being sure of the vaccine's safety, that it might not be effective, or that it was not needed to combat COVID-19 – concerns that had been debunked by experts.
It is an uphill battle for many frontliners already reeling from the direct impact of the coronavirus pandemic in the past year.
Jorick, who already got his first dose of the AstraZeneca vaccine in March, always cites himself as an example when trying to allay these concerns. He's one of at least 960,191 frontliners across the country who already received at least the first dose of the coronavirus vaccine.
"Kung masama ang bakuna, kung hindi siya maganda at totoong namamatay at nagiging zombie, then sana lahat ng frontliners, lahat ng health workers, namatay na, naging zombie na. Eh di wala na frontliners?" Jorick said.
(If vaccines are bad and people really turn into zombies [when they receive jabs], then all these health workers should either be dead or have become zombies by now. No frontliners should have been left by now.)
As of April 19, Barangay Dikapinisan is just waiting for its turn for the municipality's vaccine program. Until then, Jorick will continue walking around the barangay with his megaphone.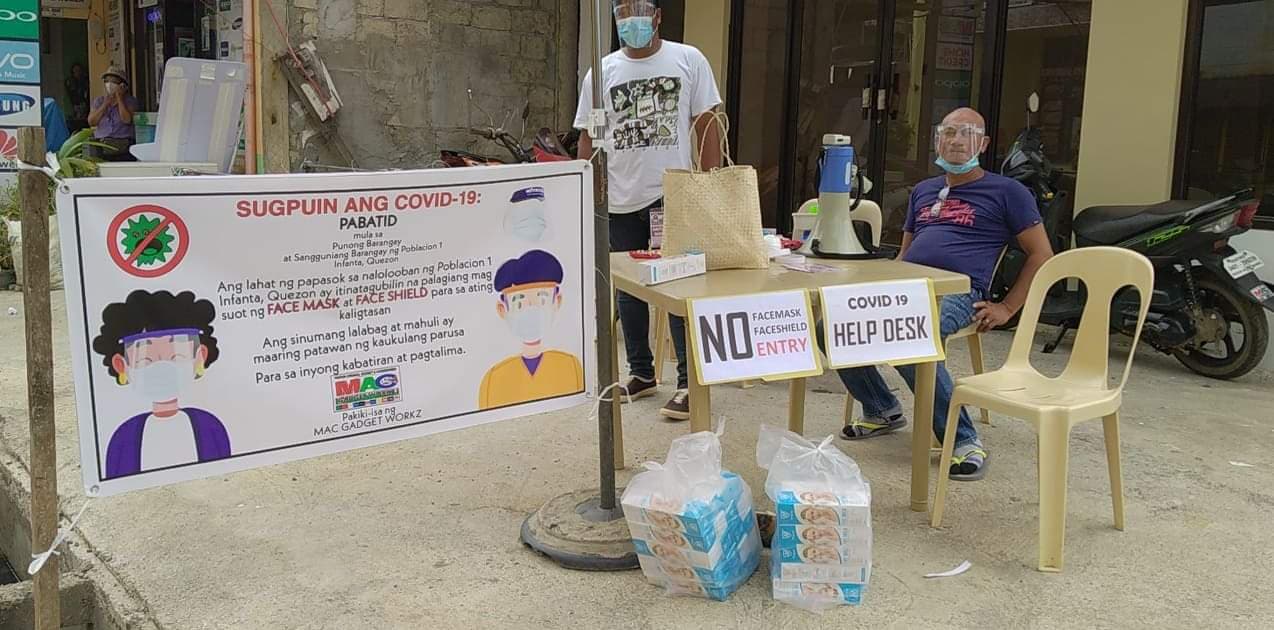 Think of others
Along the same coastline hundreds of kilometers south of Aurora, officials in Barangay Poblacion 1 in Infanta, Quezon, face a difficult task of engaging with residents without going house-to-house due to the rising cases of COVID-19 in their area.
The municipality of around 70,000 people has 106 active cases as of April 19 – the 3rd highest in the province. Its total confirmed cases since the pandemic began is at 390.
"Naging mahirap ang information dissemination ngayon dahil bawal lumabas, bawal mag-face to face," Sangguniang Kabataan (SK) Chairperson Anna Patricia Corleto told Rappler. "Ayaw namin magbahay-bahay talaga at harapin iyong mga tao dahil mahirap nga talaga ang panahon."
(Information dissemination is really hard these days because you can't go out, face-to-face meetings aren't allowed. We don't want to go directly to every house and face our constituents because the times are really risky now.)
They needed to think of a way to effectively spread information without risking their constituents. So, under the cruel heat of the sun, Anna and other tanods (watchmen) take turns using a motorcycle – sometimes a tricycle – and a megaphone to pass vaccine details to each purok (ward).
The barangay help desk near the local market, which sees heavy traffic, has been transformed into an information dissemination center. Market goers, vendors, and even passersby are welcomed by a loud sound emanating from a megaphone, reminding them to get vaccinated if they become eligible.
In this very public forum of sorts, confrontations become too public as well. According to Anna, there are people, often seniors, who tell the barangay officials outright that they will not get the vaccine.
"Ang sinasabi ko na lang sa kanila ay huwag na nilang hintayin na maranasan nila o tumama sa kanila ang COVID-19 dahil mahirap ito at napakabigat," she recalled. "Malaking [alalahanin] din para sa aming komunidad dahil alam namin na kung sila ay dapuan ng sakit, iyong epekto ay hindi lamang limited sa pamilya nila kundi pati na rin sa komunidad."
(I just tell them, they shouldn't wait to experience or contract COVID-19 because it is going to be really difficult. It's a big concern for our community because we know that if the disease hits them, it will affect not just their families but the entire community.)
"Ayaw namin magbahay-bahay talaga at harapin iyong mga tao dahil bilang frontliners sa barangay, marami kaming nakakasalamuhang tao…. Mahirap nga talaga ang panahon at ayaw namin na kami ang magdala ng COVID-19 sa kanila," she added.
(We really don't want to go house-to-house, because as barangay frontliners, we already come into contact with a lot of people…. Times are tough and we don't want to be carriers of the virus.)
Anna's fears are not unfounded. A year into the pandemic, the number of coronavirus cases in the Philippines continue to rise, with Metro Manila and adjacent provinces even placed under hard lockdown for two weeks.
Medical centers are still in full capacity. Patients are left waiting under tents for any vacancy, if they even make it out of their homes. Achieving herd immunity through vaccination is seen as the best way out of the pandemic, but the limited vaccine rollout doesn't bring the Philippines anywhere near this target.
According to scientists, an estimated 60% of the population should be vaccinated in order to achieve herd immunity, translating to about 50 to 70 million Filipinos. (TIMELINE: The Philippines' 2021 COVID-19 vaccine plan)
Despite the challenges, Anna remains eager to spread awareness about the importance of vaccines. If the people whose minds changed after listening to her eventually encourage their loved ones and neighbors to get vaccinated, then that is a win already.
"Sa liit ng komunidad namin, iyong pangalagaan mo ang kapitbahay mo, iyong katabi mo, ay napakalaking bagay na para makatulong sa sitwasyon na kinahaharap namin," she said. (Given how small our community is, if you take care of your neighbor, that's already a big contribution to help improve our situation.)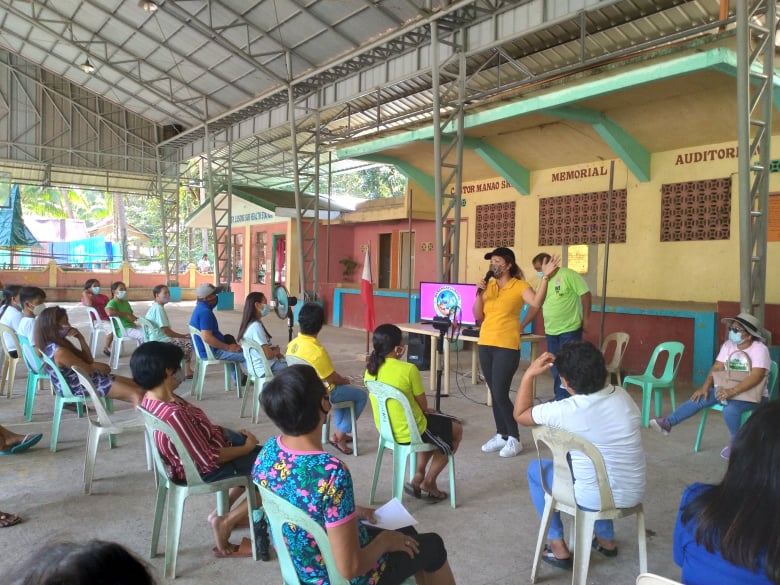 'Tiwala ang pinag-uusapan dito'
Dothee Moton marked his 10th year as a public health nurse in the middle of a raging pandemic, spending most of 2020 involved in COVID-19 prevention in San Agustin, Romblon.
With the imminent vaccine rollout, Dothee emphasized the importance of actually listening to the people to understand why they refuse the vaccine. In talking to communities, one cannot just outright dismiss their concerns or risk alienating them even more.
"Dapat mas alamin mo kung bakit ayaw nila magpabakuna para malaman mo kung paano ang dapat na approach," she told Rappler. "Mas maiintindihan mo kung bakit ayaw nila kasi hindi lamang naman sa ayaw nila, may rason iyan na pinaghuhugutan."
(You should know why they do not want to be vaccinated, so you will know how to properly approach the discussion. You will have a better understanding why they don't want the vaccine. They don't refuse for no reason. There always is a reason.)
Since early 2021, Dothee and her team have organized several public discussions where residents air their concerns. Public health nurses would then engage and patiently explain point by point the benefits of vaccines.
"Tiwala kasi ang pinag-uusapan dito (We're talking about trust here)," she said.
Dothee prefers these face-to-face meetings, usually held in spacious basketball courts and open-air auditoriums, away from the toxicity of social media, where vaccine disinformation is spreading.
It also doesn't matter if these meetings often last for hours, she said, because it means people are willing to participate – a good sign.
"Nakikita mo agad na naapektuhan ang kanilang decision ng maling information, so mabilis mo itong mako-correct at mas mabilis nilang maiintindihan," Dothee explained. "Kasi kapag nalaman nila na hindi totoo iyong information na pinanghahawakan nila, at nandoon ka para mag-explain kung bakit, mas magiging open sila sa tama."
(You will immediately see that false information influence their decision, so you are able to correct this just as quickly, and they will understand. Once they realize that they are holding on false information, and you are there to explain, they become more open to the correct information.)
Aside from these small assemblies, vaccine reminders can also be heard during church services and other areas in San Agustin. These words echoed throughout the municipality spell out a safer future for residents.
"Kahit na sinasabi mo palagi na lang itong mga paalala, kahit nagigiing makulit ka na paulit-ulit, para rin naman sa kanila ito," Dothee said. (Even if you sound like a broken record, or too stubborn already, all this is for their sake.)
'Public service'
The vaccine program is slowly rolling out in many places, most especially in Metro Manila, the hardest hit region in the Philippines. Like other aspects of the government response, it is riddled with challenges too.
For Mylene Bigasa, a long-time barangay health worker in Navotas, the logistical hiccups are easy to overcome. What's important is that the process is ongoing.
In 2020, at the height of the pandemic, Mylene worked as a contact tracer for the city. She assisted patients in their homes, monitoring their conditions and ensuring that all close contacts were accounted for.
Back then, as she faced daily risks knocking on doors, Mylene also prayed for the pandemic to end. The start of vaccination program provided a sliver of hope for a population battered by such small yet dangerous virus.
"Huwag sila matakot na magpabakuna kasi may mga doktor naman na handang tumulong bago at pagkatapos magbakuna," Mylene said. "Mas gagaan ang buhay natin pare-pareho kapag nabakunahan tayo."
(They should not be afraid to get vaccinated because doctors are there to assist before and after the vaccination. Our lives will be better if we get vaccinated.)
Mylene received her first dose of AstraZeneca in March. From being a contact tracer, she now spends each day at the Kaunlaran High School, assisting residents through the vaccination process.
The site usually targets to administer 300 doses a day. The numbers are definitely better than what they expected, given the vaccine hesitancy among the population.
Mylene's shift is from 8 am to 4 pm. Some days it's hard to take a break, especially when there are a lot of people waiting in line.
"Mainit at nakakapagod, pero kailangan natin gawin para maging maayos ang kalagayan natin," she said. "Iyan ang public service na isinasapuso natin."
(It's hot and tiring, but we need to do this so that our situation will improve. That's the public service we've taken to heart.)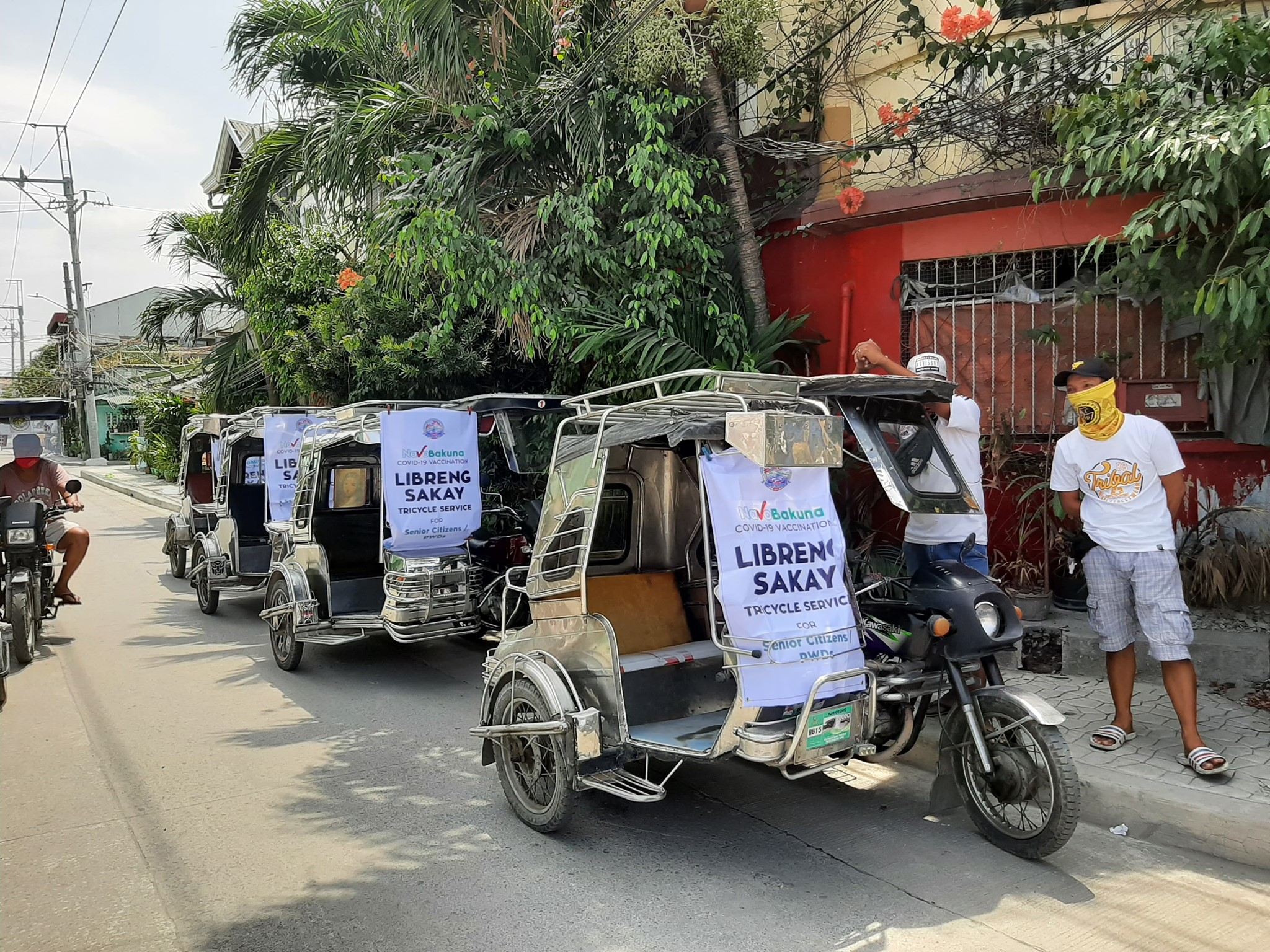 As of April 17, data from the Department of Health shows that at least 1,264,811 people have received their first vaccine dose. A total of 191,982 have gotten their second dose.
It is still a long way to go until the Philippines hits its target of 50 million to 70 million in 2021, which means the end goal of herd immunity is still far.
Until then, frontliners will continue to knock on doors, speak through megaphones, and lead hours-long Q & As in their neighborhoods, ensuring that residents will say yes to the vaccine once their turn comes. – Rappler.com