PART 2: Metro Manila local governments are finding ways to smooth out snags in critical COVID-19 vaccine rollouts, from app glitches to lack of personnel for vaccination sites
In Quezon City, the Metro Manila city with the highest number of COVID-19 cases, vaccination sites have been "blockbuster hits," says Joseph Juico, head of city's vaccination task force.
Of the 6 sites that have been operating for weeks, four typically report hitting their targets of vaccinating 400 to 500 people a day.
On Wednesday, April 7, they opened 6 more vaccination sites. Out of around 17,000 people the city has vaccinated, 41 called to report adverse side effects.
Roughly the same story is unfolding throughout the megacity, the epicenter of the Philippine COVID-19 outbreak. Getting vaccines into the arms of 50% to 70% of its 12 million people is seen as key to loosening the virus' grip on the country.
Though the vaccine rollout is happening in an orderly fashion and many Metro Manila residents have given positive feedback, Juico admitted there have been a lot of hiccups.
The 17 local government units in the megacity have been encountering roughly the same set of problems, and finding their own ways of responding to them.
Untangling these knots early on is critical as the cities prepare for the vaccinations of economic frontliners, a larger scale of vaccinations compared to the ongoing inoculations of health workers, elderly, and persons with comorbidities.
Rappler reporters spoke with various local officials to find out what snags they've encountered and how they are addressing them.
Problems and solutions
Problem 1: Limited registration, information access
Almost all vaccination drives in Metro Manila involve QR codes, apps, or registration through a web page to lessen face-to-face contact and the likelihood of people swarming outside. This means people who are not technologically-savvy, like some elderly individuals, have a hard time signing up. Their younger family members typically fill in the gap.
To address this, most cities deploy barangay personnel to do information drives and set up desks in barangay halls for assisted registration. San Juan did house-to-house campaigning and registration, according to Brian Geli, the city's public information chief.
During the enhanced community quarantine, Navotas even released cellphone numbers for residents to text if they wanted someone to come over to assist them with registration, Mayor Toby Tiangco told Rappler. In Manila, personnel at the city's health department are designated to assist people registering online, according to public information chief Julius Leonen. In Makati, jeepneys outfitted with laptops and internet connection so that they become "mobile learning hubs," went around barangays so people could use them to register, according to Makati government spokesman Michael Camiña.
Problem 2: Technology snags
The heavy reliance of vaccination registration on technology often meant a surge in the use of a new platform that would predictably buckle.
In Quezon City, there have been major problems with the EZ Consult app by Zuellig Pharma, which they used to set vaccine appointments for residents. Because the app was still being upgraded at the time when vaccinations started, some residents experienced glitches, like their appointment not appearing in the system on the day of their vaccination. City Hall has already raised concerns with Zuellig Pharma and are now encouraging people to register through EZ Consult's web page, instead of the app, said Juico.
Manila has won praises for its user-friendly web page-only registration process but it, too, dealt with some blips caused by a surge in registrations. San Juan faced the same problem with its web page registration. Text messages meant to confirm registration would be received late by residents or else they would be sent repeatedly, even after a resident had gotten vaccinated.
But Geli said the city is resolving these problems and may soon be using another system, developed by MultiSys Technologies, the same tech firm behind the national government's contact tracing app StaySafe.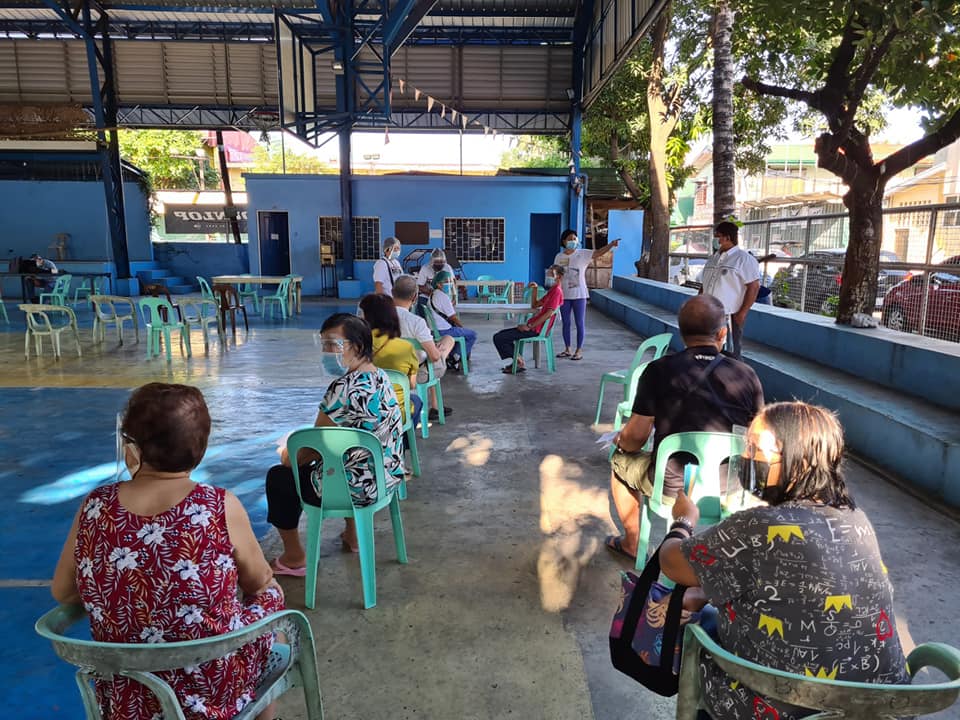 Problem 3: Lack of transportation, mobility issues
With lockdowns limiting mobility, getting from your house to the vaccination center has been tricky for lower-income individuals, especially the elderly or those with health conditions.
In Manila, local personnel even go to the houses of senior citizens who are in no condition to go to vaccination sites. Navotas offers free tricycle rides for senior citizens and chose sites close to communities. San Juan, the smallest city in the capital region, doesn't encounter this problem but still offers free rides to their vaccination site at FilOil Flying V Center. Quezon City, meanwhile, is in talks with tricycle drivers and ride-hailing services to address this issue.
Problem 4: Long queuing time
While some people said they took less than an hour to complete the vaccination process, others reported staying as long as 4 hours.
Local governments are struggling to shave this down and make it more uniform. Quezon City, for instance, aims to limit the process per person to 45 minutes. San Juan said it has managed to keep the process under an hour, on average, through the help of the Vaccine Information Management System (VIMS-IR) developed by the Department of Information and Communications Technology, a system for collating vaccine master lists and automating the registration process.
Problem 5: Lack of manpower
The number of vaccination sites a local government can put up greatly depends on the availability of people to man it. In Quezon City, around 50 people (mix of medical and non-medical staff) are required to operate one site. They need more volunteers to meet their target of 24 vaccination sites. San Juan reported the same problem, with only 10 doctors in the city's health department and around 100 people from city hall assigned to pandemic programs.
"We need around 150 to 200 people to run the vaccination area smoothly. As a temporary solution, we have called for and accepted volunteer doctors and nurses who help with our screening, vaccination, and post-vaccination monitoring areas," said Geli.
They've also resorted to pulling out staff from other departments. Both Quezon City and San Juan hope the national government can provide them with more people.
Problem 6: Lack of vaccines
No vaccines mean the vaccination sites will turn idle. Already, vaccination sites have had to turn away many senior citizens who were not aware of announcements that AstraZeneca vaccines had run out and they could not be given the Sinovac vaccine.
Local governments currently rely on the national government's supply of vaccines since those they procured, mostly from AstraZeneca, are set to arrive July at the earliest.
More senior citizens are expected to get vaccinated in the coming days after the Food and Drug Administration approved the use of Sinovac vaccines for the elderly. – with reports from Dwight de Leon, Mara Cepeda, Rambo Talabong/Rappler.com