8 in 10 Filipinos are hopeful that the worst is over with the COVID-19 pandemic, an SWS survey shows
MANILA, Philippines – Empty streets, long queues in grocery stores, and catchy TikTok dance crazes. These are some memories of the 2020 pandemic lockdown, where time seemed to freeze and everyone was anxious because of the COVID-19 virus.
Who would want to go back to that period of the global health crisis?
Into the third year living with COVID-19, the virus' path toward becoming endemic is clear. The World Health Organization (WHO) had said that the "world has never been in a better position to end the COVID-19 pandemic," a virus that has so far killed over 6 million people in the world.
In the Philippines, COVID-19 has claimed over 63,000 lives. At the height of it, many died in their homes due to a strained healthcare system. (READ: Philippines' COVID-19 surge tears through families)
"We are not there yet. But the end is in sight," WHO Director-General Tedros Adhanom Ghebreyesus said recently, an optimistic outlook from the global health body mainly in charge of pandemic surveillance.
Most countries have already dropped their pandemic restrictions, and are living with the virus. Students are back to in-person classes, workplaces have welcomed their employees again for on-site reporting, and night life is again booming.
In the Philippines, cases are still on the rise. Latest data from the Department of Health (DOH) showed that daily cases average 2,048. The government booster program is also stalling. Only 25% or 20 million of the 73.3 million fully vaccinated individuals have gotten their first booster shot.
Yet the Marcos government allowed easing masking rules when outdoors, a move opposed by the medical community. They said that the relaxation of masking requirements would send a wrong message to the public – that they "should not be afraid of COVID-19 anymore."
Pandemic ending: Medical and social
But who gets to decide if the pandemic is really over? It's the WHO.
The New York Times reported that pandemics typically have two types of endings – medical or social. The article noted that a pandemic ends medically when the incidence and death rates go down, and it ends socially when people are no longer afraid of the virus.
"In other words, an end can occur not because a disease has been vanquished but because people grow tired of panic mode and learn to live with a disease," the article said.
What's the situation in the Philippines?
Infectious diseases specialist Dr. Rontgene Solante said that the pandemic is ending in the Philippines socially, but not medically.
"In fact, socially, it seems that the pandemic is over. There are concerts. Church activities have resumed 100%, as well as festivities. And even in the coming Christmas, malls are already decorating and promoting sales and everything. So, socially, we are in that era of near-normal, no? Near normal," Solante told Rappler.
According to the latest Social Weather Stations (SWS) survey, a record-breaking 83% of Filipinos are hopeful that the worst is over insofar as the COVID-19 pandemic is concerned. The survey was conducted from April 19 to 27 through face-to-face interviews with 1,440 Filipinos aged 18 and above sampled nationwide.
Those who believe the worst of the pandemic had already passed increased by 3% points compared to the December 2021 record of 80%. The current figure nearly doubled from when the SWS first introduced the question in May 2020.
Medical anthropologist Gideon Lasco, however, has a conservative stance on the perception of Filipinos when it comes to the social ending of the COVID-19 pandemic. He couldn't say with certainty that the health crisis is socially ending in the Philippines. But this period is what they call "liminal period" in anthropology.
Lasco said that the Philippines is in a transition phase "between the exceptional moment of a pandemic and living with it as an endemic disease."
"It will happen gradually, but especially as more Filipinos see what the rest of the world is doing, I'm sure the pandemic qua social phenomenon will also 'end' in the Philippines," Lasco said.
"It's a moment of uncertainty but also of opportunity," he added.
"What is clear is that COVID-19 now is very different from COVID-19 in 2020. Populations have more immunity, the disease itself has mutated to more contagious, less severe variants. It's still a cause for concern, of course, but there are also social and medical costs to continuing to act as if it's the same unknown disease back in 2020," Lasco said.
Lasco explained that Filipinos' perception of COVID-19 is also rooted in their own experience of the disease, which now is mostly mild.
Thanks to vaccination for making this happen.
"People tend to evaluate risk based on their own experiences, and most have had mild infections. At the same time, people tend to forget easily. Also worth noting that the higher cases haven't really led to markedly-higher deaths and hospitalizations akin to March 2021," he said.
Lasco also said that this is also rooted in failed predictions, which is a good thing. This has affected people's perception of the disease.
"Many 'doomsday' predictions have also failed to materialize, like experts who prophesied that there will be a surge because of the 2022 elections," he said.
The same view was shared by Solante. "It's not about the Filipino culture. The observation among us, that even among those who are infected, the presentation is only mild," Solante said.
"And they would always compare it to flu, only experiencing colds, cough for three to four days. You just need to rest. COVID-19 is manageable at this point in time, compared to previous months," he added.
Based on the DOH latest data, only 669 of current infections are severe. Most of them are unvaccinated and have comorbidities. The figure represents only 9.2% of the total admissions.
Social ending varies
What the pandemic perception of Filipinos reveal is that it varies based on their capabilities to live with the virus and what they need now, Lasco said, adding that it "will not end in one moment, it will end in different moments for different people."
For instance, maybe for some middle class families, ending means they are able to travel again. "For others, it's recouping losses, getting their jobs back, or going back to school," Lasco said.
But for some people who are still suffering from the effects of COVID-19, it is not yet over.
The latest SWS survey showed that in the Philippine capital Metro Manila, perception that the worst of COVID-19 is over remained at 82%. It hardly changed in Balance Luzon from 81% to 82%.
Medically, COVID-19 is still here
Health experts in the Philippines still advise Filipinos to take extra precautions against the virus.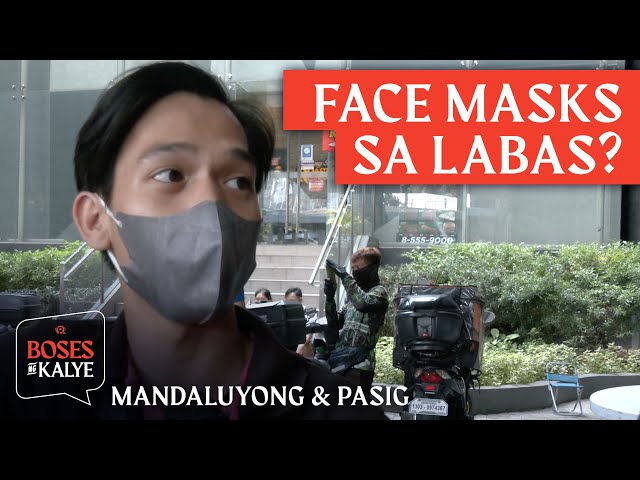 "Hindi naman ito ending na sasabihin ng tao na tapos na, wala ng cases (This is not the ending where people would say, there are no cases anymore). It would be a gradual step down," said infectious diseases expert Dr. Edsel Salvaña.
"But the truth of the matter is that ganito po talaga ang nangyayari sa pandemics (this is what really happens in pandemics). Eventually, they will fizzle out, just like SARS or MERS. 'Andiyan na tayo sa end stage (We're at that end stage). We're getting there. It's a gradual transition kaya kailangan pa rin natin mag-ingat (that's why we still need to be careful)," he added.
Solante urged the public to get vaccinated and boosted against the disease.
"Let's still follow health protocols," he said. – with reports from Dexter Barro II/Rappler.com