Deguito grants an interview to broadcaster Anthony Taberna and gets Ferdie Topacio as her lawyer during the Senate blue ribbon committee hearing. Many think she's Iglesia.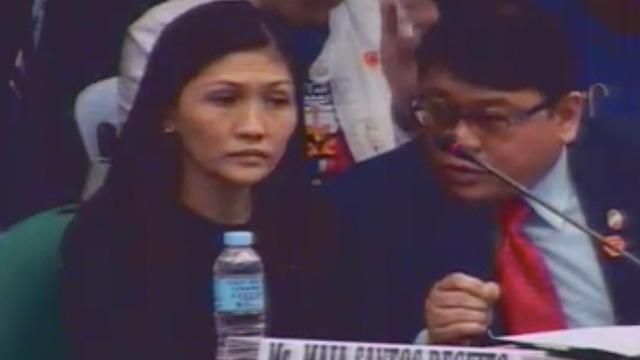 The "kapatid" community is abuzz over the Rizal Commercial Banking Corporation (RCBC) money-laundering mess.
Not a few noticed that RCBC branch manager Maia Santos-Deguito was quick to grant an interview to broadcaster Anthony Taberna of dzMM Teleradyo in the second week of March. In that interview, she told him there was no hold departure order against her and that she was told Immigration staff needed to speak with her.
It was surely an unfortunate and embarrassing, even traumatic, experience to be asked to deplane after being comfortably seated and settled. If you recall, she was with her husband and son, who was supposed to be gifted with a trip to Tokyo Disneyland.
After that Teleradyo interview, Deguito appeared in the Senate with Ferdie Topacio, an ardent admirer of Adolf Hitler as historical figure, and lawyer of celebrities, including the former First Gentleman. The lover of jazz, it turned out, was Deguito's lawyer too, at least for the Senate hearings. He was seen coaching her and discreetly whispering to her, guiding her on what to say in response to questions from senators during hearings of the blue ribbon committee investigating the Bangladesh Bank heist.
Taberna is the nephew of former Iglesia minister Isaias Samson Jr who accused the INC leadership of corruption and who has since left the country. Recall that Taberna's newly opened coffee shop on Visayas Avenue was fired upon by unidentified armed men in late August 2015. Police recovered at least 15 empty shells of a .45-caliber gun but were unable to determine the motive for the pre-dawn attack.
Add one plus one plus one and you'd be quick to conclude that the one and only thing that binds Taberna, Topacio and Deguito together is that they belong to the same church: the influential but now fragmented Iglesia ni Cristo (INC). But wait. Verify, verify, verify. Even among Iglesia circles there was loose talk that Deguito was able to get Topacio because they belong to the same locale.
We checked with Ferdie Topacio himself and here's what he said: "Maia is Roman Catholic. The rosary she had around her wrist should be a dead giveaway. I'm from the locale of Better Living, Metro Manila South."
Asked how he ended up being her lawyer, he texted, "I'm sorry; that's privileged." This should put to rest speculation about the Iglesia links, no matter how tempting it may be to entertain the thought. – Chay F. Hofileña/Rappler.com