As ground traffic in Manila continues to worsen, traveling by helicopter has become an option for businessmen who don't mind the price tag to buy extra time for their business trips
MANILA, Philippines – It took me a little over two hours to travel from Pasig City to Pasay City, crawling through heavy traffic around the airport area, including a particularly bad 2-kilometer stretch that had me stuck in a car for more than half an hour.
But up in the air, onboard one of Asian Aerospace's helicopters, we managed to fly across 4 cities in Metro Manila in a little over 10 minutes.
With the Philippine capital region continuing to suffer from worsening traffic, making road travel between cities an hours-long trip, the rich and the powerful are turning to air travel as their preferred mode of transport.
It's fast, efficient, and hassle-free, but the price tag certainly doesn't come cheap: For P50,000 a month, businessmen and multinational CEOs can access Asian Aerospace's fleet of private jets and helicopters through its recently-launched service AirTaxi.PH.
The cost may be too much for the ordinary commuter, but Asian Aerospace's executive vice president, Peter Angelo Rodriguez, considers it an affordable deal for company executives who don't want to waste entire business days stuck in Manila's notorious traffic jams.
AirTaxi.PH, launched in January 2016, promises stress-free travel to members of its Emerald Class. To book a ride, members only need to call up Asian Aerospace and specify the time and location where they want to be picked up.
Rodriguez said the company currently has helicopters and planes stationed in Manila, Clark, Cebu, and Boracay. The P50,000 monthly fee is consumable, and depends on the type of aircraft requested by clients.
For instance, an inter-Metro Manila trip using a 6-seater twin-engine helicopter will cost P42,000. Meanwhile, clients who book one other helicopter used in Boracay trips, which costs P13,500 a ride, can have 3 flights per month.
Since launching in January, Rodriguez said there has been an increase in demand and positive feedback from their existing base of clients who are turning to air travel to avoid hours-long traffic jams and get to to their business appointments faster.
The service is practical for use in Manila, he said, because of the availability of helipads in business areas such as Ortigas, Makati, and Bonifacio Global City.
"Everything inter-Metro Manila is 5 minutes. If you need to go to Greenhills, or Makati, it's just 5 minutes. It's like you cut your driving time [by half] already," he said.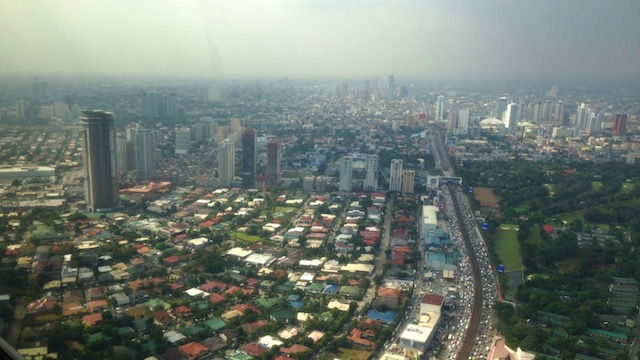 Aside from providing faster travel for their clients, Rodriguez pointed one offshoot of more businessmen going the route of air travel.
Since VIPs often travel in packs or with convoys of bodyguards, providing air transport will mean that these VIPs' vehicles will be off the road, and won't be adding to ground traffic congestion.
"That's going to remove them [from the road] and already bring them to the location where they need to be," he said.
Aside from its practical use, Rodriguez said the service can also be used for leisure, medical needs, and disaster relief and response.
In the popular island destination Boracay, for instance, the company offers a service called Green Heli that offers helicopter rides for tourists.
Asian Aerospace also has air ambulances, equipped with medical teams, that can respond to their clients' emergency. In last year's Asia Pacific Economic Cooperation (APEC) summit, the company was tapped as support medical assistance for dignitaries and state leaders visiting for the regional meet.
It was also involved in relief efforts in the aftermath of Typhoon Yolanda (Haiyan), bringing in relief goods and evacuating people from the disaster site.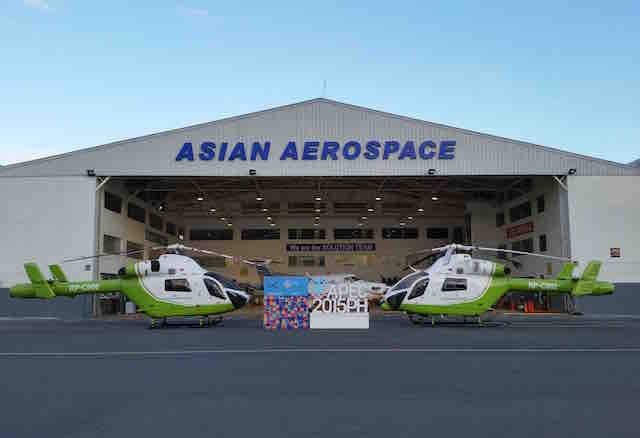 Future plans
Asian Aerospace's offering of a helicopter service for Manila came about two months since two popular app-based ride-sharing services, Uber and Grab, announced that they would be offering their own helicopter services as an addition to their lineup of car-hailing services.

Grab's pre-booking chopper service, GrabHeli, offers passengers an aerial tour of Makati City, Bonifacio Global City, and Pasay City for P3,888 per person.
Passengers will be given GrabCar promo codes to take them to or from PhilJets' helipad at the Manila Domestic Airport.
The service, however, was a promotional one. The Grab mobile app no longer displays an option to select the GrabHeli service.
For Rodriguez, Grab's rate was "very very cheap" for a helicopter ride. But he also pointed out that it only offered an aerial tour instead of a point-to-point service. 
Asked if AirTaxi.PH would introduce a similar scheme for its clients, Rodriguez said that they are eyeing a ride-sharing setup once they have built up their customer base.
For now, they are focusing on expanding the areas where their air fleet are stationed around the country.
"What we want to do is we want to station helicopters and planes around the country. Right now we've got Luzon and Visayas covered, next target is Mindanao," he said.
"As soon as this becomes  a regular thing, and we have enough customers, one of our programs here is that you can split your flight due with other members. For example, there's 4 of you flying at 9 am. You can just go together, and we're just going to put you on one flight," he said.
"In the end, you're not going to pay P42,000, you're just going to pay P10,500 each. So it's a nice way of contributing a little bit to what we can do to ease the traffic," he added. – Rappler.com