Leni Robredo acknowledges her and Rodrigo Duterte's positions on certain matters may differ. Her husband told Newsbreak that as early as 14 years ago.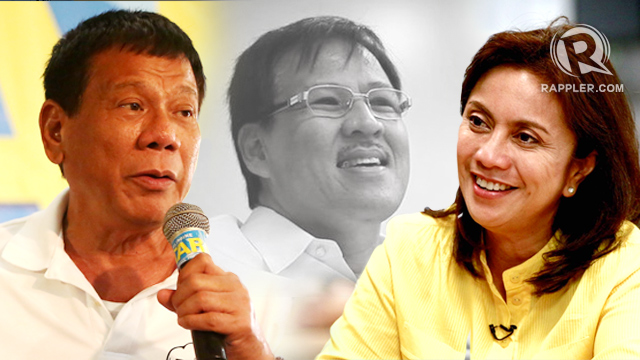 As the campaigns wrap up, the possibility stares at us that the presidential and vice presidential candidates who started out trailing their rivals might just get elected. (Check out Rappler's Presidential Poll Monitor and Vice Presidential Poll Monitor.)
It's an interesting prospect – Rodrigo Duterte as president and Leni Robredo as vice president – not only because they come from rival camps; their approach and perspective on certain matters differ quite sharply.
Duterte can be brash; Robredo is seemly. Duterte brags about resorting to extra-legal approaches; Robredo has a broader perspective on rights. Even in her most diplomatic attempt, the congresswoman from Naga City failed to downplay the possible difficulty of serving with a president like the mayor of Davao City. 
That reminded me: 14 years ago I asked Leni's husband, then Naga City Mayor Jesse Robredo, what he thought of Duterte's approach to fighting crime in Davao City. 
In 2002, President Gloria Macapagal Arroyo appointed Duterte as her adviser on peace and order. This was after Time magazine in July that year profiled Duterte as judge, jury, and executioner, who brought relative calm to a once chaotic city.
I wrote that Duterte's appointment was both good and bad: "Good, because it acknowledges the role of local government units in making the national government's anti-crime campaign succeed, or appear like it is succeeding. Bad, because it tends to overshadow the anti-crime efforts of other communities— efforts that are certainly lawful and can be viable beyond the incumbency of a superman mayor."
Naga was one of the cities at the time that had curbed crime without the use of extra-legal means. Its barangay-based initiatives involved citizens and allowed the local police to focus on bigger concerns. It aimed for prevention rather than solution. 
Here's the full text of the Naga part of my story, "Move Over, Duterte," published in Newsbreak in September 2002:
"Our strategy is to appeal to the people's [sense of] civic duty, and not to strike fear [in them]," says Naga City Mayor Jesse Robredo.
Robredo's Naga is the only city other than Duterte's Davao that has been consistently cited by the National Police Commission since the agency began its annual search for outstanding local peace and order councils (POCs) in 1995. The POC is a multisectoral body that the Code requires to be established in every region, province, city, and municipality. It plans and recommends measures to improve peace and order in the locality, and monitors the anti-crime and anti-insurgency activities of civilian volunteer organizations.
Since the early 1990s, the city government of Naga has made peace and order a shared responsibility between residents, barangay officials, and the local police. The residents help gather information on suspected criminals or report situations that could possibly lead to crimes. The barangay officials and the tanods, trained in basic police work, religiously do the neighborhood watch or ronda. The police are called in to make arrests when needed. The business community has been tapped, too, to donate the equipment and gadgets neeeded for anti-crime work.
For faster decision-making and results, police operations have been decentralized in Naga. Instead of having to consult the city police chief on practically everything, policemen are made accountable to the substation chief in their respective areas. Robredo says the local police has also been relieved of responsibilities that civilian employees can do, such as directing traffic, so policemen can concentrate on anti-crime work.
Fourteen years ago, Duterte's style had already become increasingly attractive to residents from outside Davao City, even if that style supposedly included abducting and shooting known rapists and drug dealers himself.
He has pretty much admitted those acts in his campaign speeches this 2016, and some 13 million across the country intend to vote for him as president. – Rappler.com