It's been part of tradition for past and present press secretaries to hold fellowship meetings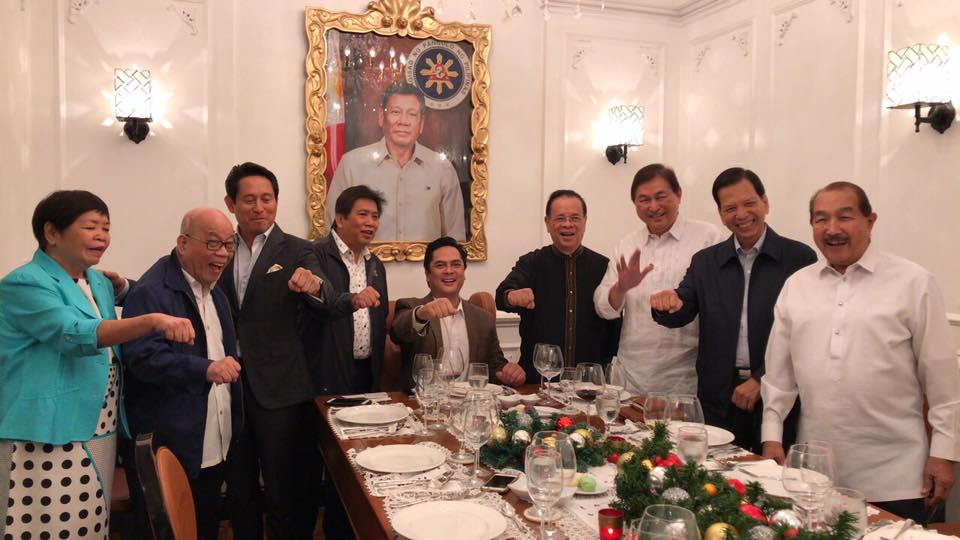 Past and present presidential press secretaries held a reunion on Tuesday, November 15, at a restaurant in Pasay City.
All administrations from the time of the late dictator Ferdinand Marcos were well-represented. 
Present were:
Francisco Tatad of the Marcos regime
Retired Supreme Court Associate justice Adolf Azcuna and Deedee Siytangco of the Corazon Aquino administration
Hector Villanueva of the Ramos government
Mike Toledo of the Estrada administration
Jun Icban and Ignacio Bunye of the Arroyo administration
Herminio Coloma Jr of the Benigno Aquino III administration
Former Malacañang reporter and Philippine Star associate editor Marichu Villanueva also joined the event.
The gathering could not have come at a better time for Secretary Martin Andanar, who has been consistently involved in communication gaffes under the Duterte administration. (READ: 5 communication gaffes in Duterte's first 100 days)
Recently, he drew flak for his newspaper column where he called anti-Marcos burial protesters as "temperamental brats." He eventually apologized but not without gaining additional critics. (READ: Pimentel to Andanar: 'Review your history' on Martial Law)
Friends
Did Andanar take the opportunity to ask for tips?
"No, I did not seek advice. It was purely reunion and strengthening our small group," Andanar told Rappler.
Coloma, Andanar's predecessor, shared the same sentiment, saying there was no politics involved.
"No politics, just a lot of friendly banter and humor among friends," Coloma said.
The former secretary said it is a "tradition" for past and present press secretaries to hold fellowship meetings, emphasizing that all administrations since Marcos were well represented during the reunion.
Aside from this, he said the group also commemorated their departed colleagues such as Rodolfo Reyes, who served as press secretary of former presidents Fidel V. Ramos and Joseph Estrada, Jesus Sison of the Ramos administration, Teodoro Benigno of the first Aquino administration, and Noel Cabrera of the Arroyo government. – Rappler.com