Defense Secretary Delfin Lorenzana expects the President to now know one critical aspect of the issue: that Benham Rise is on the other side of the Philippines from the South China Sea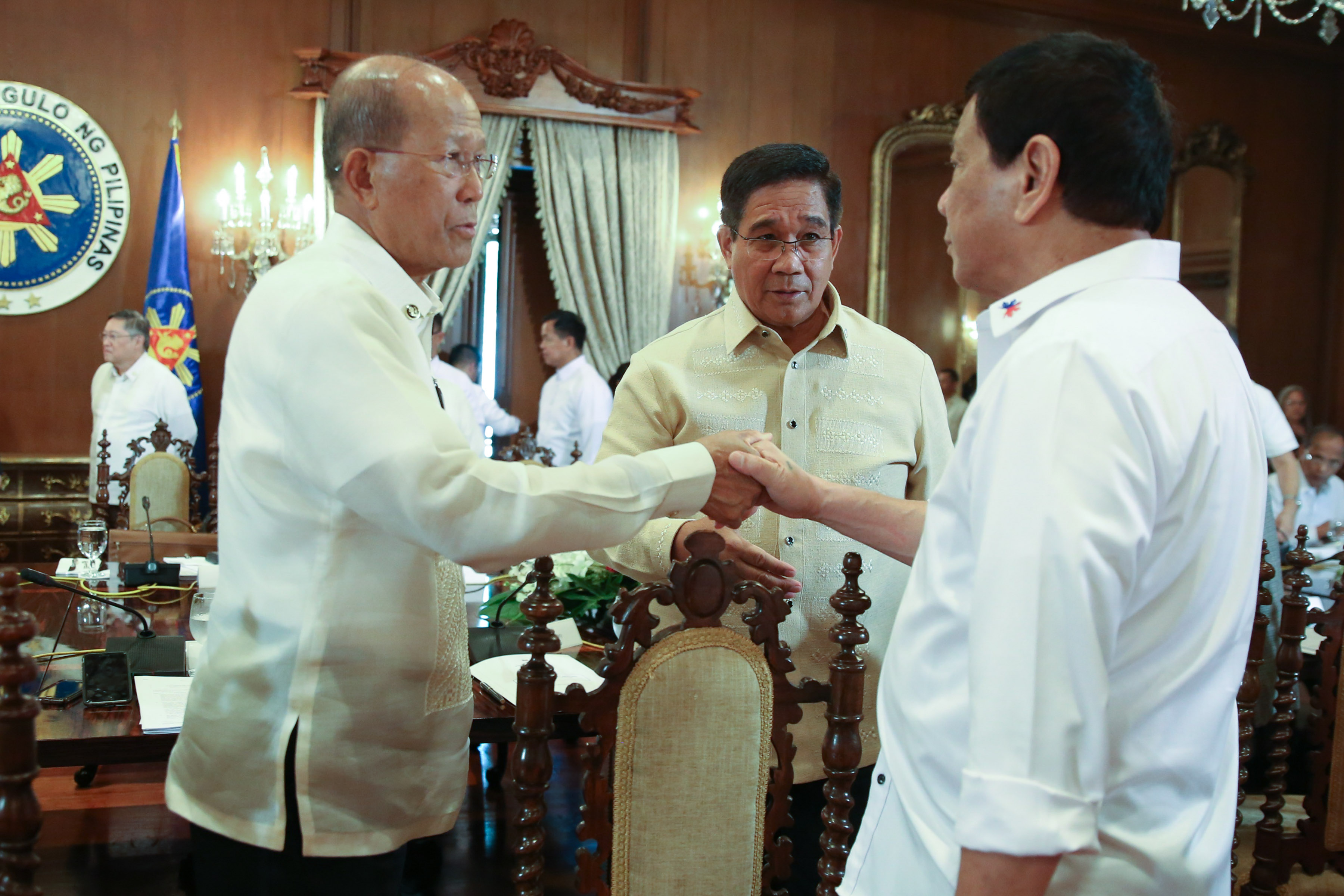 President Rodrigo Duterte has been apprised about the difference between Benham Rise and the West Philippine Sea issues after a press conference showed him mixing up the two.
"I think he knows now. He had a briefing with Secretary Esperon, I think it was he who explained," Defense Secretary Delfin Lorenzana told Rappler in a brief interview on Friday, March 24.
He was referring to National Security Adviser Hermogenes Esperon Jr.
Given the briefing, Lorenzana is confident that Duterte now knows one basic fact about the issue: that Benham Rise is located outside the West Philippine Sea and is, in fact, on the other side of the Philippines.
"Alam na niya na 'yung Benham Rise nasa kanan, kabila (He now knows Benham Rise is on the right side, the other side)," he said, with a chuckle.
"I think na-mix up lang niya 'yun. Na-mix up niya. Akala niya nasa South China Sea," said Lorenzana. (I think he just mixed them up. He thought it's in the South China Sea.)
Duterte knowing the location of Benham Rise is critical. The fact that it is not in the West Philippine Sea means it is not covered by China's claim over the South China Sea.
The 13-million-hectare continental shelf has been confirmed as belonging to the extended continental shelf of the Philippines by the United Nations. The Philippines was granted the exclusive sovereign rights to explore the area. (READ: FAST FACTS: What you should know about Benham Rise)
But the sighting of a Chinese survey ship in its waters indicates China may be interested in the area, a concern previously voiced by Lorenzana.
Responding to Lorenzana's concerns, China said the Philippines cannot claim Benham Rise to be its own territory. China said it was "exercising navigation freedoms and the right to innocent passage only, without conducting any other activities or operations."
But a survey ship staying for about 3 months in the area last year belied claims of innocent passage, Lorenzana pointed out. 
The Philippine Navy has deployed a ship to regularly patrol Benham Rise. – Rappler.com