(2nd UPDATE) 'Pinatawag po ako sa opisina niya. Pinagalitan po ako [ni Speaker],' recalls Mandy Anderson, chief of staff of BOC chief Nicanor Faeldon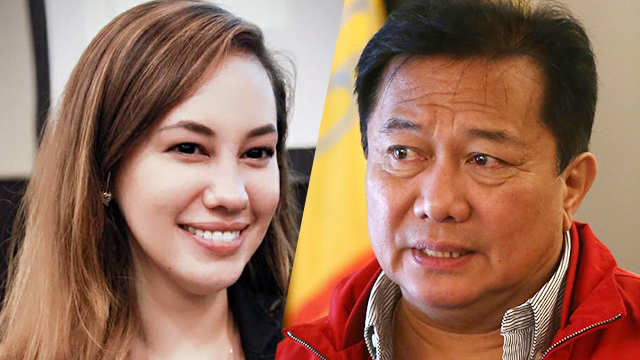 The plot thickens.
A day after she was berated by lawmakers during a House hearing, lawyer Mandy Anderson claimed Speaker Pantaleon Alvarez is getting back at her over an issue bigger than her Facebook post calling the latter an "imbecile." 
Anderson, the chief of staff of Bureau of Customs (BOC) Commissioner Nicanor Faeldon, said she earned the ire of the Speaker when she refused to heed his request to promote an unqualified person at the bureau. 
"Nag-start 'yan noong may hiningi siyang promotion ng BOC. Tapos ako, parang naging middle man, nakikipag-communicate sa staff niya," Anderson told dzMM on Thursday, July 27. She did not identify the employee in question nor the department he is part of.
(It all started when he asked for a promotion in the BOC. I sort of became like a middle man and communicated with his staff.) 
Rappler obtained a copy of a letter Alvarez sent to Faeldon dated May 15, asking the BOC chief to promote a certain Sandy Sacluti as customs operations officer V at the Formal Entry Division of the Port of Manila. The Speaker even attached Sacluti's resume to the letter. 
According to Alvarez, Sacluti is holding the said position in an acting capacity. The Speaker added Sacluti has a masters degree in customs administration.
But Anderson said she later found out that Sacluti was unqualified for the job, although she did not explain why in the dzMM interview. She then informed Alvarez's staff. 
"'Yung sabi ko po is check ko. I found out he was not qualified…. Nangulit pa po. And then pinatawag po ako sa opisina niya. Pinagalitan po ako [ni Speaker]," said Anderson. 
(I said I would check. I found out he was not qualified. They kept on asking. And then I was called to his office. The Speaker reprimanded me.)
Anderson claims the Speaker himself then tried to convince Faeldon to push through with the promotion. But she said Faeldon refused because they are trying to reform the personnel selection process in the BOC.  
Anderson said she began receiving "threatening" messages from Alvarez's head executive assistant Darren de Jesus. 
"'Yung medyo naaala ko nun, parang tinawagan ako sa cellphone ng head executive assistant niya na 'yung marching orders ni Speaker was to bring hell to me and the commissioner," said Anderson. 
(What I can remember is that his head executive assistant called me in my cellphone and told me that the Speaker's marching orders were to bring hell to me and the commissioner.)
Alvarez admitted to signing the letter of request for Sacludi's appointment on Friday, July 28.
"Yes, I did. I sign so many recommendations each day sa dami ng nagpapatulong, but until there na lang (because of the number of people who I ask for my help, but it's only up to there)," said Alvarez. 
But further asked if he was lobbying for the promotion of an unqualified personnel of the BOC, Alvarez said no.
"Certainly the allegation is far from the truth but I'm sorry, I do not want to comment on that at the moment so as not to divert the drug issue being investigated by the HOR (House of Representatives)," he told reporters.
'May hugot na'
Anderson explained the situation influenced her Facebook post on June 16, where she called the Speaker an "imbecile." This was what Majority Leader Rodolfo Fariñas confronted her about on Wednesday, July 26. 
"So medyo may hugot na. May galit na ako," said Anderson. (So I was coming from somewhere. I was angry already.)
She agreed when the radio reporter confirmed if she meant Alvarez was trying to get back at her by having lawmakers grill her over her Facebook post. 
"Yes, that's what I'm trying to say," said Anderson.
She added that Fariñas himself had pointed out during the hearing that she was merely a staff of the BOC commissioner. 
"I am no one. That's why I don't understand why I'm given so much importance during a congressional hearing," said Anderson.
Rappler reached out to De Jesus for comment, but he has not replied as of posting time.
Still, Anderson said it was wrong for her say that about Alvarez online, even if it was posted on her private Facebook account. 
She hopes that Faeldon – who told lawmakers he hired Anderson because she landed in the top 5 of the 2015 Bar examinations – would continue supporting her. – with reports from Carmela Fonbuena/Rappler.com