Shortly after his resignation as Davao City vice mayor, the presidential son shuts down the Facebook account where he earlier posted a furious message addressed to his daughter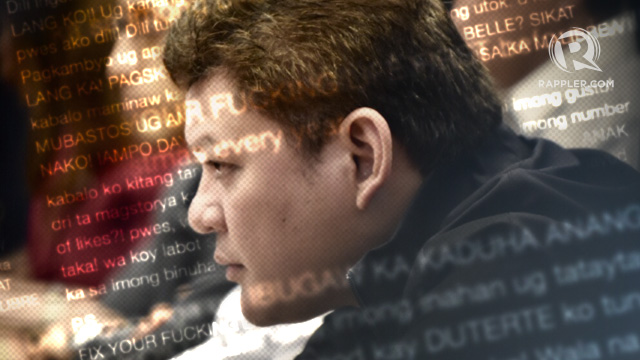 It's been a whirlwind week for presidential son Paolo Duterte and it seems like he wants to take a break from social media – at least from Facebook.
After quarreling with his daughter online for everyone to see, President Rodrigo Duterte's firstborn announced his resignation as Davao City vice mayor.
Now, Paolo has deactivated his official Facebook account which had been a longtime platform for his statements and opinions on various issues – even personal ones.
It was through that Facebook account where he publicized the rift between him and Isabelle, his daughter with Lovelie Sumera, admonishing her for supposedly allowing herself to be "pimped" by an unknown person.
"Change your family name if you want! You don't have respect! You just embarrassed yourself! Get an education so your brain isn't empty. You don't know how to listen anymore because you're famous??? Famous, for what, Belle? Famous for disparaging a father? Just wait for my death so you will be free from me! Pray for it, woman!" Paolo wrote on his account, referring to Isabelle. 
His Instagram account, where he regularly posts, is still up. (READ: 'The boy with the drogang tattoo': Netizens share Paolo Duterte memes)
The vice mayor's resignation also comes days after Davao City was flooded due to Severe Tropical Storm Vinta (Tembin), and a deadly fire engulfed a mall there.
Aside from his very public squabble with his daughter, Paolo also cited the smuggling of P6.4 billion worth of shabu from China through the Bureau of Customs, where his name was dragged, as one of the incidents that triggered his decision to resign.
According to Davao City Mayor Sara Duterte-Carpio, their father knew beforehand that her brother Paolo had been wanting to resign.
Malacañang, meanwhile, said father and son will still talk about the decision. – Rappler.com