'Subukan lang ho namin to fast track everything. You can be very sure of that,' Duterte tells all those affected by tragedies and calamities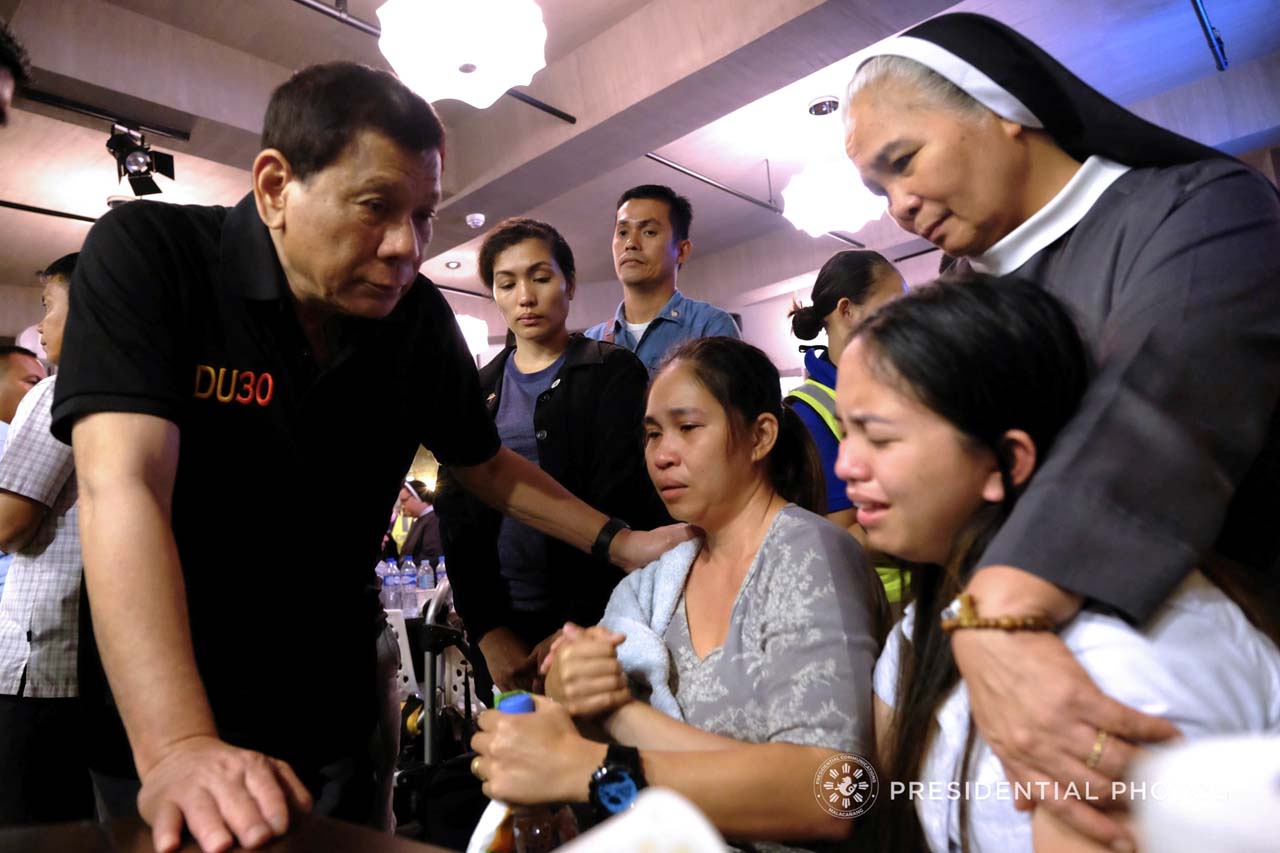 President Rodrigo Duterte said it himself: It seems he's spending the last days of 2017 "from one sorrow to another."
He flew to Lanao del Norte on Wednesday afternoon, December 27, for the National Disaster Risk Reduction and Management Council (NDRRMC) briefing in Tubod town, where Severe Tropical Storm Vinta (Tembin) left 29 dead.
"There seems to be no let-up in the typhoons that batter the country today. I don't know if the climate change that they have been talking about… had something to do with the greater and more deaths than before," Duterte said.
The President was supposed to visit Marawi City first to personally turn over 500 units of temporary houses to those displaced by the war there.
"We circled for a while but we could not make an opening there. We could not enter so we proceeded to El Salvador just to view the damage before landing here," he said at the briefing in Tubod.
The President said he will also try to visit Cagayan de Oro, also battered by Vinta. At least 4 major roads in Mindanao were destroyed by the storm.
Days prior, Duterte was in his hometown in Davao City, where 37 are feared dead from the fire that razed the 4-storey NCCC mall morning of Saturday, December 23.
'One sorrow to another'
"So, from one sorrow to another ako. I still have to visit some other place, hopefully tomorrow. Nauna na ako dito (I came here first). And well, it boils down to money. Wala talaga tayong magagawa (We can't do anything). That's the reality. Damages and lives," Duterte said. 
The President shared that he had to stay up until the early morning of December 24 to break the news to families that there was "zero chance" of survival for the 37 people trapped inside the burnt mall.
"I stood until morning time in just one place because my daughter begged off, Inday Sara, to make the announcement na hindi daw niya – Sabi niya, 'Pa, hindi ko kaya,' (she cannot, she told me 'Pa, I can't do it')" Duterte said, referring to Davao City Mayor Sara Duterte-Carpio.
"I told her, 'Well, I have been mayor for so long a time and I am not new to this kind of situations where you have to break the news.' I dread it every time I do it but you just have to tell them the truth," he said.
The President broke down in tears when he made the announcement.
Davao City was also not spared by Vinta, where over 31,000 residents were affected by flooding.
"Napakalungkot ho sabihin (It's sad to say) but we have been – we ended or we will end the 2017 with a bang of so many deaths of the Filipinos, ranging from careless(ness) to accidents and the typhoons. There seems to be a sorrow prevailing in the country today and it was not already a good Christmas day for all of us, thinking that there are persons suffering," Duterte said.
He promised those affected by disasters and calamities that they will 'try to fast track everything.'
"You can be very sure of that. We will have a meeting – I suppose right after the New Year. Wala nang panahon ngayon but the money, I said, is already appropriated. It's in the departments concerned and I will just order them to come here and do their thing, in whatever aspect they are supposed to deal with," the President said. – Rappler.com