The story is related to an accusation against Sereno for being supposedly lavish in her official travels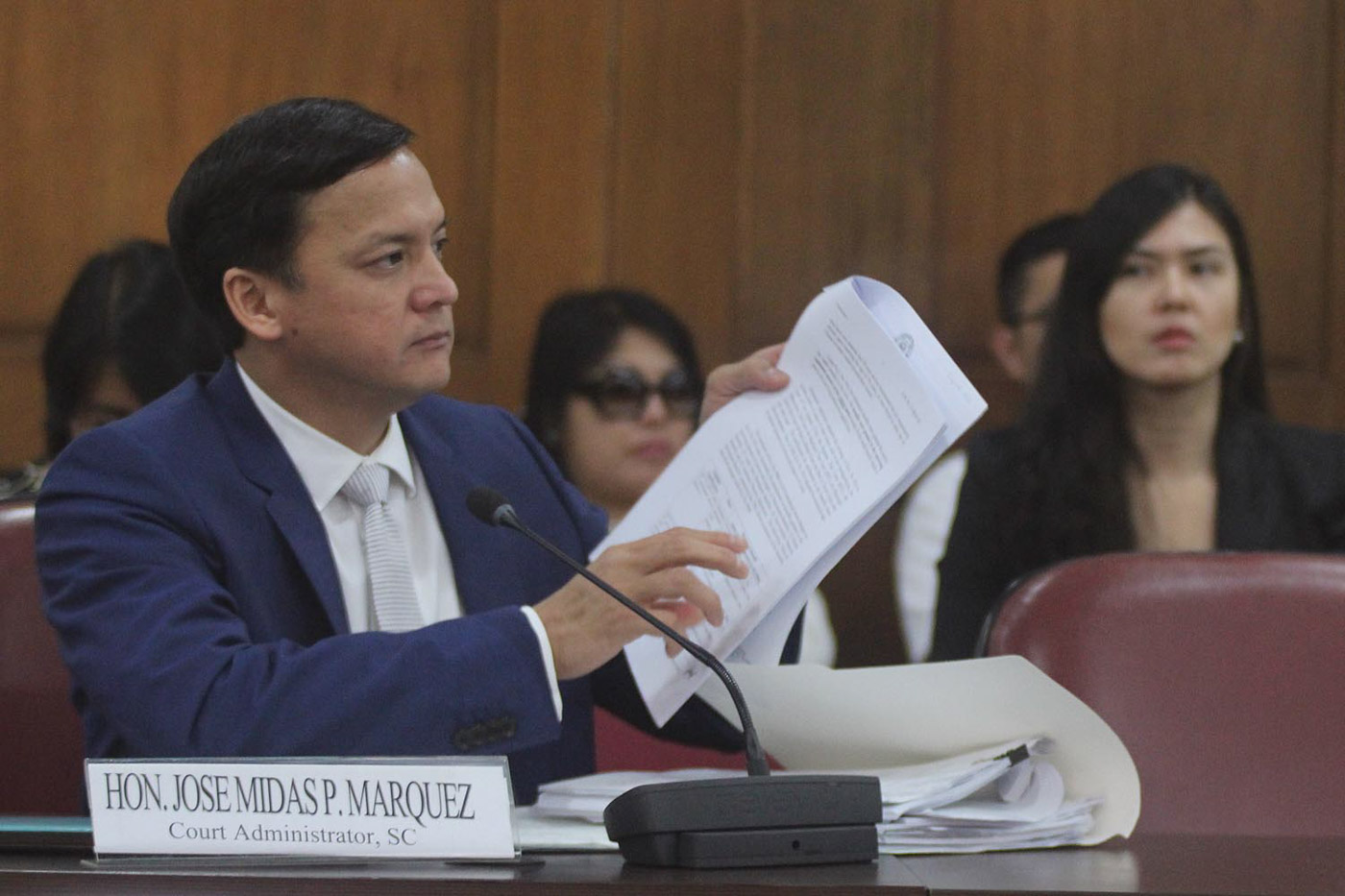 One of the accusations against Supreme Court Chief Justice Maria Lourdes Sereno is that she used court funds for lavish travels, including flying business class.

One story that has been circulating in court circles, as well as justice reporters, is that there was a time when Sereno flew business while other justices stayed back in economy.

On Monday, January 15, during the continuation of the House justice committee's hearing on the impeachment complaint against Sereno, Court Administrator Midas Marquez set the story straight.

It was he who flew economy in the same flight that Sereno, her staff and security detail flew business.

Marquez said that at least since the time of Chief Justice Reynato Puno, justices and the court administrator are entitled to fly business class, whether they're flying domestic or international.

Marquez claimed that when he became court administrator, he told the court personnel in charge of booking flights that if he's only flying domestic, he wouldn't mind flying economy.

"Yung request ko pong yun, umabot po hanggang sa panahon ni Justice Sereno kaya nung minsan nung pumunta po kami ng Cebu, pagbalik po sabay-sabay kaming bumalik sa Maynila kasama si Chief Justice, yung staff niya, at security, nandun po ako sa economy, yung staff nya at security, iba, nandun po sila sa business class," Marquez told a probing panel.

(That request of mine was continued through to Justice Sereno's time. So when we went to Cebu, and when we flew back to Manila, she stayed in business class with her staff and security, while I stayed in economy.)

Marquez, upon the pressing of committee chairman Reynaldo Umali, stressed however that only justices and the court administrator are entitled to a business class flight, not anyone else.

Asked who paid for their flights, Marquez said: "I would like to think, maaari pong (it could have been the) Supreme Court."
Egged to say how he feels having to fly economy, Marquez laughed it off and said, "It was just one hour anyway."

The Court Administrator has the same rank as the Presiding Justice of the Court of Appeals.

So far in the hearings, Marquez revealed that in several of Sereno's contested actions, it was his authority that was sidelined.

On Monday, Marquez was joined by Associate Justices Lucas Bersamin, Diosdado Peralta, and Samuel Martires, who repeated their colleagues' earlier accusations against the Chief Justice, such as contributing to the delay of granting survivorship benefits, and the transfer of Maute cases.
The hearing lasted 12 hours. – Rappler.com