(UPDATED) Ex-senator Bongbong Marcos' lawyer says Ilocos Norte Governor Imee Marcos is not accredited, but she was still 'allowed by the PET to enter' on April 2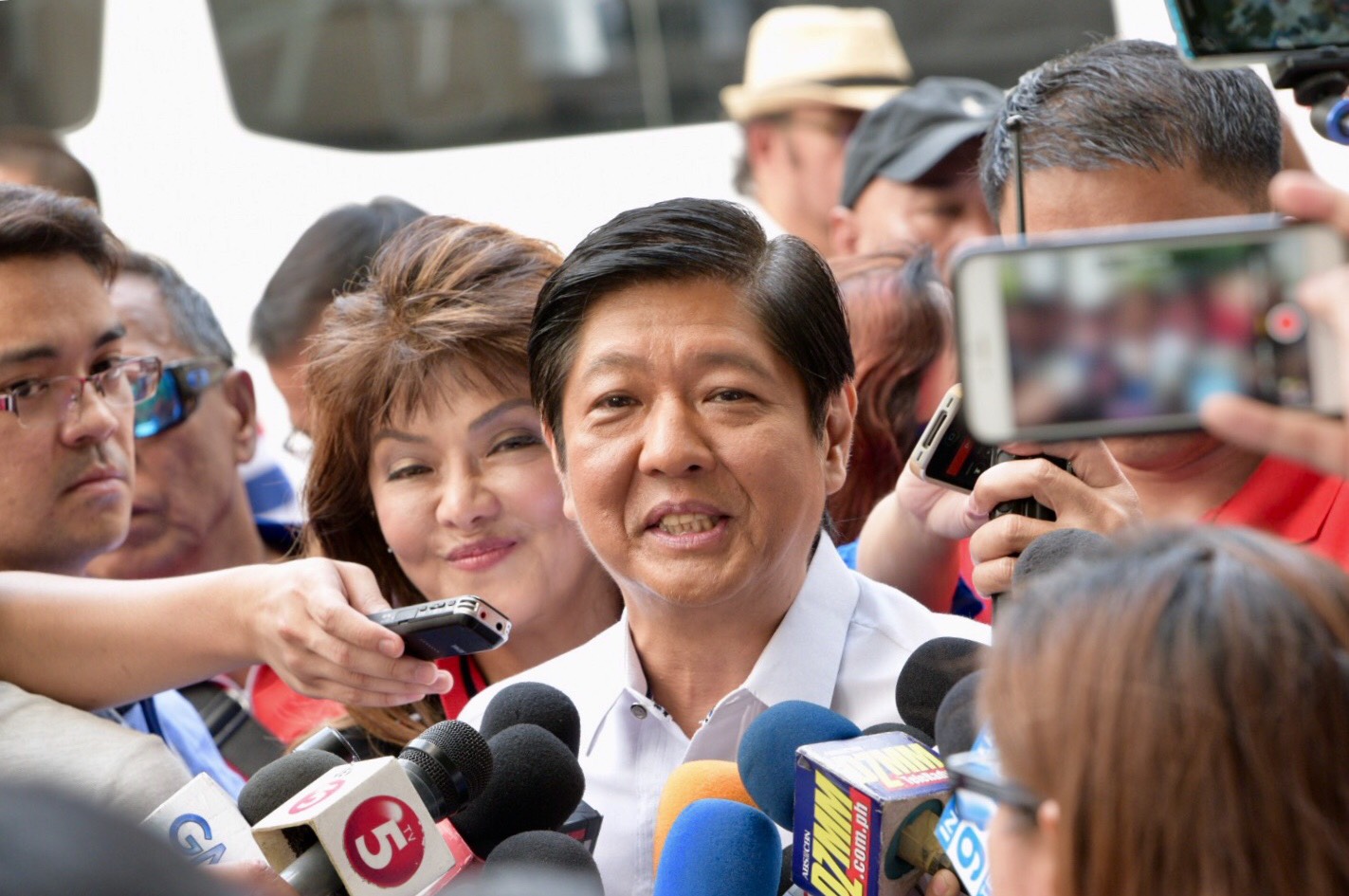 Ilocos Norte Governor Imee Marcos showed up at the Supreme Court (SC) on Monday, April 2, as the ballot recount for the vice presidential electoral protest began. After all, it was her brother, ex-senator Ferdinand "Bongbong" Marcos Jr, who filed the electoral protest against Vice President Leni Robredo. (READ: TIMELINE: Marcos-Robredo election case)
But should she have been able to enter the ballot revision or recount site in the first place? 
Only the protestant, protestee, their respective revisors, alternate revisors, lawyers, and other observers accredited by the PET are allowed to enter the 5th floor gymnasium at the SC-Court of Appeals building.
A source, who was inside the restricted area, said the Marcos camp was "admonished" by the PET for bringing in companions who were not accredited to enter – including Imee. 
The Marcos and Robredo sides both confirmed Imee got into the recount area, but they have different versions of what happened.  
Robredo's lawyer Bernadette Sardillo, in responding to Imee's defense of Bongbong's claims of anomalies regarding ballot boxes, also touched on Imee's unauthorized entry into the revision area. 
"With all due respect to Ms Marcos, we had to answer the lies that they wanted to propagate. She should advise her brother to consult his legal team first before ranting to the media," Sardillo said about the claims that the Robredo camp had tagged as "fake news."
Then she pointed out, "If it is following the rules of PET (Presidential Electoral Tribunal) that are being placed in issue, maybe Ms Marcos should also explain why she blatantly violated the rules when she gatecrashed the revision area."
Sources, including Bongbong's lawyer George Garcia, confirmed Imee was able to enter the venue on Monday, along with Bongbong and his wife, Louise Araneta Marcos.
The Marcos camp's legal counsel said Bongbong and Louise are part of the accreditation list, but not Imee.
Nevertheless, Garcia said the governor was still "allowed by the PET to enter" on Monday morning.
He then said the PET had to "apologize" for this when the tribunal met with the lawyers of both the Marcos and Robredo camps on Monday afternoon.
"The PET even apologized for the inadvertence when they allowed Gov Imee…The PET said it will not happen again," said Garcia. 
But sources present at the same meeting refuted Garcia.
"PET did not apologize. They (Marcos camp) were admonished," said a source.
Rule 16 of the PET Revisor Guide for the Revision of Ballots under the Automated Election System says that the only ones who can observe the ballot recount proceedings at the venue are the protestant, protestee, their respective duly accredited party supervisor, party counsel, "and such other persons as may be authorized by the Tribunal."
The PET had required both the Marcos and Robredo camps to submit the names, addresses, and photos of all party revisors, alternate supervisors, and counsels for accreditation to gain access to the ballot recount site by March 27. – Rappler.com