The WEF founder says they 'want to hear the story of the Philippines in Davos'
When your mother – who happens to be a former first lady infamous for her extravagance and glamor – thinks it's too much, then maybe it really is.
President Ferdinand Marcos Jr. told Philippine media on Sunday, November 13, that going on a trip to Switzerland in January 2023 would be "traveling too much" when asked if he'd accept an invitation to visit Davos for the World Economic Forum (WEF) in January 2023.
Klaus Schwab, founder of WEF, had formally extended an invite for Marcos to join the glitzy, high-profile forum on the sidelines of the 40th and 41st Association of Southeast Asian Nations (ASEAN) Summits in Phnom Penh.
"So I am undecided yet. It's traveling too much. That's already the end of January. I'm going to China on the third. Parang…like my mom says, 'Kailan ka nag-oopisina (when do you go to the office)?'" he said.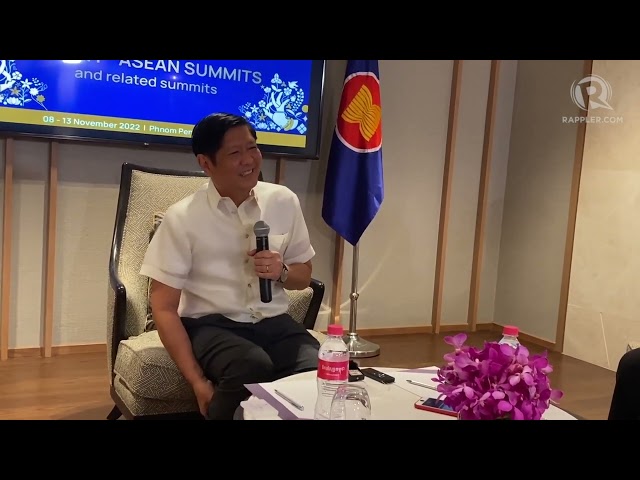 Marcos already has a trip scheduled for early January – to China, for his first state visit outside ASEAN.
The working visit to Cambodia is Marcos' fourth official trip as head of state and his fifth trip abroad since taking his oath. He flew to Indonesia and Singapore for his first state visits in early September, then to the United States for the United Nations General Assembly.
Shortly after returning from New York in September, Marcos flew to Singapore again, this time for a trip that was more for leisure – to attend the Grand Prix.
He has two more trips in 2022: the Asia-Pacific Economic Cooperation (APEC) meetings in Bangkok, a week after ASEAN, and then Brussels, Belgium in December for the ASEAN-European Council Business Council summit.
Marcos has been criticized for the many travels he's made. While he didn't explicitly defend his travel history and plans, he said the formal and informal meetings have been "useful."
"It was very useful. It was absolutely critical that I had come and I am happy that I did," he said, referring to the ASEAN Summit.
Another thing that's making him think twice about flying to Davos for WEF? "The real decision there is really going to be, if we are going to ask people to come to the Philippines, who are going to invest in the Philippines, are we ready for them?" he told the media delegation.
For Davos, Marcos said Schwab told him that they "want to hear the story of the Philippines in Davos."
Several countries, particularly those in the region, have invited Marcos for a state visit. The President said he's accepted all of them but said he still start honoring those promises in 2023. – Rappler.com