2

Looking back: Skirting the au pair ban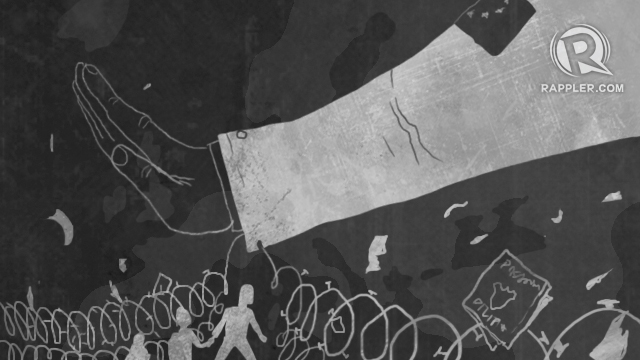 MANILA, Philippines – "He's carrying a box of Dunkin Donuts. I'm holding a teddy bear."
This was the secret code between Rene (not his real name) and the immigration personnel who was supposed to "escort" him inside the departure area of the international airport in Manila and out to his plane that would take him to Denmark.
Rene, who was barely in his 20s then, wanted to try his luck in Europe by becoming an au pair.
Au pair, which means "at par" in French, is a cultural exchange program that taps youth between 18-30 years old to live with host families in Europe and learn their language. In exchange, they have to help with baby-sitting and housekeeping chores for not more than 5 hours a day.
They get a monthly allowance in return – for those who are headed to Denmark, this is equivalent to 3,250 DKK (this was increased to 4,000 DKK or P28,000 in 2015).
Rene, who wanted to earn money abroad, seized the chance of becoming au pair after learning about it from a friend. This was in 2009, he said in a recent interview. At the time, Filipinos were not allowed to be au pairs in Europe. A ban was put in place in 1998, following reports of abuse and exploitation.
But the new college graduate – like the thousands of au pairs who went to Europe despite the ban – still wanted to give it a shot. This is why he had to get an escort, to make sure someone would successfully get him past immigration authorities in the airport. But it came with a price. "I paid him P15,000."
The escort had to make sure Rene would be able to leave the country even if the contract he has clearly shows he's headed to Denmark as an au pair. To make this happen, Rene said the money he gave would supposedly be split among 2-3 people, including the one stamping his passport.
"From the entrance, to the immigration counter, to the embarkation area – those who allowed us to get through all of these get a cut," he explained.
'Nag-collapse'
Rene was not the only one. Julia and a relative also paid an immigration officer in 2010 when they flew out of the country to be au pairs. "We paid P7,500 each if I remember correctly." Unlike Rene, she deposited her payment in her escort's account.
"There was a ban and then you let them leave. That's human trafficking."
If there was an exclusive or covert set-up to help the would-be au pair and the immigration officer spot each other, there was also secret language.
Julia said if they panicked before an immigration officer and couldn't answer his or her questions, they should just text the "escort" this message: "nag-collapse" (collapsed).
It signals an urgent call for help and need for quick coaching about the right things to say – all via text.
For Nora, it was a higher fee she had to pay compared to Julia. When she flew to Denmark in 2007, she just texted her escort on the day of her departure. "I texted him that we're here at the entrance. He led us up to our gate. We didn't even have to go through the immigration counter." Nora paid around P9,000.
The au pairs were told by their recruiters or by their friends and relatives who went as au pairs before them to pay off immigration officers.
Elena, who paid a recruiter from Southern Philippines, gave the immigration officer P20,000. Her recruiter, whom we were able to interview, confirmed that she told her au pair applicants to prepare additional money for immigration staff.
The recruiter said immigration personnel had to be paid either P10,000 or P15,000 to pass.
Nora, on the other hand, said her friend – who was then an au pair in Denmark – advised her to be ready with the payment. "If you don't pay the immigration, you cannot fly," she remembered being told.
The Global Alliance against Traffic in Women (GAATW), in their 2013 paper "Au pair: Challenges to Safe Migration and Decent Work," said that one of the conditions which enabled the bribery was the inconsistent implementation of the ban on au pairs.
Citing the 2011 study, "Abused Domestic Workers in Europe: The case of au pairs" written by researcher Helle Stenum, GAATW said some European countries such as Denmark, the Netherlands, Belgium, and Norway still issued au pair visas despite the ban.
"Consequently, Filipino au pairs continued to leave the Philippines as undocumented migrants. Under the ban, au pair migrants were deprived of rights and protection, and would not be protected by the administrative regulations of the Philippines Overseas Employment Administration (POEA). The ban resulted in institutionalized bribes to airport authorities to allow travellers to exit the Philippines on an au pair visa," the study said.

SOP for au pairs
The number of au pairs grew despite the ban. According to Stenum's paper, there were only 569 Filipina au pairs in Denmark in 2005. GAATW, which also cited the said study, noted that "five years later, Filipina au pairs working in Denmark quadrupled."
The higher the number of au pairs that skirted the ban, the more room there was for money to exchange hands between the immigration officers and the au pairs.
Clara, another recruiter from the Southern region, said that the payoff between the two was the standard practice then.
"We told our au pairs na mag-ready ng P5,000-P10,000 sa airport for the immigration officer. Kino-coach namin sila paano mag-approach ng immigration officers. Dapat discreet, hindi puwede na in open space magbigay ka ng pera. Na-master na namin 'yan para di maharang au pairs namin."
(We told our au pairs to prepare P5,000-P10,000 for the immigration officer in the airport. We coach them on how to approach immigration officers. They should be discreet, they can't give money openly. We've mastered that so our au pairs are not blocked.)
She claimed the practice has stopped, however, after the ban was lifted in 2010 for Norway, Denmark, and Switzerland, and in 2012 for other European countries.
"Bago lang kasi na-formalize au pair. Pero ngayon meron nang exit clearance, legalized contract, di na sila puwede mag-demand."
(The au pair [program] is newly formalized. But now there is already an exit clearance, legalized contract, and they can no longer demand.)
Immigration knew, but…
"From the entrance, to the immigration counter, to the embarkation area – those who allowed us to get through all of these get a cut"
Tonette Bocasas-Mangrobang, spokesperson of the Bureau of Immigration (BI), acknowledged that they have heard of the alleged bribery going on between au pairs and their personnel. "We know of these incidents concerning au pairs."
It was only under the term of then president Benigno Aquino, however, when the efforts against human trafficking were heightened.
"It was only under the time of Aquino when anti-human trafficking actions were strengthened." This was also the time when immigration authorities doubled efforts to prevent Filipinos with incomplete or questionable travel and work documents from leaving the country.
"We have a unit that checks the records of the passengers. This is the Travel Control and Enforcement unit. If they were able to get past the immigration officers, they can still be stopped if the unit finds out that they don't have the proper documents."
Mangrobang said that allowing Filipinos to go to Denmark then as au pairs while the ban was still in place is equivalent to human trafficking. "There was a ban and then you let them leave. That's human trafficking."
The Inter-Agency Council against Trafficking said they have to receive complete, official information from the BI to conclude that human trafficking has indeed been committed in these types of cases, however. "We are currently waiting for the BI to give us the full report so we could fully appreciate the facts of the case and provide a proper conclusion."
Human trafficking, under the Expanded Anti-Trafficking in Persons Act of 2012, consists of exploitation and abuse as perpetrated in various forms such as debt bondage, forced labor and prostitution. While a more thorough probe must be done to determine if the BI personnel had been complicit in committing human trafficking, there is no question that they, at the very least, must be probed for bribery.
"They will be subjected to administrative investigation. The worst that can happen to them is to face termination from service," Mangrobang said.
Mangrobang is unsure, however, if the BI has indeed penalized any immigration personnel involved in the payoff. She said that the au pairs who paid them at the time can still come forward and file complaints.
For the au pairs who paid off immigration personnel then, however, the bribery was part of what they had to do to get out of the country. It was an arrangement that was mutually beneficial.
Julia said while they knew that what they did then was illegal, it was a gamble they had to take. Europe was waiting. "It's a risk, but we were told we had to do it. So we did." – Rappler.com
This story is a collaboration between the Pulitzer Center on Crisis Reporting and Rappler.
Beyond investigation
Newsbreak was built on the tradition of integrity-driven investigative reporting. Furthermore, it aims to engage readers and the community.
You can join the conversation by becoming a Rappler PLUS member.
PLUS members will receive our editorial newsletters and industry reports, get to join online conversations with our award-winning journalists, and be part of our monthly events.
More than that, you will help enable Newsbreak to continue doing compelling and investigative work.
Make your move now. Join Rappler PLUS.