This is AI generated summarization, which may have errors. For context, always refer to the full article.
Through NABCOR alone, the PDAFs of at least 49 lawmakers were released to dubious NGOs
The number of lawmakers whose development funds were channeled to dubious organizations through a single government corporation is almost double the 28 that a whistleblower recently revealed.
The names left out by Benhur Luy, the self-confessed bagman of an alleged public fund syndicate, include 15 who are now allied with the Aquino administration, Rappler learned.
They are:
1 former senator whose son ran under the administration's Team PNoy last May
8 turncoats who are now with the President's Liberal Party
2 party-list representatives who are with the administration
4 who have long been with the LP
Through the National Agri-Business Corporation (Nabcor) alone, at least 49 lawmakers were identified as sources of pork barrel that went to non-governmental organizations (NGOs) that state auditors had questioned over a 5-year period.
Nabcor is a government-owned and -controlled corporation under the Department of Agriculture from which the alleged syndicate run by Janet Lim-Napoles got most of the solons' funds.
The more prominent administration allies named in the COA reports denied knowledge of their pork barrel going to the identified NGOs.
Reached by Rappler for comment, they expressed support for investigations to set the record straight.
List will get longer
The list of senators and congressmen and congresswomen may yet get longer if Priority Development Assistance Fund (PDAF) releases to other agencies and government corporations will be scrutinized.
In Nabcor, for instance, in addition to the 49 identified lawmakers, the Commission on Audit (COA) noted 17 PDAF releases to questionable NGOs in 2008, but did not name the lawmakers from whom the funds came. It had one unidentified PDAF source in 2007.
The PDAF releases through Nabcor from both identified and unnamed lawmakers totalled more than P1.35 billion from 2007 to 2011.
Indeed, the allegations made by Luy in the affidavit he recently submitted to the justice department make up but a small part of a larger anomaly.
Luy had claimed that Napoles used at least 5 non-existent NGOs to get a slice of the PDAF of 5 senators and 23 congressmen and women. He said the NGOs availed themselves of the funds through Nabcor, the ZNAC Rubber Estate Corporation, and the Technology Resource Center.
But while Luy claimed that Napoles had made some P10 billion from the scam since 2006, he was able to provide details in his affidavit for only more than P500 million.
Leaders of the opposition parties have complained that Luy's exposé was politically motivated, linking only non-administration allies to the pork barrel scam.
55 releases through Nabcor
Rappler went over the COA reports on Nabcor for the years 2007 to 2011, a period that spanned 3 national elections and covered the change of administrations from President Gloria Macapagal Arroyo to President Benigno Aquino III.
We came up with this list of lawmakers and the amounts of their PDAFs that were released to 26 NGOs that state auditors had questioned on the basis of the following:
no track record
no capability to put up counterpart funds
interlocking interests with other beneficiary-NGOs
non-compliance with COA regulations
failure to provide a list of beneficiaries for PDAF-funded projects
Pork Barrel COA Reports Per Legislator
Angara, Hontiveros, Villanueva
At the time their PDAFs in Nabcor were released to dubious NGOs, most of the the 49 lawmakers were with former President Arroyo's Lakas-CMD and Kampi parties or with her administration's congressional ally, the National People's Coalition (NPC).
After President Aquino won in 2010, a number of those Arroyo allies jumped ship and joined Aquino's LP.
Of the 15 who are now allied with the Aquino administration, only 4 were originally with LP. These 15 had a combined PDAF of P114.78 million going to dubious NGOs from 2007-2011.
Then Sen Edgardo Angara had P19.4 million of his PDAF released to the Kagandahan ng Kapaligiran Foundation in 2009-2010, for the benefit of the 3rd district of Davao City.
Angara was then with the Laban ng Demokratikong Pilipino, which was the original party of Gloria Arroyo when she first ran for senator in 1992. In 2013, the senator's son, Aurora Rep Sonny Angara, was one of President Aquino's senatorial candidates; the younger Angara won.
During the same period, 2009-2010, then Rep Joel Villanueva of the party-list group Cibac (Citizen's Battle Against Corruption) had P4.85 million released to the Kaagapay Magpakailanman Foundation, for the benefit of Oriental Mindoro's 2nd district.
Villanueva has since been appointed by Aquino as director general of the Technical Education and Skills Development Authority.
The same amount, P4.85 million, this time from then Akbayan Rep Risa Hontiveros' pork barrel, went to the Sagip-Buhay People Support Foundation. It was supposed to benefit the towns of Hernani in Eastern Samar and Doña Remedios Trinidad in Bulacan.
Hontiveros ran for senator under Aquino's party in 2010 and 2013 but lost.
'No record of PDAF for that NGO'
The office of former Sen Edgardo Angara said it "thoroughly reviewed our 2009-2010 PDAF" when Rappler asked it to comment on the COA finding.
"There was no record of P20 million allocation to a Davao NGO coursed through Nabcor," said Mina Pangandaman, Angara's chief of staff.
"We are just curious as to how a big sum of money got credited as part of our PDAF. We are looking into the matter. Historically, we have had no 'soft' of that amount that went to a single NGO at that," she said.
Former Cibac representative Joel Villanueva, for his part, pointed out that the Arroyo government had withheld his PDAF because he was critical of the administration. He said he has "no idea" who is behind the Kaagapay Magpakailanman Foundation that supposedly received funds under his name.
"During impeachment years, I don't recall receiving a single cent from the Arroyo administration to CIBAC party list. They already admitted they are forging signatures so I hope the investigating authorities will dig deeper and hold liable those who will be proven guilty," he told Rappler.
Hontiveros of Akbayan said her case is very different from the pork barrel scam recently exposed. She said the projects were implemented and the problem may only involve documentation.
"My office received written reports from LGUs themselves that the projects were implemented. I was shocked when COA found irregularities. But despite those irregularities, as far as I'm concerned, the projects were implemented," she said.
Hontiveros said she has written the House of Representatives secretary-general and the Office of the Ombudsman to express her support for a probe.
From Arroyo to Aquino
Eight former Arroyo allies who have transferred to Aquino's LP released the following amounts to questionable NGOs through Nabcor: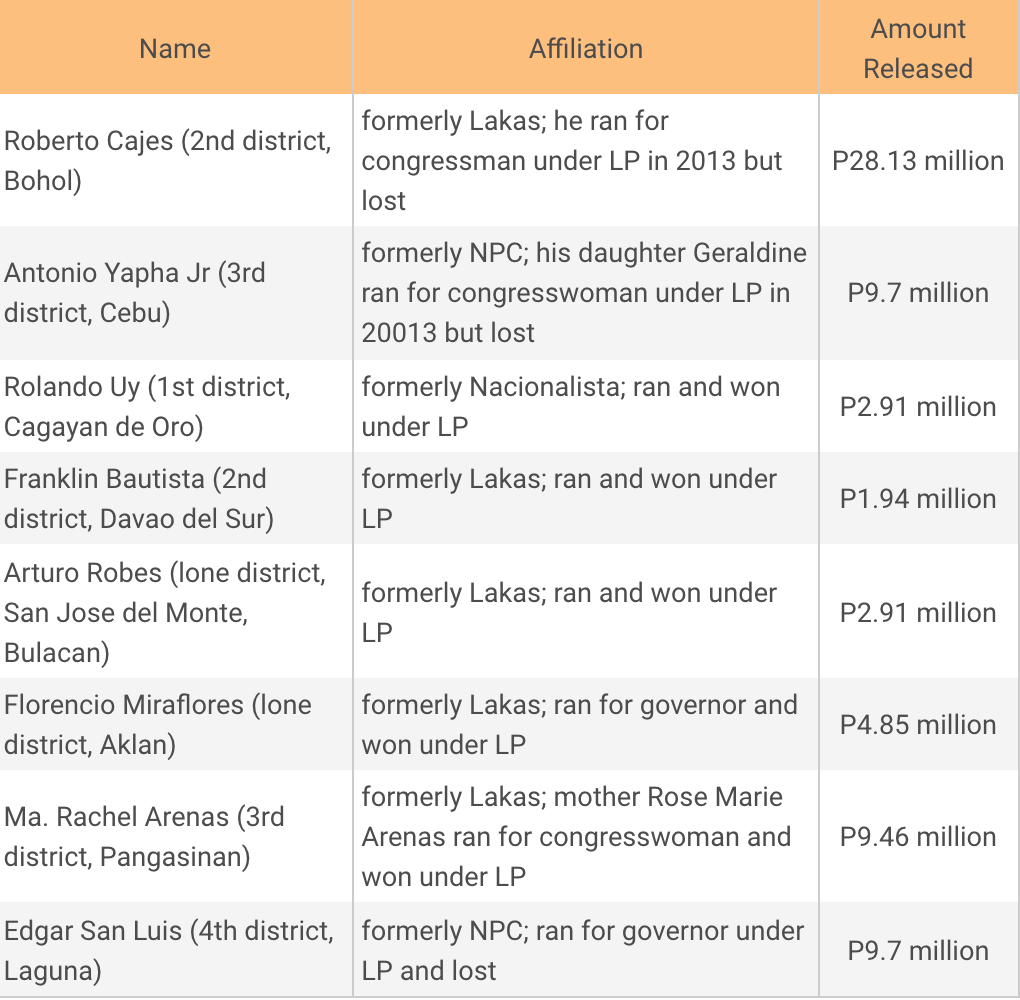 The 4 loyal LP congressmen whose pork Nabcor released to questionable NGOs were: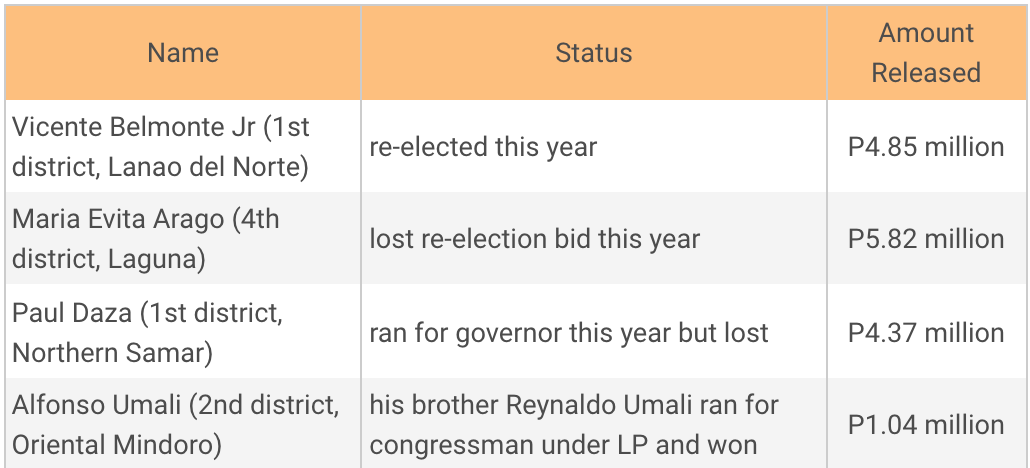 – with Michael Bueza and Carmela Fonbuena/Rappler.com