EXCLUSIVE: Nearly 2 years after Facebook banned Twinmark, it again takes down some dubious pages – but only after this is brought to its attention
AT A GLANCE
The questionable network of Twinmark Media Enterprises, banned for coordinated inauthentic behavior, was already back on Facebook just a few weeks after it was taken down in January 2019 and it continues to exist.
Facebook was not successful in totally eradicating the fake network, as some pages have survived.
Twinmark relied heavily on its partner Facebook pages to amplify content on its sites and increase clicks.
Facebook took down some Twinmark-linked pages, but only after the issue was raised with the social media platform.
Almost two years since Facebook banned it, the fake network of digital marketing group Twinmark Media Enterprises still flourishes on the social media platform.
The phenomenon shows how Facebook has failed to rein in coordinated inauthentic behavior on its platform, which millions of Filipinos use daily. This also promotes propaganda and spreads disinformation.
Rappler, which conducted investigations after a knowledgeable source sent information about a few websites and Facebook pages, confirmed that these are indeed linked to Twinmark.
Rappler found that just a few months after it was taken down from the platform, Twinmark used and created dozens of other websites, which were then promoted via Facebook pages to drum up traffic. Some of these Facebook pages were already in existence during the 2019 takedown, while several were created after.
Many of these pages and their owners have been Twinmark's partners for years.
On January 11, 2019, Facebook announced it was banning Twinmark for violating the platform's policies "through coordinated inauthentic behavior, the use of fake accounts, leading people to ad farms, and selling access to Facebook Pages to artificially increase distribution and generate profit."
While Facebook's basis for the takedown was questionable behavior, the contents of Twinmark websites and pages were found to be dubious.
In December 2017, Rappler ran a series of stories on Trending News Portal (TNP), a Twinmark website that branded itself as a "digital news outfit" that published mostly questionable and false stories about President Rodrigo Duterte's critics. (READ: PH company banned by Facebook spread lies, used fake accounts)
At the time of takedown, Facebook said it knows that the people behind the network would continue to evolve their tactics. Facebook also said it would "continue to invest heavily in safety and security to ensure that people can continue to trust the connections they make on the platform."
But will Facebook ever be able to solve this kind of problem?
Rappler sought Facebook for comment on the issue, and asked about the tech company's processes for verification and payments to dubious organizations managing pages.
A Facebook company spokesperson did not answer the specific questions and only said that they already removed some pages after Rappler raised the issue with them.
"We monitor efforts to re-establish a presence on Facebook by networks we previously removed. Using both automated and manual detection, we continuously remove accounts and pages connected to networks we took down in the past. In this case, we removed these pages because we found links to the network we removed in January 2019. We continue to review and will take action if we find additional violations," the spokesperson said in an e-mail to Rappler.
Why this matters
The websites contained mostly clickbait articles, numerous entertainment content, and several political materials. Facebook pages, meanwhile, were mostly named after popular celebrities or were linked to their supposed fan groups. Others simply shared memes.
While majority of their content are deemed harmless for now, Twinmark and its network have been instrumental in spreading hate, propaganda, and disinformation. In the run up to the 2022 presidential election, this poses even greater threats to democracy.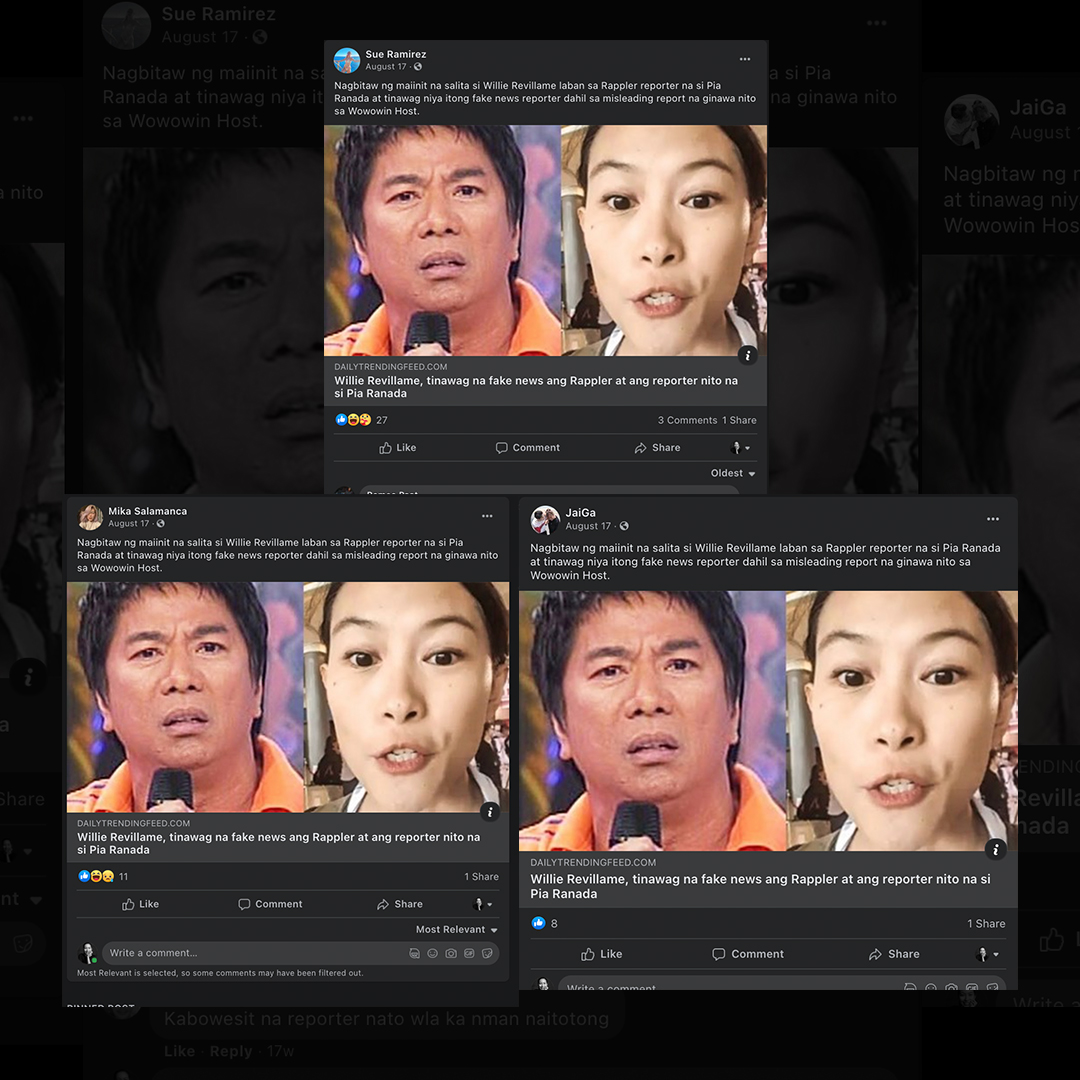 Such questionable networks could also be used for political campaigns, as seen in one Twinmark-related Facebook page that regularly posted content from a senatorial candidate in 2019. A former Twinmark staff also told Rappler they had as clients several senatorial and local candidates in 2019.
Earning money from viral but dubious content
Through Sharktank, a Rappler database that tracks publicly-posted content in Facebook groups and pages, we found and tracked more than two dozen Twinmark-linked websites and over 30 Facebook pages that amplified them.
The past and present Twinmark sites are similar in appearance, tone, and messaging.
Rappler was able to confirm Twinmark's ownership of these sites through the agency's previous official website and through a partial list obtained from a previous employee.
Rappler was also able to link currently active websites to Twinmark using identifiers such as Google Adsense and Google Analytics.
Abe Olandres, founder and editor-in-chief of technology blog Yugatech, said websites that share the same Google Adsense and Analytics codes have the same owners.
"If the old and new websites are associated with the same Google Analytics and Adsense codes, then they are owned/operated by the same individual or group," Olandres told Rappler.
"The use of Adsense indicates an economic benefit to the operators of the sites. Regardless of the type of content or the truthfulness of the stories, its primary objective is to make money from the viral articles (from people visiting the site and clicking on the ads)," he added.
Most of these questionable sites carry a disclaimer that says the site "makes no representations, warranties, or assurances as to the accuracy, currency or completeness of the content contained on this website or any sites linked to this site."
On Facebook, some Twinmark-linked sites are still monetizing their viral and dubious content by using Instant Articles. Before the takedown, Facebook had already been paying Twinmark thousands of dollars, according to Facebook remittance forms seen by Rappler.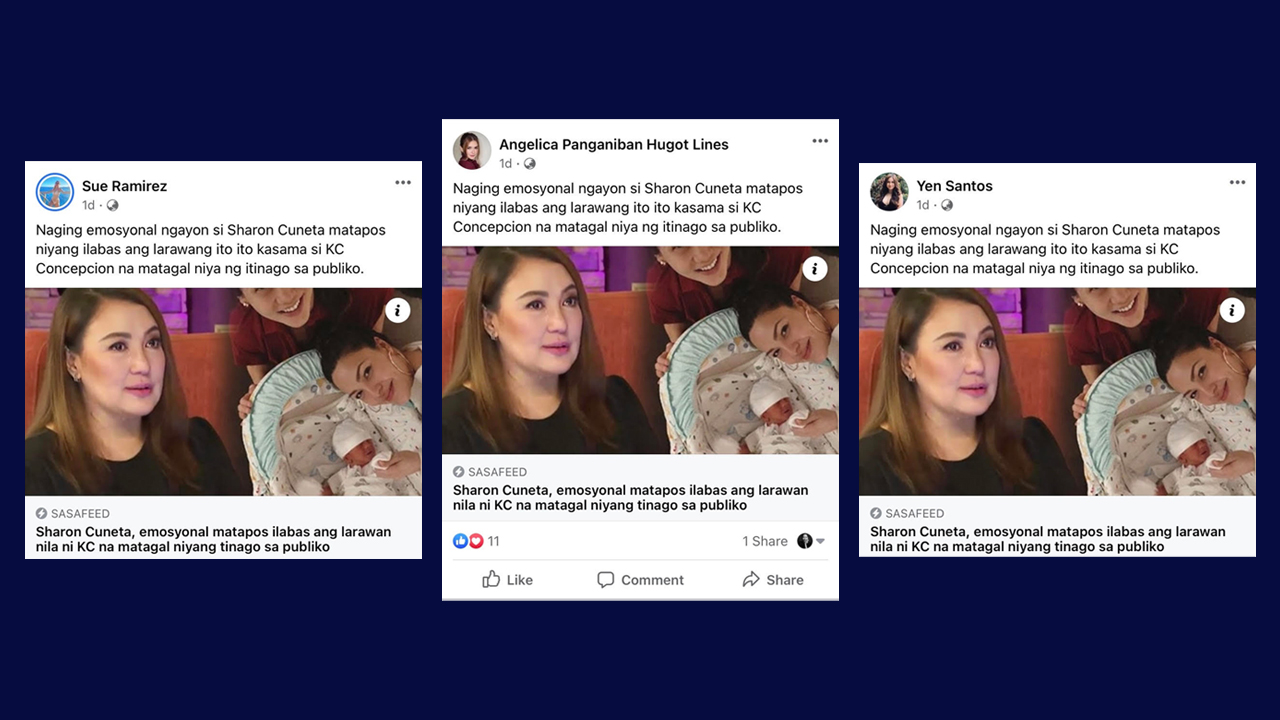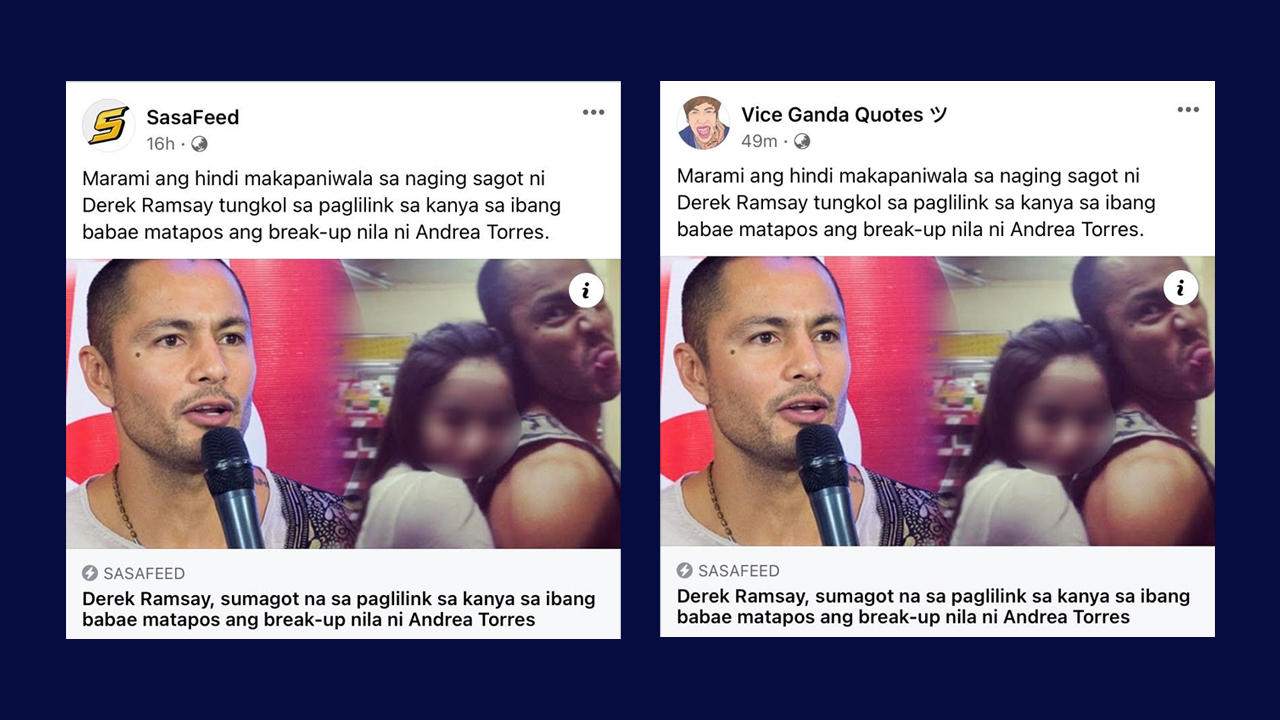 Rappler asked Facebook if it is paying these pages – many of which do not disclose their page operators in the transparency section. But Facebook did not respond to the question.
Quick revival
Social media data obtained by Rappler show that from February to April 2019, just a few months after Facebook removed the fake network, Twinmark sites bounced back on the platform.
Below are two networks: the first represents a portion of Twinmark's network a few months after the ban, while the second represents the company's more recent network.
The first one shows that less than a month after their takedown, Twinmark sites that survived the closure were again active on Facebook.
Among these sites were:
dailytrendingfeed.com
bayanko.info
pinoyupdates.com (no longer accessible)
pinoypatrol.online (no longer accessible)
(These are the 3 bright red circles and the maroon circle linked to Twinmark. Hover over the circles to see the names of the pages and who they connect to.)
Rappler found that all except dailytrendingfeed.com shared the same Google Adsense code with two Twinmark sites that were part of the 2019 network: goodnetwork.online and truefilipinow.com
Among others at the time, the 4 most active sites were shared by Facebook pages such as Angelica Panganiban Hugot Lines, Madam Lucy, Official Donya Amor, Vice Ganda Quotes, and Joseph Marco fan page.
Based on internal Twinmark documents obtained by Rappler, these pages have been Twinmark's partners for years. Owners of these pages have received payment for regularly amplifying these websites.
Click on the right arrow to see the second network, which was recorded from September to November 2020. Notice how the network has widened and has become more interconnected in a span of almost two years.
After the initial network, it appeared that Twinmark created new websites, which are still linked to its old sites via key identifiers.
The link between old and new websites
In an October 2017 Medium post, Noemi and Alvin Nieto posted an article: "Why is Mocha Uson Blog sharing a lot of blog posts coming from the same source?"
The article referred to the favorite source of information of dancer-turned-government official Uson, a rabid supporter of President Rodrigo Duterte. (READ: The success, influence of Trending News Portal)
The article also mentioned another Twinmark favorite of Uson, netcitizen.co, which had the Google Adsense code ca-pub-8765602391811417 – a crucial link to the new network.
A reverse Adsense query indicated that the same code is also being used by two of the many currently active Twinmark-linked sites:
artistacentral.com
showbizbroadcast.com
The same Adsense code was also used by old Twinmark sites – healthytips.ph, socialpees.com, and thegoodfeed.net. Twinmark's ownership of these old sites was confirmed through a partial list given to Rappler by a former Twinmark employee.
For a time, netcitizen.co used a different Google Adsense ID, which was also used by two previously known Twinmark websites: teamangel.ph and chismix.com
The active sites artistacentral.com and showbizbroadcast.com also have the same Google Analytics ID, which they share with 11 other active sites. These two websites served as the main links to past and present Twinmark, as can be seen below.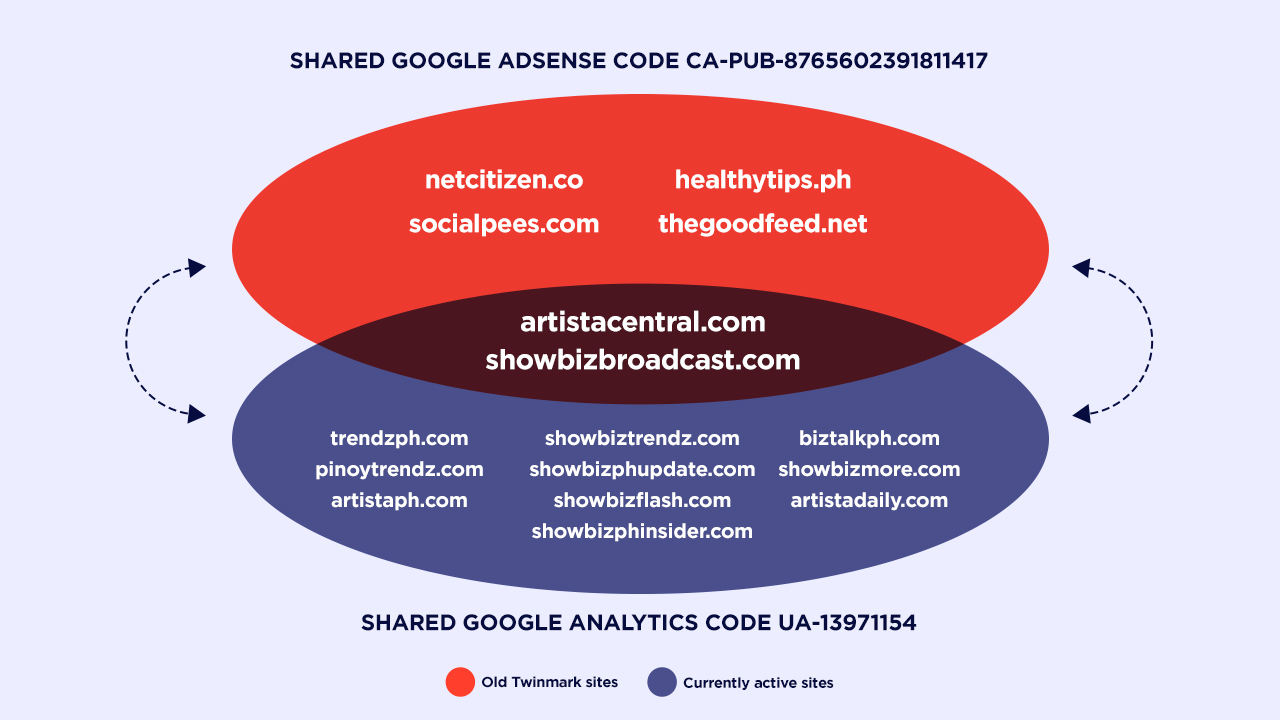 The other active websites linked to Twinmark are:
trendzph.com
showbiztrendz.com
mostrendingph.com
showbizmore.com
artistaph.com
showbizupdateph.com
showbizflash.com
artistadaily.com
biztalkph.com
showbizphinsider.com
pinoytrendz.com.
Since artistacentral.com and showbizbroadcast.com are both linked to old Twinmark sites (via same Google Adsense) and to the 11 active sites (via same Analytics code), this means that the 11 sites are also associated with Twinmark, as shown in the diagram above.
Meanwhile, 6 other active sites – sasafeed.com, bayanko.info, thefilipinotoday.com, newstrendyph.com, dbsights.com, trendzshares.com – share the same Google Adsense code with two old Twinmark sites that were amplified by the fake network taken down in 2019: goodnetwork.online and truefilipinow.com.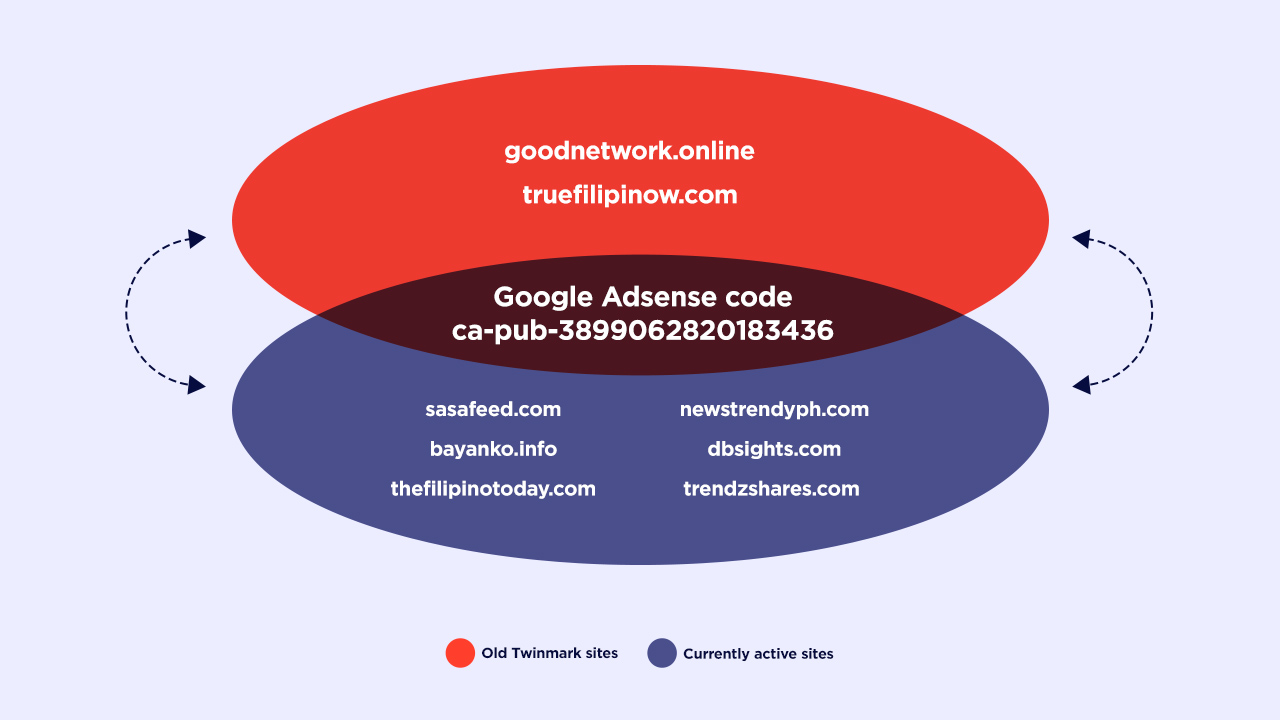 Rappler also found other dubious sites that are part of the new Twinmark network. They regularly shared content from Twinmark-linked sites but their identifiers could not yet be directly linked to the company.
lackfeed.com
dailytrendingfeed.com
madiskartengpinoy.com
onlinetruestories.com
forbstories.com
thedailyfeed.org
thepader.com
ptama.net
happeninginphilippines.com.
However, one of the pages of lackfeed.com – Lackfeed TV – described itself as a "media/news company" and had been regularly sharing articles from Twinmark sites.
Meanwhile, its verified official page claimed that it was being managed by a supposed company called LackFeed Media Inc, an office supposedly based in Taguig.
It appears that LackFeed Media Inc is not registered, as there were no records found on the Securities and Exchange Commission's SECExpress website and on the Department of Trade and Industry (DTI) Business Name Registration System (BNRS). Aside from the official Facebook page, there was no other mention of the company on Google.
A quick check of its page history in the transparency tab also shows that it had changed its name multiple times – from celebrity "Loisa Andalio" in 2016 to "Loisa TV" in June 2020 to its current name, LackFeed Media Inc, on August 1.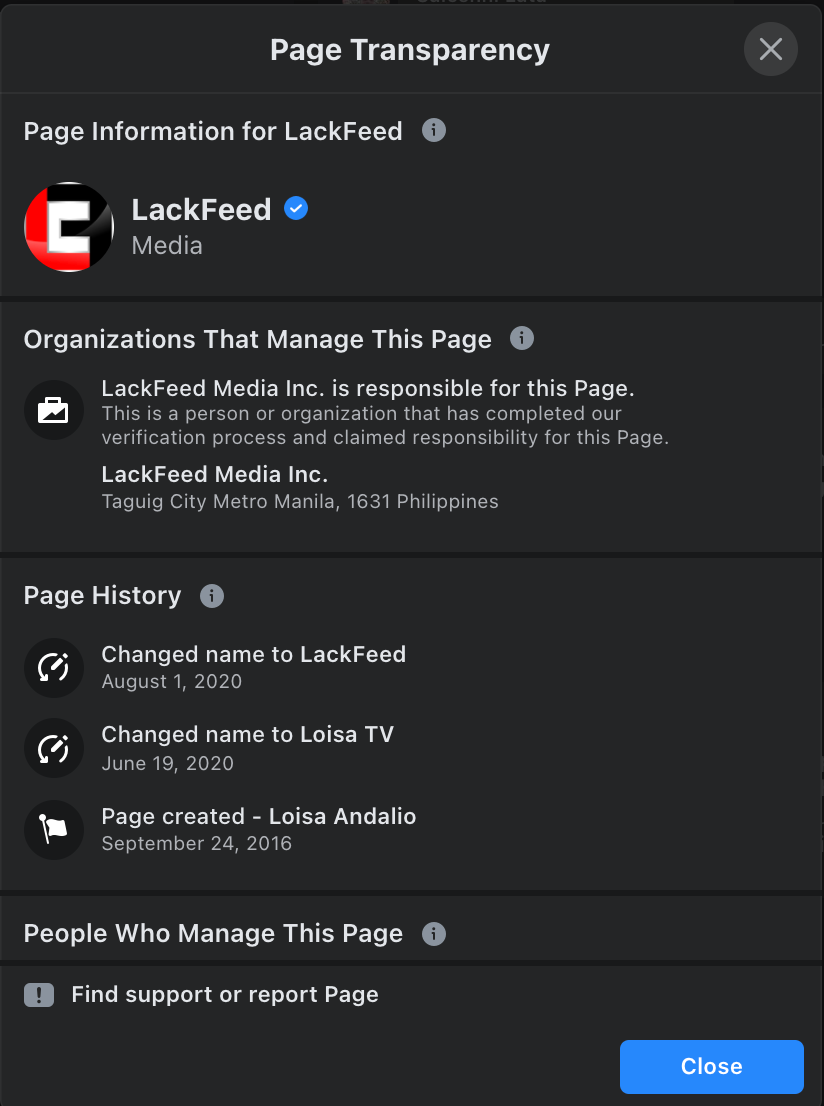 Aside from LackFeed Media Inc, Rappler also found another similar company – Cervana Inc – that officially manages several Facebook pages, such as Unspoken Thoughts, Secret Feelings, Smart Destinations, and an apparent fan page for local teen star Bruce Roeland. It is also supposedly based in Taguig.
There were no records of Cervana Inc's registration found via SECExpress and DTI BNRS.
Both companies have no known registration, yet Facebook certified them as owners of the pages. This raises questions about Facebook requirements for organizations managing pages and earning money on the platform.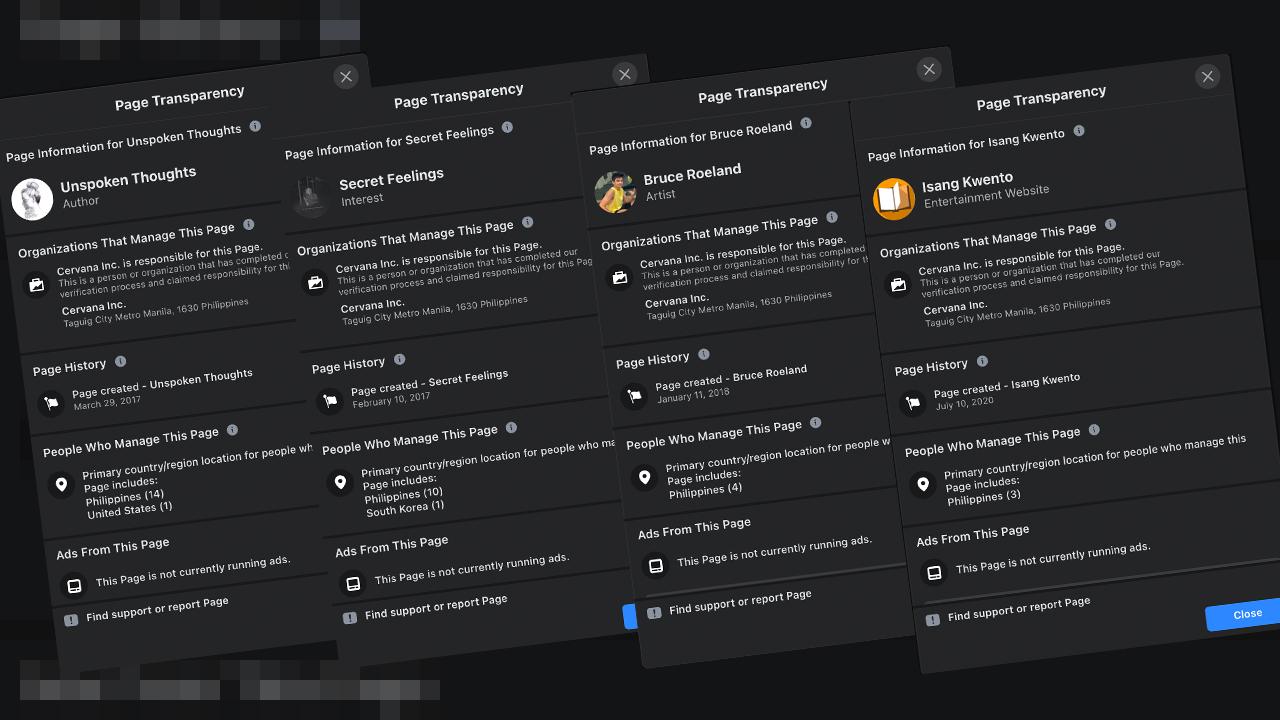 The business of Facebook page rentals
The Facebook ban hasn't stopped Twinmark from using the platform to generate clicks and engagement on its sites. While it lost many of its own Facebook pages, it now mostly relies on its partners – some of whom Twinmark has dealt with for years, according to internal documents obtained by Rappler.
Take the case of the pages Madam Lucy, Ivy Aguas, JACKY, Jade, Romina, and Daniela – characters from the ABS-CBN show Kadenang Ginto. They all regularly share content from Twinmark-linked websites, which rent the pages.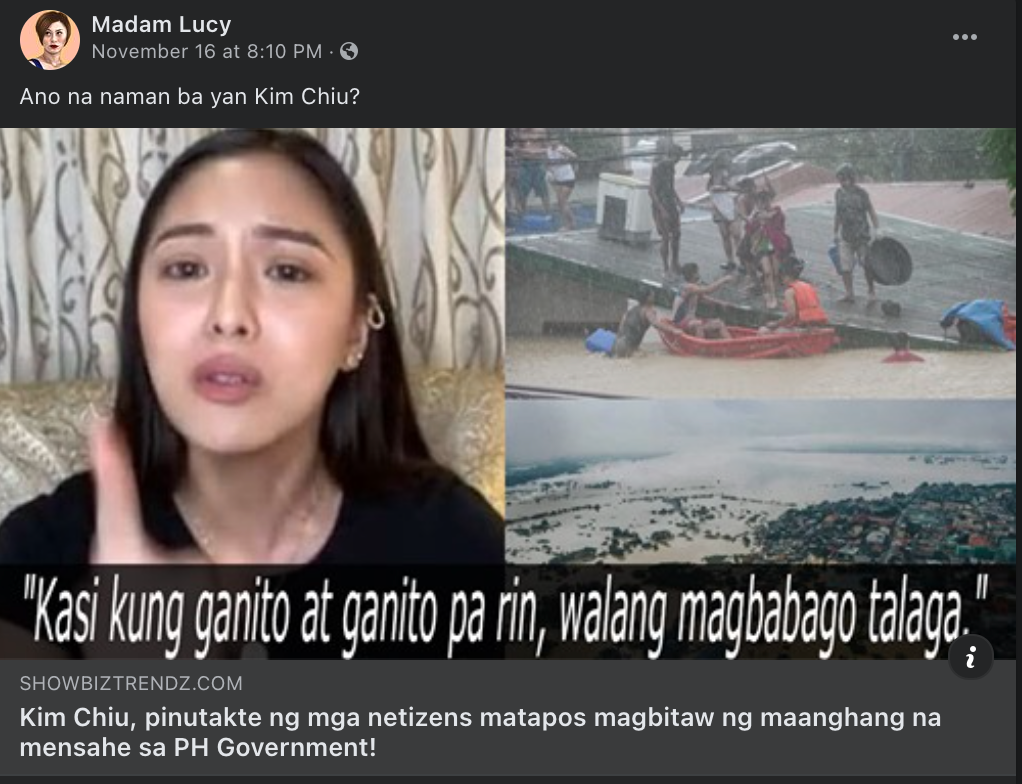 An internal database obtained by Rappler shows that Twinmark has been dealing with a Jherlee Chester Santia, the operator of these pages, since 2017. At the time, since it was only for a single page, Twinmark paid Santia P9,000 monthly.
As the network of Madam Lucy grew, so did the payment Santia received from Twinmark. In January 2018, a second page became part of the Twinmark network, Ivy Aguas, earning Santia an additional P5,000 a month.
This small network of Facebook pages has now branded itself as Peer Entertainment. Rappler counted at least 15 pages belonging to it, many of which share content from Twinmark sites.
Rappler sought Santia for comment but he has yet to respond. A few days after reaching out to Santia, the Madam Lucy page appeared to have deleted Twinmark-associated posts. But his other pages continued to amplify Twinmark websites.
Santia, though, is considered small fish. Operators of other Facebook pages earn a lot more, according to the internal database.
According to documents shared by a former Twinmark staff, a certain Gabrielle Barrera earned at least P30,000 a month in 2018 for promoting Twinmark websites on his Facebook pages, Walang Ganon and Pinakamalupet na Hokage.
Reysan Madamba, who is also known in some political circles as a social media operator, received as much as P90,000 monthly, according to the same internal documents. But it is unclear if all the money goes to the named person or if it is shared with other page operators/owners.
Angelica Panganiban Hugot Lines and the Vice Ganda Lines, two pages widely amplifying the new Twinmark sites, are operated by a certain Jaypee La Torre.
On top of these operators, celebrities and social media influencers also get paid for sharing Twinmark sites, according to internal documents.
While Facebook has recently removed some pages linked to Twinmark, these are just a small part of the entire network. Whether or not this is enough remains to be seen.
As one former Twinmark employee told Rappler in October 2020, it is easy to create new accounts and evade the system right under Facebook's nose. – Rappler.com