This is AI generated summarization, which may have errors. For context, always refer to the full article.
The tough-talking mayor can't sleep without an old blanket from his mother and is a closet bookworm
MANILA, Philippines – He has been nicknamed "The Punisher" and the "Dirty Harry" or "Duterte Harry" of Mindanao for his no-nonsense approach to crime.
He recently announced he no longer has plans for 2016, but his avid supporters haven't given up and continue to woo him. There was even wild talk of throat cancer being a reason for his sudden announcement, a claim he quickly dismissed as unfounded and malicious.
He said, "The Presidency is destiny. No amount of lying, deception and distortion of truth would help. As for me, I believe I have been truthful to the people on my health conditions."
Beyond controversy, there's more to Rodrigo Duterte than meets the eye. Here are 22 things you may not know about the popular, 70-year-old mayor.
1. Born in Visayas, grew up in Mindanao
When his supporters say Duterte would be a true "president from the South," they point to his intimate ties with the two regions.
While Duterte made his mark in Davao City, he was born in Maasin, Leyte. His father hails from Cebu and was even mayor of one of its cities. Duterte's Cebuano relatives include the influential Durano and Almendra families.
2. Goes to his parents' graves for big decisions
When faced with a big decision or problem, Duterte visits the graves of his parents in Wireless cemetery, the oldest and most congested cemetery in Davao City.
Both parents were public servants. His father, Vicente, was the last governor of the undivided Davao in the 1950s. His mother, Soledad or Nanay Soleng, was a school teacher, civic leader, and philanthropist.
3. Was a "problem child"
His mother once described Duterte as an adventurous kid who was always out of the house. According to legend, a 14-year-old Duterte even flew a small plane above his neighborhood without his parents' consent.
According to a TIME profile, Duterte had to endure beatings from his mother. He was kicked out of Ateneo de Davao High School and was "exiled" by his father to a high school 57 kilometers from Davao.
After formal flying training in college, Duterte supposedly flew a plane over his old high school to throw a rock at the school roof.
He still harbored bitter feelings over an incident in which he was scolded by the Dean of Discipline in front of his classmates. But days after the rock-throwing, he apologized to the school administration.
4. Closet bookworm
This tough-talking "bad boy" is passionate about the written word. His close friends say he devours books on every imaginable topic, including Philippine history (particularly Mindanao history), economics, food security, and politics.
He has read biographies on Napoleon Bonaparte, Lee Kwan Yew, and Barack Obama. As for fiction, he's an avid reader of Robert Ludlum and Sydney Sheldon.
5. Keeps an old blanket for comfort
Like anyone else, Duterte has creature comforts too. He cannot sleep without a certain very old ramie blanket given to him by his mom when he was just a year old. He brings it everywhere he goes and tries to patch it up when it falls apart.
In the mid-1990s, on the way to Indonesia for a trade mission, a Davao City official saw a "rag" packed among Duterte's things and ordered it to be thrown away.
Duterte supposedly replied, "Kung itapon niyo 'yan kayo na lang pumunta sa trade mission ninyo. Balik ako ng Davao. (If you throw that, you go ahead with the trade mission. I will return to Davao.) I cannot sleep without it."
6. Longest-serving mayor of Davao City
Digong is among the country's longest-serving mayors. He has been Davao City mayor for 7 terms, totalling more than 22 years. When not a mayor, he was vice mayor under his daughter, Sara, or congressman.
During his terms, he implemented a smoking ban in public places, a mining ban, an anti-discrimination ordinance, and a 911 emergency response system, among others. Many credit him for uplifting Davao City from its reputation as a murder capital to one of the safest, most-liveable cities in the country.
7. Cried when he saw Yolanda's devastation in Tacloban
He was one of the first mayors to come to the ravaged city's aid. Toting P7 million in cash for donation, he flew to Tacloban to personally lead a humanitarian team composed of Davaoeño doctors, nurses, and search-and-rescue personnel.
Reporters who have covered him for a long time say he cannot control his tears in times of great sorrow or injustice.
After his visit and with tears in his eyes, he described the scene of destruction to reporters, "God must have been somewhere else or he forgot that there is a planet called Earth."
8. Single but…
His mayor's profile in the Davao City website says he's single but he is associated with at least two women. Elizabeth Zimmerman, his ex-wife, is the mother of his 3 adult children Paolo, Sarah, and Sebastian. Honeylet, a nurse, is the mother of 11-year-old Veronica.
He has said in public that he has 3 girlfriends but they do not show up in public functions.
9. Ladies' man
You can always expect Duterte to "flirt" with at least one girl during his public appearances. These are never serious advances. He's often satisfied with just having his picture taken with the girl. He's never had a girlfriend below 25 years old.
He tends to be over-protective of women, at one point even opposing swimsuits in the Mutya ng Davao pageant.
He likes women with a medical background. At least two of his girlfriends were nurses.
10. Loves big bikes, spurns luxury cars
He doesn't hide his fondness for big macho motorcycles, once owning a second-hand Harley Davidson and now a Yamaha Virago. But he detests luxury cars. Even his kids own only a pick-up and van.
11. Favorite songs
His favorite tunes are the classic Cebuano song "Balud sa Kapalaran" sung by Max Surban, love song "MacArthur's Park" first recorded by Richard Harris, and the uplifting "You Raise Me Up" popularized by Josh Groban.
Duterte is such a fan of Cebuano singer Surban that he asked the artist to compose all of his past campaign jingles.
12. Favorite food
If you want to impress the mayor with your cooking, it's best to learn how to make Nilaga, native chicken adobo, and bulad or dried fish.
13. Inspects Davao City on a big bike, or incognito, in a taxi
The hands-on mayor is known to patrol his city's streets twice a week. The TIME article shows him doing so on one of his big motorcycles, leading a convoy complete with blaring sirens and M16 rifles. But local news reports show him foregoing the pomp, opting to inspect in a regular taxi, surprising his would-be passengers.
14. Curses profusely
This is one politician who refuses to censor himself. Even his weekly television show is taped so that bleeps can be added over his curse words.
He ignores formal requests by media groups and even schools to refrain from using expletives during his speeches. He's also not above mimicking persons, including government officials, for fun.
15. Net worth
According to his 2014 Statement of Assets, Liabilities and Networth (SALN), his networth is P21.97 million. This includes 4 residential lots and two cars.
16. Soft spot for indigenous peoples, Muslims
He was the first to give formal representation to the Lumad and Muslim community, designating deputy mayors to represent their interests in the local government.
The anti-discrimination ordinance he championed was reportedly a response to news he received that Muslims were being discriminated against by real estate agents.
17. Built a drug rehabilitation center in Davao City
Though he openly supports the killing of drug addicts and dealers, he is not one to refuse second chances to drug addicts who want to reform.
He used city government funds to build a P12-million drug rehabilitation and treatment center which provides 24-hour services. In 2003, he offered a P2,000 monthly allowance to drug addicts who promised to kick the habit.
18. Would talk with, rather than fight, China
When asked how he would handle the country's territorial dispute with China, Duterte said he would rather talk things over with the Chinese.
"While we must never surrender our sovereignty on the West Philippine Sea islands, we must face the reality that a non-confrontational approach would be the best option. There is a bit of Chinese blood in almost all of us Filipinos and I believe the Chinese are a reasonable people," he has said.
19. Pro-contraception, pro-LGBT
A supporter of the Reproductive Health law, Duterte has encouraged family planning in Davao City. Back in 2005, he gave cash incentives to those who availed of the city's free vasectomy and tubal ligation services. Duterte is also openly supportive of lesbian, gay, bisexual, and transgender (LGBT) rights.
In 2009, he criticized the Commission on Elections for delisting the Ang Ladlad Party List, a group which represents Filipino gays and lesbians. Duterte says his anti-discrimination ordinance has helped Davao become an LGBT-friendly place.
"Sa Davao, walang binabastos na bakla. Kasi ayaw ko ng oppression (In Davao, no gay person is disrespected. Because I don't like oppression)," he said during a TV guesting on Gandang Gabi Vice.
On the same guesting, he announced his support for same-sex marriage.
20. Declined national government posts, awards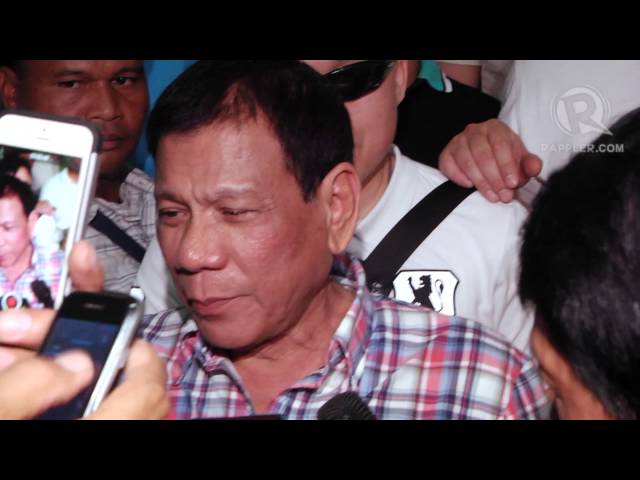 Begging out of the presidential race was not the first time Duterte declined accolades. He has been offered the Interior Secretary post 4 times, by presidents Fidel Ramos, Joseph Estrada, Gloria Arroyo, and Benigno Aquino III. He rejected all of them saying, "I'm not qualified."
In April last year, he also declined a nomination for the World Mayor Prize, given by an international body to outstanding mayors. He said he was just doing his job and that "As a matter of principle, I don't accept awards."
21. Surrounded by urban legends
Colorful urban legends surround Duterte. There is one in which he supposedly pushes a drug trafficker from a flying helicopter. One in which he treats taxi drivers to dinner. Another in which he beats up a Philippine military soldier, breaking his two front teeth. One incident, confirmed by the mayor himself, involves him forcing a tourist to swallow a cigarette butt.
22. Sympathizes with the Left
Duterte, unafraid of visiting remote New People's Army camps, respects the causes of Leftist groups but disagrees with their armed struggle.
In previous mayoral elections, he took in Left-leaning candidates in his city council state. Controversially, he allowed a hero's burial and funeral march for NPA leader Leonardo Pitao or Kumander Parago.
In 2012, he gave money to an NPA camp ravaged by Typhoon Pablo. – with reports from Reynaldo Santos Jr/Rappler.com
You may want to read interesting trivia on other candidates that you might have missed: