A gram of shabu now costs P1,300 to P25,000 per gram, while cocaine is pegged at P5,000 to P7,000, according to data from the Philippine Drug Enforcement Agency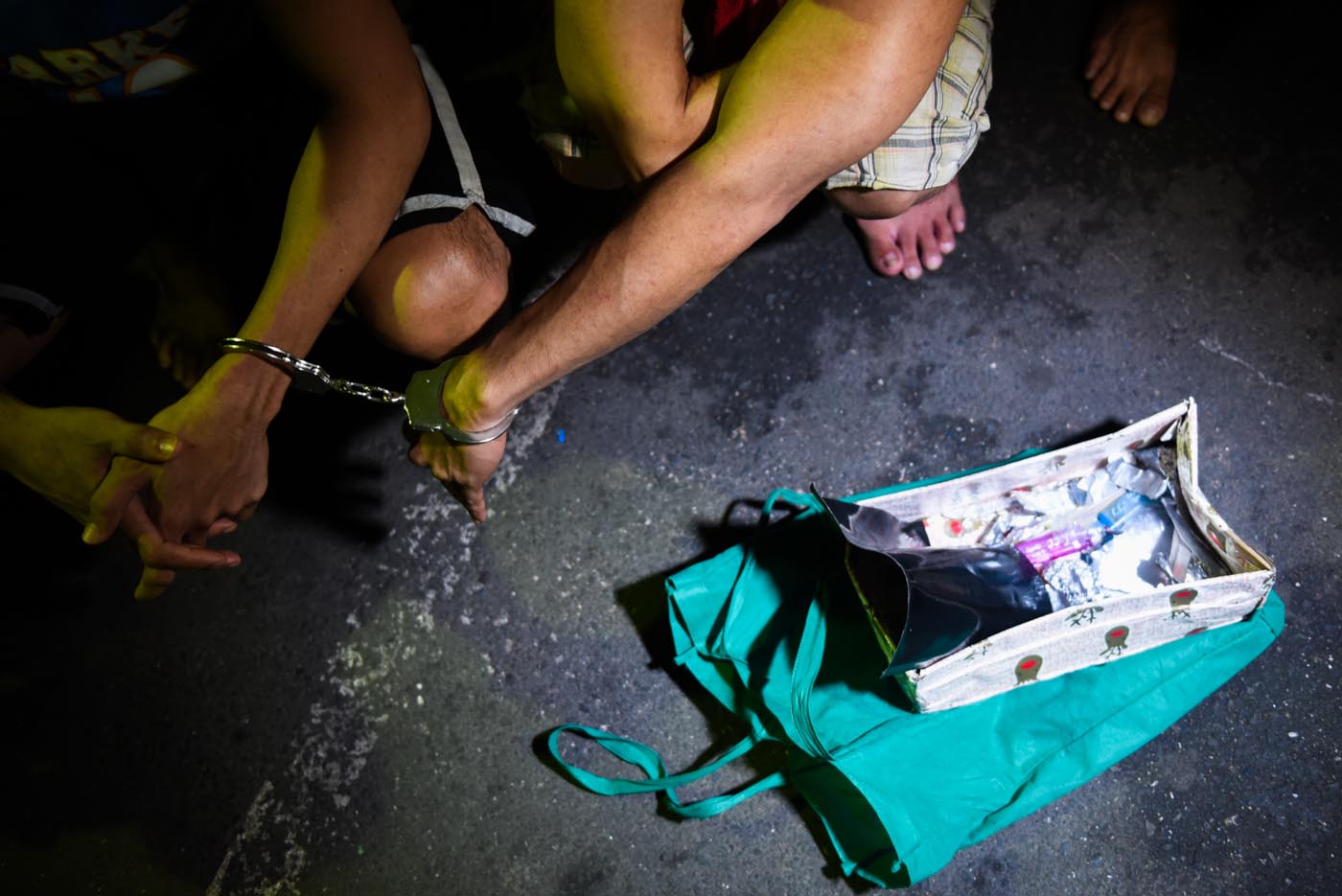 MANILA, Philippines – If there is one effect of President Rodrigo Duterte's intense war on drugs that cannot be contested, it is that 1.8 million current drug users may have to shell out more money to sustain their addiction.  
The street prices of illegal drugs – particularly methamphetamine hydrochloride (shabu) and cocaine – are now more expensive. 
The price increase comes hand-in-hand with the soaring number of casualties as Duterte's war on drugs passed its 100-day mark. 
As of Thursday morning, October 27, the total number of persons killed has already reached 4,726. Out of this number, 1,725 are drug personalities killed in police operations, while 3,001 are victims of extrajudicial or vigilante-style killings. (READ: IN NUMBERS: The Philippines' 'war on drugs')
Increased prices for shabu and cocaine
According to data from the Philippine Drug Enforcement Agency (PDEA), as of October 2016, a gram of shabu – dubbed as the poor man's cocaine – now costs between P1,300 ($27)* to P25,000 ($517).
From January to June 2016, before Duterte took his oath as president, a drug user was able to purchase shabu for anywhere between P1,200 ($25) and P11,000 ($228). 
The latest street price is also higher than in 2015 when a gram of shabu cost from P1,200 to P15,000 ($310).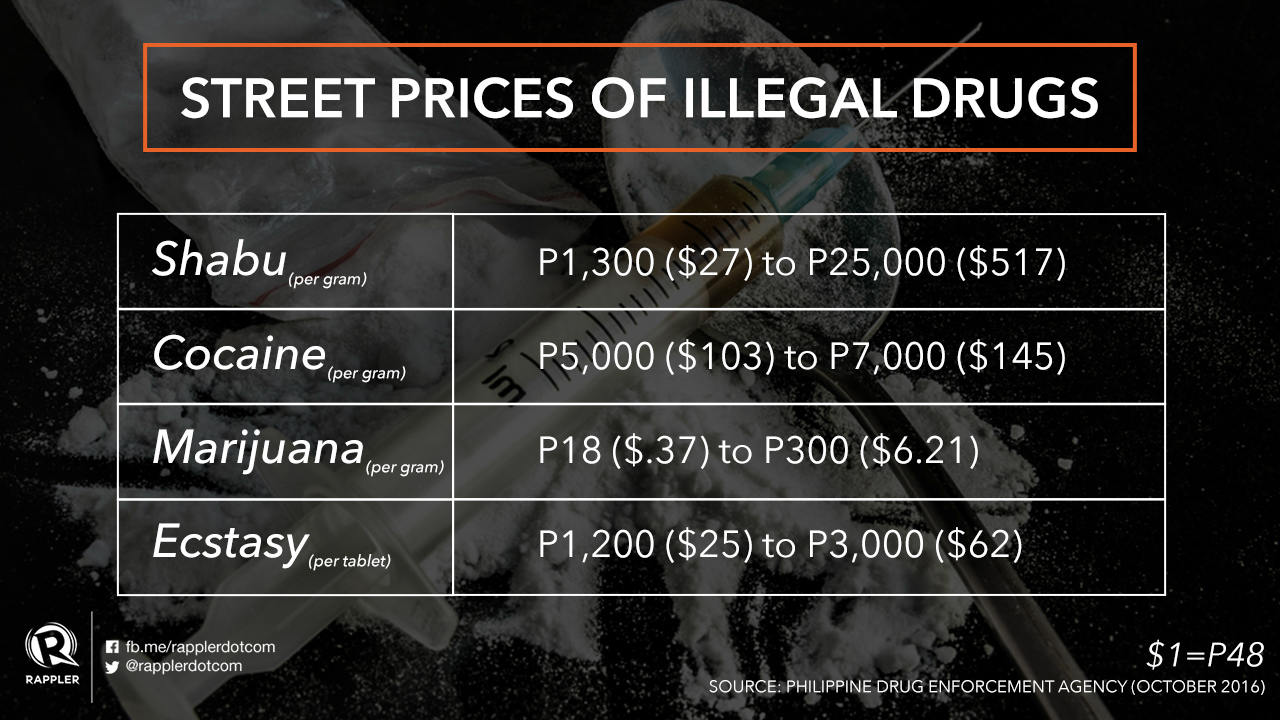 The street price of shabu is determined by the place of transaction, according to PDEA. For example, in Cagayan, shabu is priced at a much higher P5,000 ($103) per gram. The increase, according to PDEA regional director Laurefel Gabales, is because "drug dealers could hardly penetrate the local market."  
Shabu is most expensive in Region 12 (Cotabato, South Cotabato, Sarangani, and Sultan Kudarat), where a gram costs P25,000, and is cheapest in Region 9 (Zamboanga del Norte, Zamboanga del Sur, and Zamboanga Sibugay) at P1,200.
From 2013 to 2015, the lowest street price was in the National Capital Region (NCR) while the highest was in Region 12 and Region 4B (Marinduque, Occidental Mindoro, Oriental, Mindoro, Palawan, Romblon).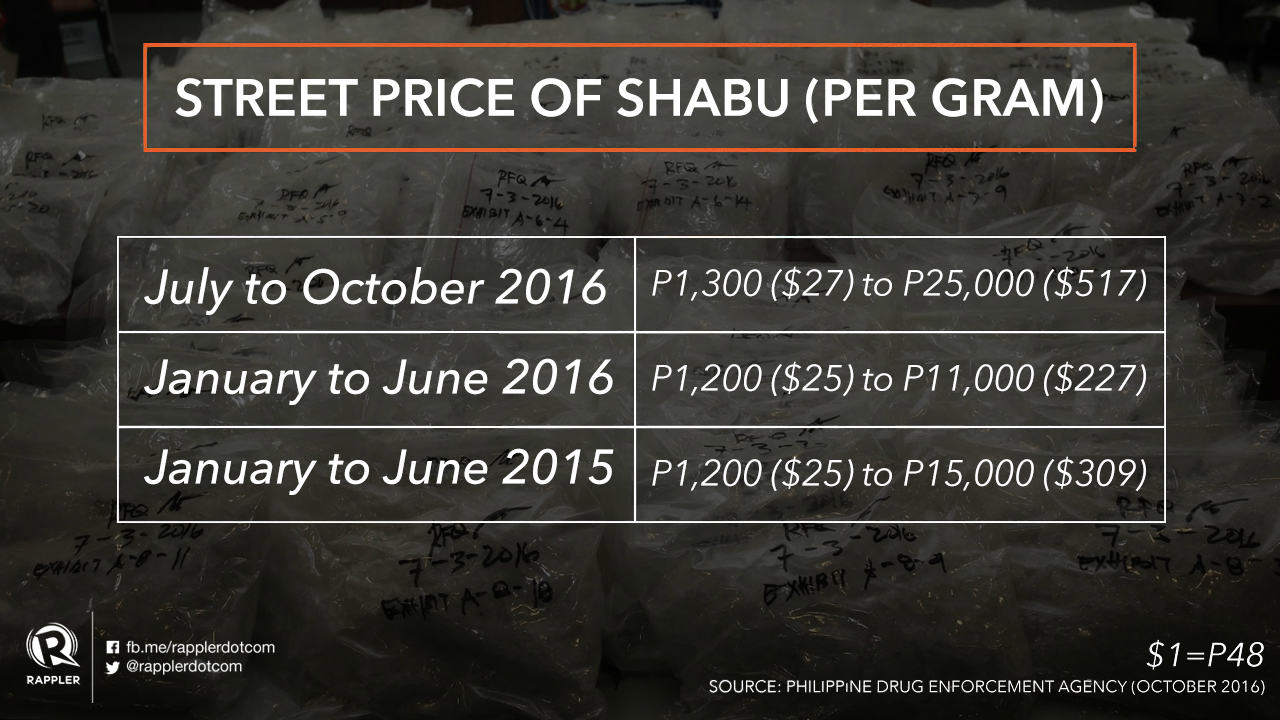 Cocaine, meanwhile, is priced at P5,000 ($103) to P7,000 ($145) per gram. In 2015, the cheapest gram of cocaine was pegged at P3,600 ($74). 
Unchanged prices 
But while shabu and cocaine prices continue to rise, the street prices of marijuana and ecstasy remain static. 
A gram of dried marijuana leaves has been priced from P18 ($.37) to P300 ($6.21) since 2013. Its price in recent years, however, has become cheaper than in 2012 when one could buy a gram for P60 ($1.24). 
A tablet of methylenedioxymethamphetamine (MDMA) or ecstasy, meanwhile, can be purchased for P1,200 ($25) to P3,000 ($62). In 2012, the "cheapest" cost about P1,700 ($35).
A drug cocktail composed of ecstasy, shabu, and cialist – known as "fly high", "party", or "superman" in the local party scene – costs between P1,500 ($31) and P3,500 ($72) a capsule. (READ: PH 'fly high' drug: Lethal mix of ecstasy, shabu)
"Fly high" is allegedly the cause of deaths of 5 individuals during a concert in May 2016. 
Less demand not a 'dent'?
PDEA Director General Isidro S. Lapeña, in a statement, said that the increased drug prices is an obvious gain in Duterte's war on drugs, given that the price structure is directly affected by availability and demand.
"When the market price of illegal drugs rises, it is generally assessed that there is a scarcity in supply available in the market and vice-versa," Lapeña explained. "That is an indication that the present government is winning the war against the drug menace."
Limiting the drug supply through prohibition, according to JC Punongbayan in a Rappler piece, however, is the traditional way of battling illegal drugs. But because drugs are addicting, Punongbayan pointed out that the increase in price "will not make a proportional dent" on the demand of drug users. (READ: War on drugs? Other countries focus on demand, not supply) 
Curiously, the rising cost of drugs seems to apply only to shabu and cocaine, the preference of the poor. A dent in the supply, not the demand, is also being made by the intensified war on drugs. What would be the best measure of success in this war against drugs? – Rappler.com
*$1 = P48