According to the Bureau of Internal Revenue, regional director of Makati City Revenue Region 8 Jonas Amora consistently showed topnotch performance in tax collections and leadership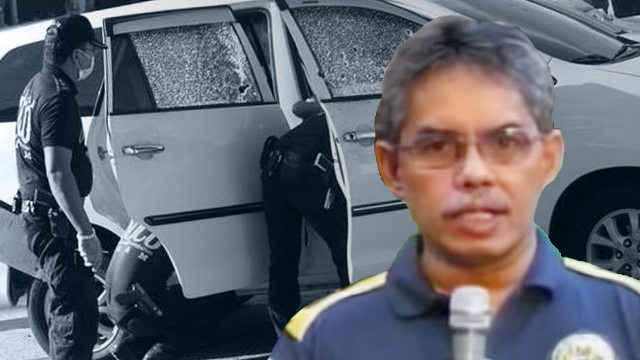 MANILA, Philippines – A high ranking Bureau of Internal Revenue (BIR) official was killed in an ambush on Monday, November 21. 
BIR regional director of Makati City Revenue Region 8 Jonas Amora was killed by two gunmen onboard a motorcycle while on his way to work with his driver Angelito Pineda.
The white Toyota Innova the victims were riding were repeatedly fired at while at the corner of Major Santos Dizon and Katipunan Avenue in Barangay Escopa 2 in Quezon City. Recovered inside the victim's vehicle was more than P360,000 ($7,212)* in cash. It was unclear how the money was found or what the circumstancs were.
Amora is the second government official working under the Department of Finance (DOF) killed in the past week.  
Bureau of Customs' (BOC) Deputy Commissioner Arturo "Art" Lachica was also killed in an ambush on Thursday evening, November 17, along España Boulevard while on his way home from a conference in Manila. (READ: Who is Customs deputy commissioner Art Lachica?) 
The DOF has announced monetary rewards, funded by a private individual, for any leads on the masterminds of the killings of the government revenue officials from BOC and BIR. 
Topnotch tax collector 
According to BIR, 55-year-old Amora was a "dedicated public servant" and was not known to have any known enemies. 
A certified public accountant, the Anda, Bohol native started as a revenue examiner for BIR and rose from the ranks to become a regional director in Quezon City under former commissioner Kim Henares.  
Known as a "dogged workhorse but a very amiable person," Amora showed consistent topnotch performance in collections and leadership.
He was later appointed BIR regional director in Makati where he managed revenue collection in the Philippines' top financial and business center.  
A source knowledgeable about the bureau told Rappler that Amora was strict about compliance with requirements among employees and taxpayers alike.  
In 2012, for example, he helped increase revenues in Quezon City by strictly monitoring professionals and self-employed individuals.
Meanwhile, in 2014, former Dangerous Drugs Board (DDB) chairperson Antonio Villar Jr praised Amora for initiating a random drug test in BIR Makati as part of keeping a drug-free workplace. 
Killings not a deterrence
Commissioner Caesar Dulay said that the death of Amora will not deter the bureau from "doing its work if the intention was to sow fear among BIR employees."
He, however, asked employees to be more vigilant. 
The DOF, meanwhile, strongly condemned the death of both Lachica and Amora, stating that it is now "in contact with the highest levels of the Philippine National Police to arrest the perpetrators of both murders." 
It added that those who have any information relevant to the murders can contact DOF at at telephone numbers 523-9215 and 523-9219. – Rappler.com
*$1 = P49