This is AI generated summarization, which may have errors. For context, always refer to the full article.
Retired policeman Arturo Lascañas claims then-Davao City mayor Rodrigo Duterte ordered operations, gave the go signal to kill, provided monetary rewards, and assured protection for Davao Death Squad members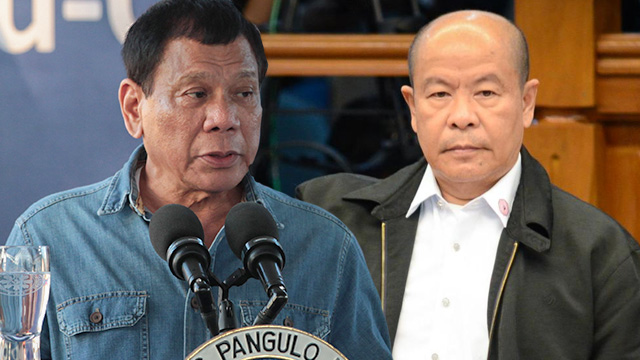 MANILA, Philippines – After publicly retracting his previous testimony, former Davao City policeman Arturo "Arthur" Lascañas again faced the Senate on Monday, March 6, to detail his murder allegations against President Rodrigo Duterte.
The 56-year-old Lascañas is the 2nd self-confessed Davao Death Squad (DDS) member to surface. (READ: Lascañas: Duterte son protected alleged drug lord)
Lascañas is corroborating information from former DDS member Edgar Matobato regarding the involvement of then Davao City mayor Duterte and his son, Davao City Vice Mayor Paolo Duterte. (READ: Which information from Matobato does Lascañas corroborate?) 
Lascañas, after almost 4 months, now claims he was behind some killings carried out upon the orders of Duterte. 
In a 12-page sworn affidavit signed on February 19 and released on February 27, Lascañas, who has since retired from the police force, mentioned the extent of Duterte's involvement in and knowledge of the killings. The President's direct involvement was mentioned at least 141 times. (READ: Lascañas' affidavit: Grisly stories 'just tip of bloody iceberg')
Lascañas' narration in his affidavit and press conference mapped Duterte's alleged roles in at least 4 incidents of killings in Davao City. These roles were:  
1. Initiated operations against suspected criminals and foes
From the beginning, Lascañas said Duterte formed the DDS under the guise of Davao City's Anti-Crime Task Force to target criminals. The squad's "function" eventually changed.
"Later on, however, we were ordered by Mayor Duterte to go after and kill his personal political enemies," Lascañas narrated in his affidavit. "We became like hired or contract killers who killed not only criminals but innocent people."
Duterte would later order more operations, according to Lascañas, including retaliation against the local Muslim community after the St Peter's Cathedral bombing in December 1993. Duterte allegedly went to their office to plan the operation.
"During the meeting, Mayor Duterte told us that the ones who were responsible for the cathedral bombing were radicals and extremists from the Muslim community," Lascañas recalled. "He was very angry at them and said that he would not tolerate their act of bombing the cathedral. He then ordered us to retaliate by bombing several mosques."
The ex-cop also mentioned in his affidavit that Duterte ordered operations against kidnapping suspects, radio broadcaster Jun Pala, and Jun Bersabal. 
The contract for Pala's death was coursed through Senior Police Officer 4 (SPO4) Sonny Buenaventura. But after failed ambushes, Lascañas chanced upon Duterte in one mall.
"Mayor Duterte came closer to me and to my recollection whispered to me in Bisaya 'Naunsa man to pag ambushed kang Pala?' I simply replied in English, 'I'm sorry, sir.' To this, Mayor Duterte replied, 'Take time… ayaw pagdali,'" Lascañas said.  
2. Gave go signal to kill people 
Duterte, according to Lascañas, was often the last call regarding the fate of people who fell into the hands of the DDS. This was what happened with the Patasaja family, whose member was an alleged kidnapping suspect. 
Lascañas said the entire family was with the target when he was ambushed. The DDS team then allegedly asked Duterte what should be done with the pregnant wife, a young child, an elderly father-in-law, and two house helpers.
"Mayor Duterte gave the go ahead and said in Bisaya, 'Sige, limpyo lang,'" Lascañas said in his affidavit (Make it clean). "[SP04 Desiderio] Cloribel again reminded us that the decision to erase and kill the entire family was cleared by 'Superman' which was the code name our group gave to Mayor Duterte."
3. Death squad members brought 'targets' to his home
Lascañas alleged that it became a "practice" to present captured suspects to Duterte before they were eventually killed. 
"During the many years that we operated the DDS, we brought many persons to Mayor Duterte, sometimes in his house and sometimes in other places," he said in his affidavit. 
One of these people presented to Duterte was Jun Bersabal, who was allegedly behind rape incidents and robbery in Davao City.
4. Provided monetary rewards for 'successful' operations
For the DDS, successful operations meant money from whoever ordered it.
According to Lascañas, Duterte often gave monetary rewards. These include a P200,000 ($3,973) reward for the Patasaja family and P3,000,000 ($59,600) for the death of Jun Pala.  
5. Assured protection for death squad members 
Duterte would look after those involved in contract killings under his liquidation squad, Lascañas said.
He supposedly gave assurances to policemen who were investigated by the Commission on Human Rights (CHR) in relation to Bersabal's death. 
"In my presence, Mayor Duterte told them, 'Don't worry, if anything happens I'll take care of you,'" Lascañas recalled in his affidavit. – Rappler.com
P50 = $1