1
Rappler's top stories of every week of 2017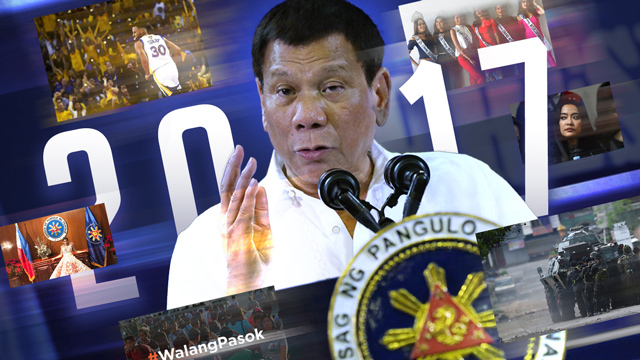 MANILA, Philippines – From politics to beauty pageants, from viral videos to online debates, the year 2017 was full of stories that mattered to Rappler readers.
This year, President Rodrigo Duterte marked his 1st year in office, his "war on drugs" continued with mixed results, a 5-month war between government troops and terrorists unfolded in Marawi City, and martial law was declared (and extended) in Mindanao.
We also saw tropical storms, political storms, the proliferation of "fake news" and disinformation, sports and tech moments, showbiz weddings, controversial billboards and photoshoots, shocking statements, and insightful commentary. (WATCH: 20 stories in 2017: War, impunity, and disinformation)
These are the top stories of every week of 2017 on Rappler. The list below shows the articles that had the biggest total page views each week, as well as the stories that got the most votes via Rappler's Mood Meter in the same period.
The top stories are then "colored" according to the corresponding dominant mood or emotion, still based on validated Mood Meter votes.
For a combined 17 weeks, Stephen Curry's layup in his face-off against LeBron James at Game 2 of the 2017 National Basketball Association (NBA) Finals topped the weekly charts in terms of page views.
The next top stories that garnered attention during that time include live updates on the 2017 Southeast Asian Games in Malaysia (last two weeks of August), Joey de Leon's comment on depression that drew flak on social media (week of October 1), and a debate on whether Kalinga tattoo artist Whang-od was "exploited" during a trade fair event in Manila (week of October 22).
Three stories from Rappler Indonesia had #1 stories for 3 weeks, when Jakarta held its election for governor in February followed by the run-off election in April, and when popular Indonesian star Julia Perez died due to cervical cancer in June.
In terms of stories that got the most Mood Meter votes, readers were mostly Angry in 26 of them, and Happy in 16.
They reacted to many stories about Duterte, notably about his survey ratings, his alleged bank accounts, and his pronouncements on his state of health, on same-sex marriage, and on former president Benigno Aquino III's opinion about the war on drugs.
Readers were on standby for #WalangPasok news, with some of these stories on class and work suspensions getting the most views in 4 separate weeks, and garnering the most mood votes in two.
Palace Communications Assistant Secretary Mocha Uson figured in 3 top stories with the most Mood Meter votes, and in one most-viewed story for the week.
Readers were mostly angry about Uson's appointment as assistant secretary of the Presidential Communications Operations Office (PCOO) in May, amused when she attempted in November to "reclassify" Rappler's status in covering Malacañang events, and didn't care when she performed at a Resorts World casino despite a government ban on its officials and employees to enter such establishments.
The decisions of the Land Transportation Franchising and Regulatory Board (LTFRB) on ride-hailing services such as Uber and Grab also made the list, with most readers expressing anger about it on the Mood Meter.
Towards the final months of the year, the stories that got Rappler readers' thumbs busy were about Tropical Storm Vinta, the firestorm over a controversial dengue vaccine, presidential granddaughter Isabelle Duterte's pre-debut photoshoot in Malacañang, actress Ellen Adarna's pregnancy, and 17-year-old Ica Policarpio who went missing then was found in Laguna. – Rappler.com