AFP Chief Carlito Galvez Jr and Senator Antonio Trillanes IV go through similar processes, as former president Ramos also created a committee in 1994 to decide on amnesty applications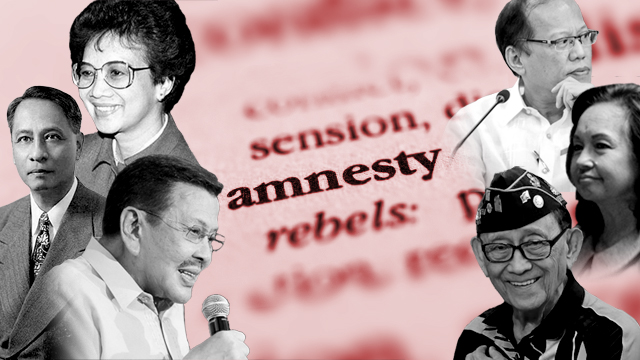 MANILA, Philippines – Following questionable provisions in his Proclamation 572, President Rodrigo Duterte found a new justification for his decision to void opposition Senator Antonio Trillanes IV's amnesty.
Duterte said that it was former defense chief Voltaire Gazmin who signed the certificate and granted the amnesty of Trillanes in 2011, when, he stressed, it is the President who has the sole constitutional mandate to do so. (READ: Duterte: Ex-DND chief Gazmin liable for 'usurpation of authority')
"You know he (Gazmin) recommended that a general amnesty be given and then after his recommendation, he approved it. Siya mismo nag-grant, siya mismo nag-recommend. Bakit mo pa irerecommend, ikaw lang pipirma (He was the one who granted but he was the one who recommended. Why would you recommend if you're the same person who will sign)?" Duterte said on September 8.
"The power to pardon and the power to grant amnesty with the concurrence of Congress is a presidential power. It cannot be delegated to anybody else," he added.
But while the power to grant amnesty to a specific set of people indeed lies with the President, the process that it entails is delegated to committees. Unlike a presidential pardon, it requires the concurrence of Congress. (READ: FALSE: Duterte says Gazmin didn't have authority to give Trillanes amnesty') 
A look at past amnesty proclamations shows that at least 6 Philippine presidents delegated – through a signed proclamation – the final approval of individual amnesty applications to a panel or a committee.
Armed Forces of the Philippines chief of staff General Carlito Galvez Jr, who joined a failed coup in 1989, underwent a similar process under the Ramos administration. (READ: Little-known fact: AFP chief Galvez got amnesty for 1989 failed coup)
In an interview on Wednesday, September 12, former chief justice Maria Lourdes Sereno labeled Duterte's new theory as "hogwash." (READ: Sereno tells Duterte: 'Ipinahamak mo ang AFP')
"The theory that we heard yesterday [from the President], where an amnesty order, specifically each and every one, has to be signed by the president himself. I think everyone who understands the nature of amnesties, who understands administrative law, knows that this is pure hogwash."
Manuel Roxas
After World War II, in September 1946, then-president Manuel Roxas signed Proclamation 8, granting amnesty to persons who violated the law "in furtherance of the resistance to the enemy."
Roxas ordered the creation of the Guerrilla Amnesty Commissions to examine each case and to decide on whether or not to grant amnesty.
"These Commissions shall decide each case and, upon finding that it falls within the terms of this proclamation, the Commission shall so declare and this amnesty shall immediately be effective as to the accused, who shall forthwith be released or discharged," the proclamation read.
It was clear that the Commission was given authority to decide on amnesty grants, pursuant to Proclamation 8.
Roxas' order, however, happened before the 1987 Constitution.
The proclamations of 5 other Philippine presidents, meanwhile, were pursuant to the 1987 Constitution.
Corazon Aquino
The late former president Corazon Aquino signed Proclamation 80 in February 1987, granting amnesty to people who, owing to their political beliefs, may have committed violations. This was a year after the EDSA People Power Revolution that ousted dictator Ferdinand Marcos.
She ordered the creation of an Amnesty Committee, which was tasked to examine each case and, upon checking that it complies with the proclamation, grant the amnesty, which was to be effective immediately.
"The Committee shall decide each case within 10 working days from receipt of the application, and upon finding that it falls within the terms of this Proclamation, it shall so declare and the amnesty shall immediately be effective as to said person. Should the Amnesty Committee fail to make its decision within the given 10-day period, such inaction shall be construed as an automatic grant of amnesty in favor of the applicant concerned," Proclamation 80 said.
Fidel Ramos
In March 1994, former president Fidel V. Ramos signed Proclamation 347 granting amnesty to rebels and insurgents. The context of this proclamation was Ramos' comprehensive peace process with military rebels, who mounted at least 7 failed coups against Cory Aquino, and the communist National Democratic Front.
Ramos ordered the creation of a National Amnesty Commission, as mandated by Section 4.
The Commission was tasked to receive and process applications and determine whether or not applicants are entitled to it pursuant to the proclamation. The proclamation stated that appeals involving the final panel decision must be made before the appellate court.
Section 4 read: "There is hereby created a National Amnesty Commission, hereinafter referred to as the Commission, which shall be primarily tasked with receiving and processing applications for amnesty, and determining whether the applicants are entitled to amnesty under this Proclamation. Final decisions or determinations of the Commission shall be appealable to the Court of Appeals."
In 1996, Ramos then issued Proclamations 723 and 724 amending Proclamation 347.
Proclamation 724 granted amnesty to members of the Rebolusyonaryong Alyansang Makabansa, Soldiers of the Filipino People, Young Officers' Union (RAM-SFP-YOU), which included then Lieutenant and now AFP chief Galvez. 
It authorized the National Amnesty Commission to evaluate and decide on all amnesty applications, pursuant to Proclamation 347.
This means Trillanes and Galvez underwent a similar process, in that a committee – and not the President – decided on their individual applications.
Joseph Estrada
Former president Joseph Estrada issued Proclamation 405 in October 2000 granting amnesty to rebels other than members of the Moro Islamic Liberation Front.
Estrada continued the National Amnesty Commission created by Ramos' Proclamation 347.
"The National Amnesty Commission, created under [Ramos'] Proclamation 347, shall process amnesty applications and, upon prior determination of entitlement, shall grant amnesty to qualified applicants under this Proclamation. Decisions of the Commission on applications for amnesty shall be appealable to the Court of Appeals."
Gloria Macapagal Arroyo
In September 2007, Arroyo issued Proclamation 1377 granting amnesty to communist rebels.
Arroyo tasked the National Committee on Social Integration (NCSI) to be the "principal body at the national level to coordinate and monitor" the implementation of the order.
The order also mandated the NCSI to "issue the corresponding Certificate of Amnesty to qualified applicants."
In 2016, House Speaker Arroyo filed House Bill 490, which is practically a copy of her presidential proclamation.
The bill also seeks to mandate the NCSI to deliberate on the applications and issue the Certificates of Amnesty to those qualified.
Benigno Aquino III
Former president Benigno Aquino III signed Proclamation 75 in November 2010, granting amnesty to mutineers in the 2003 Oakwood mutiny, the 2006 Marines standoff, and the 2007 Manila Peninsula siege. It was concurred in by both chambers of Congress in December 2010.
He ordered the creation of a Department of National Defense (DND) adhoc committee tasked to receive, process, and decide on the applications.
What distinguishes this amnesty committee from previous ones is that this is embedded in the DND, then headed by Gazmin.
Trillanes applied for amnesty in January 2011 and was on the list of officers and soldiers granted amnesty that same month.
"[The ad hoc committee is] hereby tasked with receiving and processing applications – including oppositions thereto, if any – for amnesty pursuant to this proclamation and determining whether the applicants are entitled to amnesty pursuant to this proclamation. The final decisions or determination of the DND shall be appealable to the Office of the President by any party to the application. The decision, however, shall be immediately executory even if appealed," the proclamation said.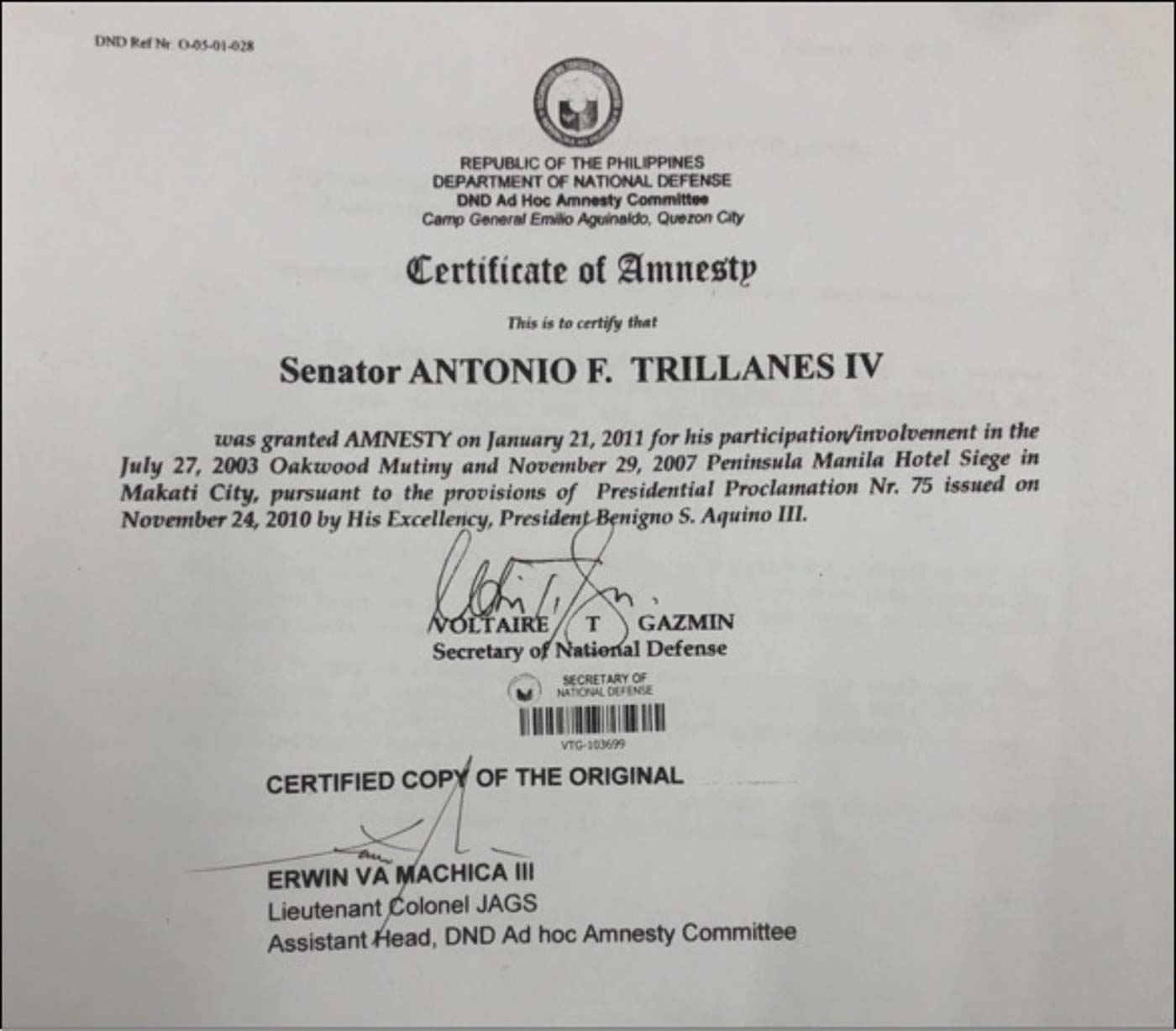 Trillanes received his Certificate of Amnesty in 2011, which was signed by then defense chief Gazmin, as overall chair of the DND ad hoc committee. – Rappler.com
Follow the developments here: 
Summaries: