(UPDATED) Here's a list of items and practices considered part of the Filipino Christmas but actually Spanish in origin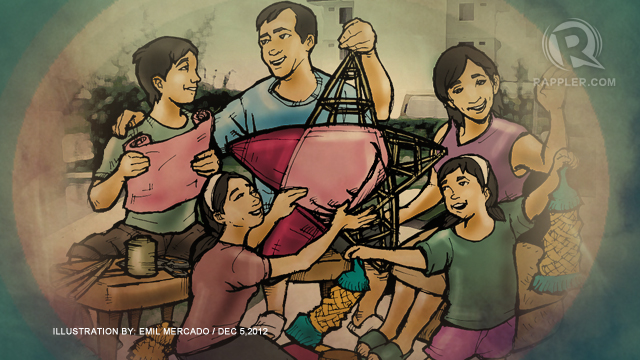 MANILA, Philippines – (UPDATED) Because Spanish missionaries brought Christmas to the Philippines, many cultural items and practices that are considered part of the Filipino Christmas actually trace their roots to Spanish tradition too.
Here are just some of them, many of them fixtures in Filipino Christmases.
Belen
Belen, Spanish name for the town of Bethlehem where the Nativity took place. It is one of the focal display pieces in homes during Christmas time. 
The tradition of setting up belens started in Medieval Italy, apparently by St Francis Assisi, with real people and real animals being used. The practice was spread from Spain by Spanish missionaries, carried over to their colonies in Latin America, finally arriving in the Philippines during the 1700s.
The first belens were large and were only displayed in churches, with figures made of wood or plaster under a makeshift stable. Later in the colonial period, smaller figurines of wood, plaster, stone, or even ivory appeared in homes.
Belens are put on display when Christmas Eve draws near, with the infant Jesus figurine added on Christmas Day.
The Three Kings were added on Dia De Los Tres Reyes (Day of the Three Kings) on Epiphany, usually on the first Sunday of January.
Parol 
The ubiquitous symbol of a Filipino Christmas, the parol is another cultural item descended from the Spanish period. 
Parol came from the Spanish word farol, meaning lantern or street lamp.
During the Spanish period, parols served as practical illumination, since barrios and even cities had little to no public lighting. On Simbang Gabi, they were either carried by churchgoers or hung outside homes to light the streets leading to the church. 
Made of bamboo sticks and papel de japon (Japanese paper), early parols had simple rectangular or oblong frames. Later on, parols came in many shapes and even took the form of animals.
The star was a popular shape, partly due to the biblical Star of Bethlehem, but only became the standard parol shape in the American period.
Also, unlike today's parols they were rarely bought or sold. Most of them were homemade then, with families and individuals taking pride in their creations. 
Making and displaying parols were considered then an indispensable Christmas tradition. Jose Rizal even made some himself, writing to his family as early as October in 1893 to send for papel de japon to his detention in Dapitan so that he could "celebrate Christmas properly." 
Caroling
Caroling was also a fixture of Christmas back then as it is now. However, with English and Filipino carols dominating today's Christmas playlists, almost nothing remains of Spanish-era Christmas carols. 
During those days, the villancico was the most popular music form for carols. Initially, these were sung only during Mass. Later on, they became popular folk songs among Filipinos, and found their way into Christmas carols.
Most Christmas villancicos had religious lyrics, but playful carolers inserted jokes and more worldly lyrics, to the amusement of listeners and the horror of the clergy.
Lyrics of villancicos were in Spanish, and Christmas carols in Filipino only came around in the American period.
Bands of youths, accompanied by their stringed instruments, often did the caroling. In Manila, caroling peaks as Christmas day approaches, as roving carolers serenade house after house in the hope of getting aguinaldos.
If the carolers were really good, they were often invited for supper in the houses of the well-off, or were given aguinaldos after playing songs, while the family had their Noche Buena feast.
Christmas bonuses
As with modern Filipino workers, Spanish period employees received bonuses from their employers on Christmas eve. 
But during the Spanish period, Pinoys went above and beyond seeking aguinaldos. Though it made sense for employees to ask for Christmas tips, it appears that even outsiders with the most passing businesses also asked for tips.
Doing business in 1894 Philippines, American James Earle Stevens observed the phenomenon of Christmas tips: "Just as surely as the 24th of December comes around, all the office-boys of your friends, who have perhaps brought letters from their counting-room to yours, all the chief cooks and bottle-washers of your establishment, all of the policemen on the various beats between your house and the club, and all the bill collectors who come in every month to wheedle you out of sundry pesos, have the cheek to ask for pourboires (Christmas tip)."  – Rappler.com
Nigel Tan is a Rappler intern.
Sources: PASKO! The Philippine Christmas by Reynaldo Gamboa Alejandro and Maria Yotoko Chorengel, Pasko: Essays on the Filipino Christmas, Edited by Cid Reyes, Tradition! – Jarius Bondoc (Observer Magazine), Christmastide by Alejandro R. Roces, Yesterdays in the Philippines by Joseph Earle Stevens, Historical and literary vestiges of the Villancico in Early Modern Philippines by David Irving, The Lopez Museum, A Time for Pastores by Rene Cinco, and The Evolution of Christmas in the Philippines by Eric Giron.
Belen, parol, and caroling photos from Wikicommons.