This is AI generated summarization, which may have errors. For context, always refer to the full article.
(UPDATED) Get to know more about the former Senate president and one of the country's greatest statesmen
MANILA, Philippines (UPDATED) – Former Senate president Jovito Salonga passed away on Thursday, March 10.
For the younger generation who may not know him, Salonga was one of the country's most esteemed statesmen.
Born on June 22, 1920, he worked his way out of poverty and became a brilliant lawyer. In 1961, he was elected representative of Rizal province.
Salonga then became senator for 12 years, from 1965 to 1972 and from 1987 to 1992. 
Here are 10 more facts about Senator "Jovy" Salonga.
1. Salonga was the second longest-living Senate president.
He served as Senate president from 1987 to 1991.
The longest-living Senate president, however, is Jose Avelino, who lived up to 95 years old, but older than Salonga by only 88 days. Arturo Tolentino placed third (93), followed by Juan Ponce Enrile (92).
2. Salonga topped all 3 Senate elections he has been in.
He placed first in the 1965, 1971, and 1987 senatorial elections. He ran under the Liberal Party (LP) banner in all 3.
3. Salonga was a bar topnotcher.
He and Jose W. Diokno topped the 1944 bar examinations, where they both obtained a 95.3% grade.
Diokno would later be elected senator, with him and Salonga serving together in the Senate from 1966 to 1972, during the 6th and 7th Congresses.
4. Salonga was an alumnus of both the Harvard and Yale Law Schools.
He obtained his Masters of Law degree from Harvard Law School in 1948, and his Doctor of Law degree from Yale Law School in 1949.
5. Salonga ran for President in 1992.
He was LP's presidential candidate, with Aquilino "Nene" Pimentel, Jr as his running-mate.
However, Salonga won only 2.3 million votes, placing sixth in the 7-person presidential race, won by Fidel V. Ramos.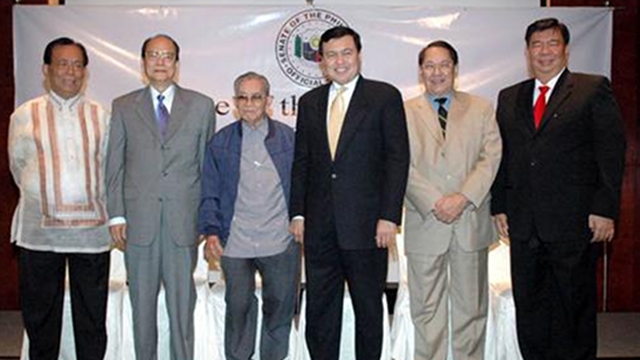 6. Salonga was imprisoned during two separate oppressive regimes.
In 1942, during the Japanese occupation of the Philippines in World War II, Salonga was arrested for spreading anti-Japanese propaganda. Luckily, he was pardoned the following year after his name was drawn in a raffle during Japan's foundation day ceremonies.
Then, in 1980, during Martial Law, Salonga was implicated in a minor bombing incident shortly after President Ferdinand Marcos' keynote speech in an event at the Philippine International Convention Center (PICC) in Pasay City.
He was arrested in October that year, but ordered released by Marcos a month later, after no concrete proof was shown to pin Salonga as the mastermind.
7. Salonga survived the 1971 Plaza Miranda bombing.
During an LP proclamation rally at Plaza Miranda in Quiapo, Manila, for the 1971 senatorial elections, a grenade was thrown on stage. The explosion seriously injured some LP party members and senatorial candidates, including Salonga, whose left eye was permanently damaged.
Nevertheless, Salonga topped the senatorial polls, and the LP won 5 out of 8 Senate seats.
8. Salonga was the first chairman of the PCGG.
Days after the 1986 People Power Revolution, then-President Corazon Aquino created the Presidential Commission on Good Government (PCGG) to go after the ill-gotten wealth of the toppled dictator Ferdinand Marcos and his cronies, among other duties.
Aquino picked Salonga, among Marcos' staunch opponents, to head the newly-created agency.
9. Salonga was one of the 12 senators in 1991 who voted against the RP-US Bases Treaty.
The treaty between the Philippines and the United States sought to extend the operation of American bases in the country, following the expiration of the 1947 Military Bases Agreement.
Senate President Salonga broke an 11-11 tie and voted against the treaty.
10. Salonga authored the anti-plunder law.
When he was elected senator in 1987, Salonga took with him the lessons he learned from the PCGG. Existing laws like the Anti-Graft and Corruption Practices Act "were clearly inadequate to cope with the magnitude of the corruption and thievery committed during the Marcos years," he said.
As a result, Salonga authored Republic Act 7080 or the Anti-Plunder Law, signed by President Corazon Aquino in 1991. (READ: Plunder in the Philippines)
Plunder cases were filed soon after, notably against former presidents Joseph Estrada and Gloria Macapagal-Arroyo, as well as against 3 incumbent senators and Janet Napoles, the alleged mastermind of the multi-billion-peso pork barrel scam. – Rappler.com