The 1982 barangay elections is mandated by Batas Pambansa 222 or the Barangay Election Act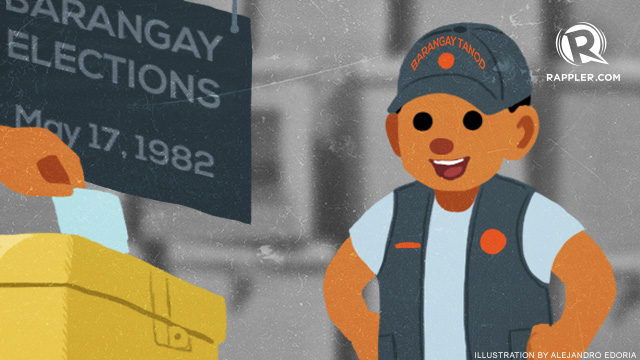 MANILA, Philippines – Did you know that on this day 33 years ago, the first official nationwide barangay elections were held in the country?
On May 17, 1982, each barangay in the country was mandated by Batas Pambansa 222 (or the Barangay Election Act of 1982) to vote for 7 officials – a barangay captain and 6 barangay councilmen.
This law, which aimed to promote "the autonomy of the barangays to ensure their fullest development [they] seek as self-reliant communities," set a separate specific set of guidelines for election of barangay officials. 
Prior to 1982, elections for barangay officials took place parallel to the local elections. Republic Act 3590 said that barangay elections were to take place "on the second Sunday of January immediately following the regular elections for municipal and provincial officials."
Under the Barangay Election Act, the term of office of the barangay officials was set to 6 years. The law also provided that winning barangay officials were to start in office on June 7, 1982.
Qualifications set for becoming a barangay official include:
Filipino citizenship

Residency in barangay for at least 6 months before the election

Registration as voter in the barangay

Ability to read and write

At least 21 years old on election day
The whole barangay election process came quickly as the law was signed on March 25 of 1982. The deadline for filing of candidacy was set on May 1, and campaign period was set on May 1 to 15.
The Barangay Election Act was later on codified in the Omnibus Election Code of 1985, which set the barangay elections "every second Monday of May 1988 and on the same day every six years thereafter."
Most of those who won in the 1982 barangay elections, however, were not able to finish their term. After the EDSA revolution in 1986, many appointed and elected officials – including barangay captains – were replaced by officers-in-charge by the administration of former president Corazon Aquino.  
Succeeding polls
After 1982, the barangay elections system has witnessed multiple changes, mostly on the election date and the number of terms in office of officials.
The second barangay election, originally set in May 1988, was postponed twice: it was first moved to November 1988, then to March 1989.
In 1998, Republic Act 8524 was passed, which shortened the term of office of barangay officials to 5 years.
In 2002, Republic Act 9164 provided for synchronized Barangay and Sangguniang Kabataan (SK) elections in July of that year, with the next synchronized elections to be held on the last Monday of October. This law also cut the term of office of barangay officials to 3 years.
In 2005, Republic Act 9340 moved the originally set October barangay polls of that year to 2007. – research by Kim Sy and Reynaldo Santos Jr/Rappler.com