Who's allowed to enter and who's allowed to leave? What requirements are needed? Get up to speed here.
As the coronavirus continues to spread across the world, travel regulations have become increasingly complicated as countries attempt to strike a balance between controlling the spread of the disease and boosting industries.
The Philippines maintains several sets of rules for travelers depending on their visa status and whether or not they are Filipino citizens.
Being allowed to enter the Philippines is only half the equation as travelers allowed to come into the country will face different quarantine measures to ensure they do not import cases of the virus.
Here is what you should know about traveling to the Philippines during the pandemic:
(This page will be updated as new information comes in)
I'm a Filipino citizen. Can I enter the Philippines during the pandemic?
Yes. All overseas Filipinos can enter the Philippines during the pandemic. This has been the standing rule since travel restrictions were first implemented in mid-March and remain in place today.
To enter the Philippines, citizens will need either of the following:
Valid Philippine passport
Valid (one-way) travel document which is issued in emergency cases (such as when a passport is lost) 
If I reacquired my Filipino citizenship, can I enter the Philippines?
Former Filipinos who reacquired or retained their citizenship through Republic Act (RA) 9225 or the Citizenship Retention and Reacquisition Act of 2003 are Filipino citizens and can therefore travel to the Philippines.
Those included here need a valid Philippine passport or travel document to fly back to the country. If not, these documents may be presented:
Original identification certificate
Original order of approval
Original oath of allegiance
I'm a foreigner. Am I allowed to enter the Philippines?
Starting August 1, the government will allow foreigners with long-term visas to enter the country.
According to the Bureau of Immigration (BI), these types of visas include the following:
Those issued non-immigrant visas under Section 13 of Commonwealth Act 613 or the Immigration Act
Those with resident status under RA 7919 or Alien Social Integration Act
Those who acquired permanent residency under Executive Order 324 or the Alien Legalization Program
Native-born foreign nationals (These types of visa holders are foreigners born in the Philippines "whose parents, either or both, are lawful permanent residents)
Aside from foreigners with long-term visas, foreign children and spouses of Filipino citizens are allowed to travel to the Philippines. Holders of diplomatic visas or visas issued to international organization officials and foreign governments are also allowed to enter.
A BI memorandum also lists foreign airline crew and seafarers as among those who may enter the country.
The agency added that Indians with a temporary resident visa, as well as Chinese permanent resident visas holders who are married to Filipinos can also enter the Philippines.
Outside these categories, foreign passport holders will not be allowed to come to the country.
Last May 29, as the government began easing quarantine restrictions, the Department of Foreign Affairs likewise said the "temporary suspension of visa-free privileges and visa issuance in all its foreign service posts is still in effect until further notice."
"The entry of foreign tourists, non-immigrant visa holders, and other categories of aliens are still prohibited. They will be turned back if they land in any of our ports of entry," BI Commissioner Jaime Morente said in a statement.
What do foreigners need to enter the Philippines?
For foreigners allowed to come to the Philippines, a coronavirus task force resolution lists the following additional requirements to be allowed to enter the country:
Valid visas upon entry into the Philippines
Be pre-booked at an accredited quarantine facility
Have a pre-booked COVID-19 testing provider
Their entry will also be subject to the maximum capacity of inbound passengers at the airport or port of entry on the date of their arrival.
Philippine travel authorities have advised foreigners to note that entry is still without prejudice to other immigration laws, rules, and regulations.
Can balikbayans enter during the pandemic?
Former Filipino citizens and their families holding foreign passports fall under a particular category of "Balikbayan(s)." Among those who are included here are former Filipinos who lost their citizenship by naturalization in a foreign country.
Before the pandemic hit, balikbayans were allowed to enter the Philippines with their foreign passports and without the need of a Philippine visa.
Due to the pandemic, however, balikbayans who have not reacquired citizenship and who hold foreign passports only are temporarily not allowed to enter the Philippines under current immigration rules.
The Philippine Consulate General in San Francisco advised that until these individuals reacquire Filipino citizenship, they are not entitled to a Philippine passport or travel document. 
"In due time, this temporary restriction [of not being allowed to enter] will be lifted when the pandemic conditions change and determined to be safe," it said.
How should I prepare for my flight to the Philippines?
Travelers will need to fill out a case investigation form, which asks for one's contact information, travel history, exposure history, and clinical information. The form will be used to help quarantine officials monitor patients and facilitate contact tracing, if needed.
The government urges travelers to fill out the form before flying as it will be collected upon arrival. The form can be downloaded here.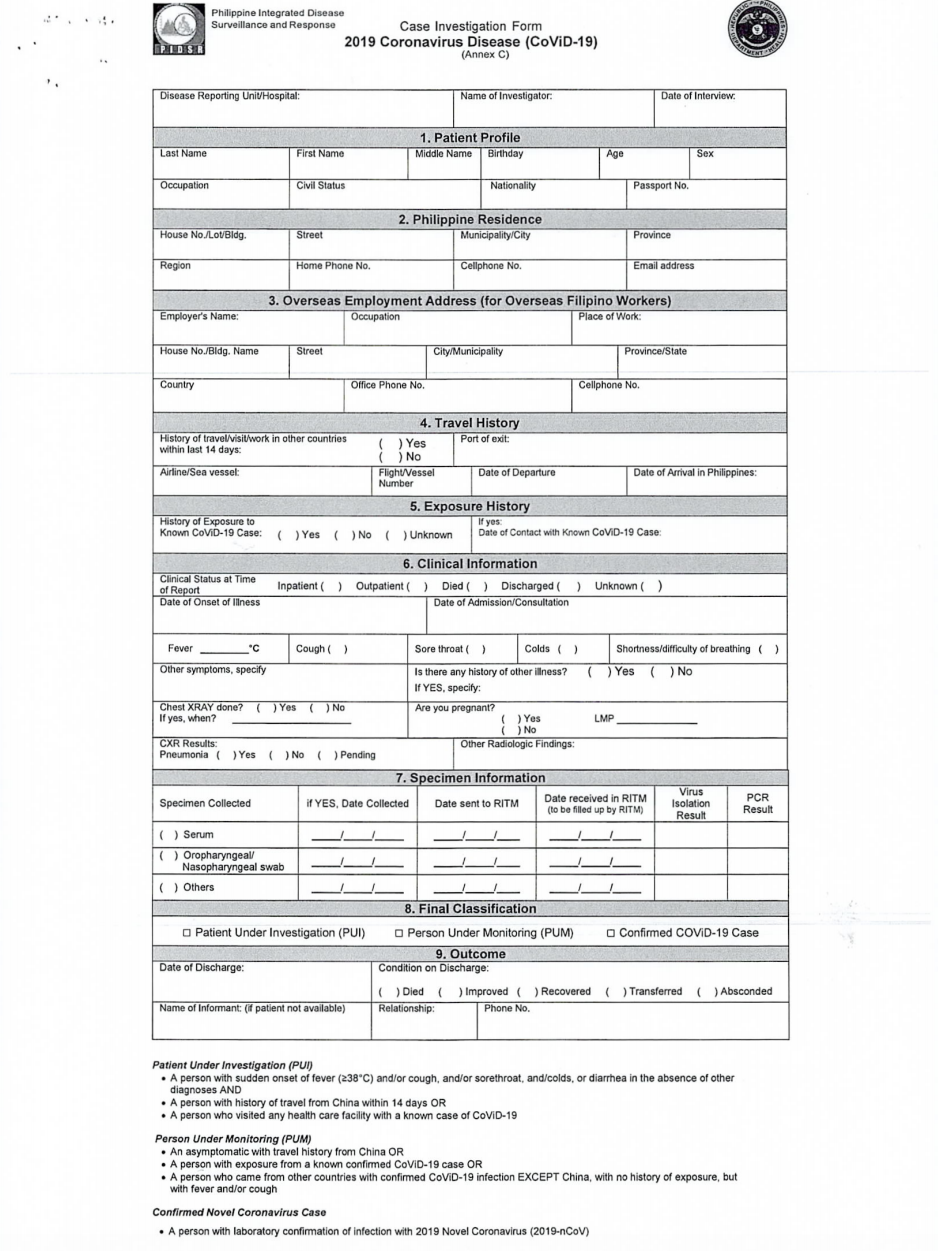 For overseas Filipino workers (OFWs): Accomplish this electronic Red Cross form and save the QR code on your mobile phone so you can avail of the free swab tests upon arrival.
Non-OFWs should first register via this link, at least 3 days before scheduled departure.
For both foreigners and non-OFWs, you'll need to make an advanced booking at an accredited quarantine facility where you will wait until your test results are released. Here's a list of hotels approved by the Bureau of Quarantine as of July 13.
Philippine Airlines also keeps a list of approved hotels with contact details and reservation codes here.
Take note, non-OFWs and foreigners must shoulder all expenses for quarantine. Quarantine expenses for OFWs will be covered by the government or respective manning agencies.
You can also read this story for tips before your trip: Flying to Manila during COVID-19? What to prepare, expect.
Here's a video-guide of what you can expect: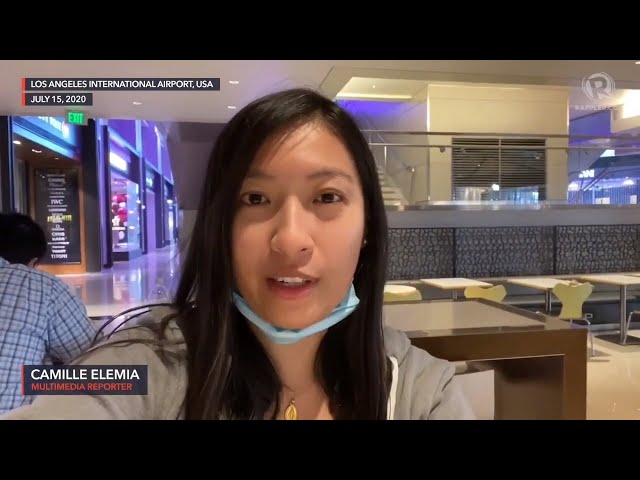 Who is allowed to leave the Philippines?
According to guidelines from the government's coronavirus task force, foreigners, OFWs, permanent visa holders in other jurisdictions, students enrolled in schools abroad, and participants in exchange visitor programs can leave the Philippines.
The BI also said essential travel for Filipinos for business and work, medical, emergency, or other humanitarian reasons may also be allowed, subject to supporting documents.
However, the agency said this may not apply to destination countries that have existing travel restrictions. (See latest restrictions as of July 19 here.)
When retuning to the country from essential trips, Filipinos will also need to undergo quarantine procedures.
Filipinos are still not allowed to leave the country for leisure.
The government had earlier allowed non-essential travel for Filipinos but later changed course on this since only one Philippine travel insurance agency agreed to provide health insurance for Filipinos as required by the coronavirus task force.
Only those with confirmed plane tickets as of July 20 will be allowed to push through with their trips. – Rappler.com