This week of November 22, 2021, we're looking at how the holiday rush and moves to reopen the economy could affect case numbers, the limits of relaxing restrictions, and the progress of the booster debate
The Philippines remains at low risk for COVID-19. All 17 regions are at minimal to low risk for the virus and, in majority of island groups, the number of new cases every day has plateaued at mere hundreds.
On a nationwide scale, the health system's capacity is at low to moderate risk, with 24% COVID-19-dedicated beds filled and 30% intensive care unit beds occupied. 
Among provinces, Batanes remains at a high-risk classification. Apayao, Baguio City, Mountain Province, and Lapu-Lapu City were at moderate risk as of November 20.
Here's what we're watching this week of November 22, 2021:
Holiday scenarios
COVID-19 projections from the Department of Health (DOH) showed active cases in the country could be two to three times higher by the end of the year – if mobility is increased further and public compliance with minimum health standards like mask-wearing decreases. 
That's compared to a scenario where current levels of mobility and compliance to public health standards are maintained – in which case, active cases can drop further from the current 18,721 to as low as some 9,925.
In one scenario where mobility is increased between 94% and 98% and compliance to public health standards drops between 13% and 22%: 

The number of active cases climbs to as much as 21,441 by November 30.
And by December 31, active cases can increase further to a range of 21,940 to 27,583. 

But, if current levels of mobility and compliance with public health standards are held:

By November 30: Active cases can decrease to some 19,384.
By December 31: Active cases can fall further to a range of 9,925 to 10,122. 

The two scenarios underscore some of the risks of reopening further if measures like mask-wearing, improved ventilation in public spaces, and physical distancing are neglected.

Beyond asking people to comply with health standards, DOH officials urge local governments and businesses to ensure public spaces where the virus could spread easily – think indoor, crowded, and close-contact spaces – are configured to allow proper compliance with public health protocols. 
Increased vaccine uptake – especially among the unvaccinated population – is still key. All individuals aged 12 years old and above are now eligible to get the vaccine.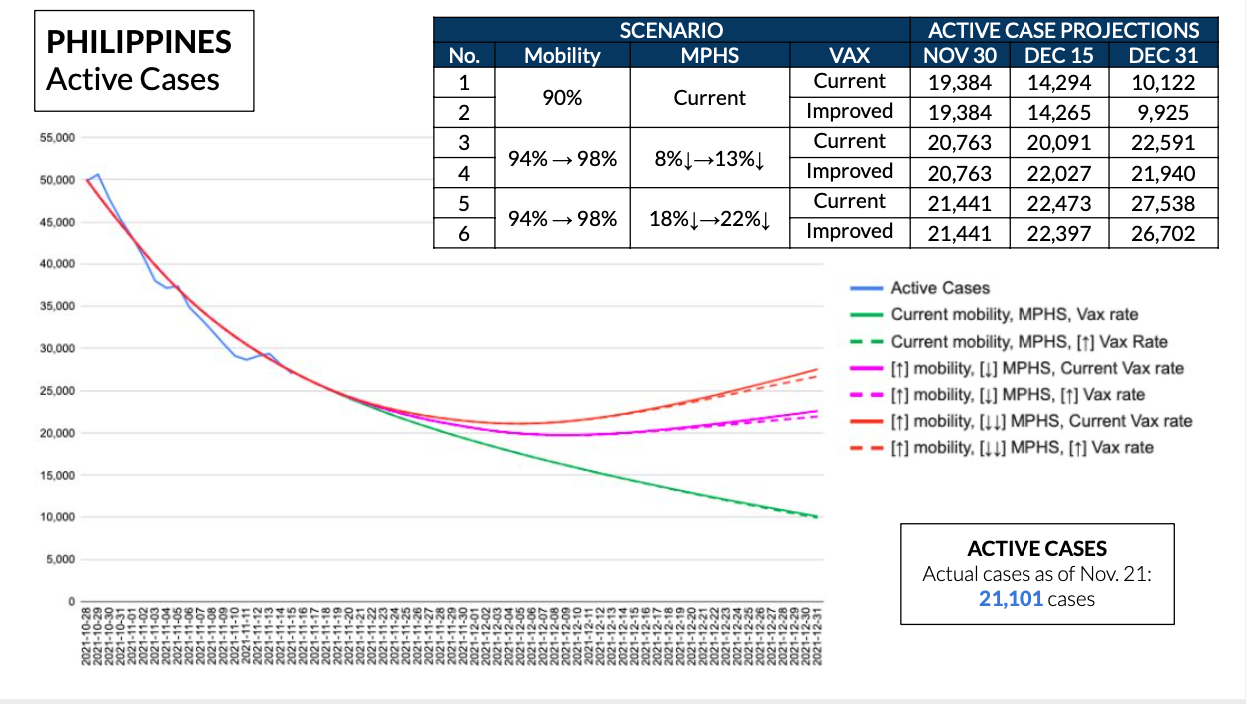 Lessons from Europe
Last week, we turned our eyes to Europe, where increasing cases and deaths have forced countries to return to lockdown measures and impose strict mandates on the unvaccinated. Philippine health officials on November 22 said they were keeping a close eye on trends in the region and had drawn some lessons from its experience.
Health Undersecretary Maria Rosario Vergeire said the DOH noted two factors behind Europe's increasing COVID-19 trends: loosening of restrictions that started as early as June 2021, as well as lingering vaccine hesitancy and skepticism. 

In the case of reopening, the DOH observed that several countries like the United Kingdom and Netherlands went as far as to lift mask mandates when relaxing restrictions. Others like Austria earlier waived mask requirements for vaccinated individuals, but have since required them again recently. 
On the vaccination front, there was some hesitancy among parents to get younger teens and children vaccinated amid school reopening. Countries throughout Western Europe have also shown resistance to vaccine mandates and vaccine passes. 

For the Philippines, these provide some key insights on what practice may need to be maintained as the country reopens. It also shows the limits of vaccine mandates, which the government is eyeing to implement in the near future. 
Booster question continues
Health officials in the United States recently endorsed COVID-19 boosters for all individuals aged 18 and above, as infections were expected to increase and the country approached the winter holidays. 
Under new recommendations, STAT News reported, the age for adults who should be urged to get a booster was lowered from 65 to 50, while others aged 18 to 49 with risk factors should also get boosted. Meanwhile, other individuals between the ages of 18 and 49 who have no risk factors "may" get a booster if they wish.

Before this, the United States' booster drive partly suffered from complicated guidelines on eligibility. This caused confusion not only for the public, but local officials who had to oversee the implementation of the booster campaign. 

Despite the recent decision from US health authorities, the debate surrounding the efficacy of boosters is far from concluded. 

The New York Times reported that some scientists and medical experts believed that protection from vaccines was waning for all age groups, even when it comes to preventing severe disease and hospitalization. 
But, on the other side, several other experts disagree – pointing to studies that showed vaccines remained highly effective against severe illness in adults under 65. More time and effort, some experts argued, could be better used focusing on the unvaccinated who still drive much of infections.
"The shots may help forestall at least some infections, particularly in older adults and those with certain health conditions. But many experts, including some who advise federal agencies, are skeptical that boosters alone can turn the tide," the Times reported. 

In the Philippines, health officials have just started to roll out boosters among health workers and the elderly aged 60 and above. One thing that sets the country apart from the US is lower vaccination rates for first and second doses and a much smaller supply of vaccines that could be used for boosters. 
Don't miss this: The Senate blue ribbon committee will resume its hearing on alleged corruption in the Duterte administration's pandemic contracts on Friday, November 26. 
Since the Senate panel's last hearing on November 4, siblings Mohit and Twinkle Dargani were arrested in Davao City, boarding a private plane, fleeing to Malaysia – after weeks of snubbing hearings. The two are officials of Pharmally Pharmaceutical Corporation, the firm at the center of congressional inquiries. 
Catch up on latest developments related to Pharmally here. – Rappler.com