(UPDATED) The new MECQ is more lax than the MECQ imposed in 2020. Here are the rules, as explained by Malacañang.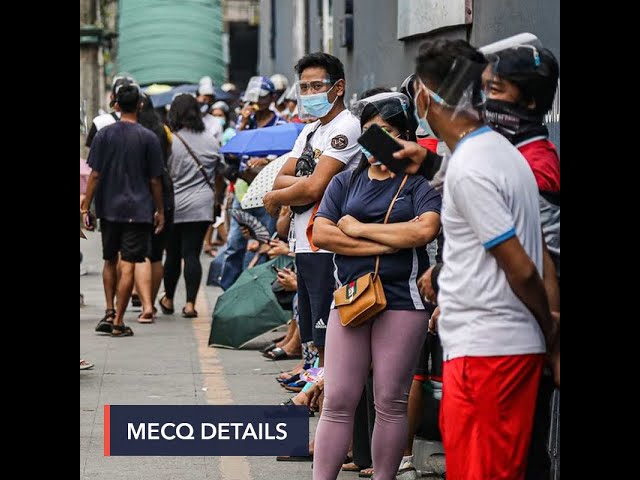 The modified enhanced community quarantine (MECQ) now in place in Metro Manila and 4 adjacent provinces until April 30 is more lax than the ECQ that had reigned for the past two weeks.
However, this MECQ is different from the MECQ imposed back in May and August 2020.
On Monday, April 12, Presidential Spokesman Harry Roque explained the mechanics of this iteration of MECQ, which is less stringent than the MECQ of our memory. (Watch his press conference here.)
How is this MECQ looser than the recent ECQ?
There is still a strict stay-at-home policy for kids, the elderly (over 65), pregnant, people with comorbidities and immunodeficiencies, but local governments are now allowed to lower the age range that can step out of their houses, to 15 years old from 18 years old in ECQ.
Religious gatherings for wakes, necrological services, funerals, and inurnments are now allowed up to 10% of venue capacity. Local governments can even increase this to 30%.
Outdoor dining or al fresco dining in restaurants is now allowed, aside from just takeout and delivery. This was not the case in the MECQ in 2020.
Public transportation like airplanes, buses, trains, boats are still allowed, subject to Department of Transportation guidelines.
Individual outdoor exercises like jogging and biking are now allowed at any time, unlike during ECQ when it was allowed only from 6 am to 9 am. Still, exercise must be done "within the vicinity" of a person's residence, or within the barangay.
What industries can now operate under MECQ?
Apart from the critical industries and sectors allowed during the ECQ, the following can now operate with full onsite capacity under MECQ (some were already allowed in ECQ, but only with a skeletal workforce):
Dental, rehabilitation, optometry, and other medical clinics
Veterinary clinics
Banks and money transfer services
Capital markets
Water supply and sanitation or janitorial services and facilities
Energy sector and their third party contractors
Telecommunication companies, internet service providers, cable television providers
Airline and aircraft maintenance, pilots, crew, staff of aviation schools
Funeral and embalming services
Security personnel
Printing establishments
Repair and maintenance of equipment for households and permitted industries
Repair and maintenance of vehicles
Leasing of real and personal properties
Employment activities, recruitment, and placement for permitted industries
Teachers, professors, and staff for conducting online classes, processing of student documents, completion of grades
Lawyers providing legal representation necessary to protect rights of persons and legal services for permitted sectors
Establishments necessary for the buying and selling of consumer goods over the internet
Still not allowed
Malacañang reminded residents in the "NCR Plus" bubble that the following are still not allowed:
Gyms
Personal care services like salons and barbershops
Tourism
Conferences, seminars, fora
Entertainment-related establishments like cinemas, bars, clubs, theaters
Meanwhile, curfews in the "NCR Plus" bubble may also change from those imposed during ECQ. Metro Manila mayors, for example, agreed to shorten curfew hours. Curfew is now from 8 pm to 5 am, instead of from 6 pm to 5 am.
Roque was unable to announce curfew hour changes in Cavite, Rizal, Bulacan, and Laguna as he was still seeking confirmation from local governments.
Earlier on Monday, Cavite Governor Jonvic Remulla announced that the new curfew hours in his province would be from 10 pm to 4:30 a.m – Rappler.com