(UPDATED) Rappler compiles a list of protests around the world during this pandemic, showing democracy lives on despite the health crisis
When a deadly virus strikes, the world's authorities seize every excuse to take control. Whether the nation is under a communist, parliamentary, monarchical, or republican rule, one of the first things every leader may think to do is to restrict the movement of people.
Leaders would expect people to avoid protests as they prioritize their health. The past few months have shown, however, that democracy lives on and finds its way to the streets in the face of continuing injustice, despite the health crisis. (READ: Who are using the pandemic to consolidate control?)
Rappler compiled a list of protests around the world during this pandemic.
Myanmar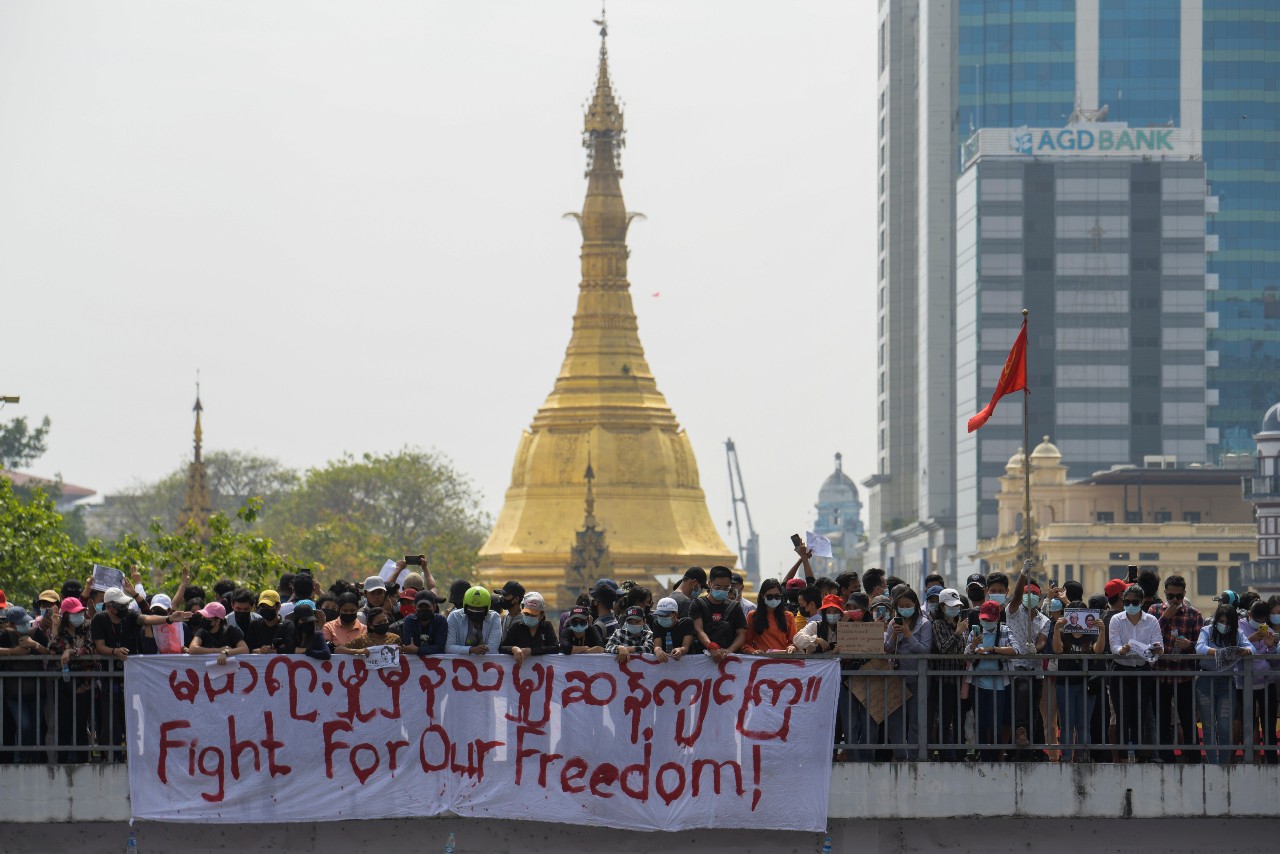 The military in Myanmar arrested the country's elected leader, Aung San Suu Kyi, along with other key officials in a morning raid on February 1, 2021.
The military later declared a coup, putting Myanmar under a state of emergency, after its November 2020 election they denounced as fraudulent.
Thousands of anti-coup protesters came out throughout February. For the first time in the Southeast Asian country, mass protests were joined by Generation Z youths who were inspired by similar pro-democracy movements in Thailand and Hong Kong.
On Saturday, February 20, police opened fire on protestors in an attempt to disperse them. At least two were killed.
In the main city of Yangon, several thousand young people gathered at two sites to chant slogans, while thousands massed peacefully in the second city of Mandalay, where Saturday's killings took place, video from a media outlet showed.
Facebook said it deleted the military's main page, Tatmadaw True News Information, for repeated violations of its standards "prohibiting incitement of violence and coordinating harm."
Belarus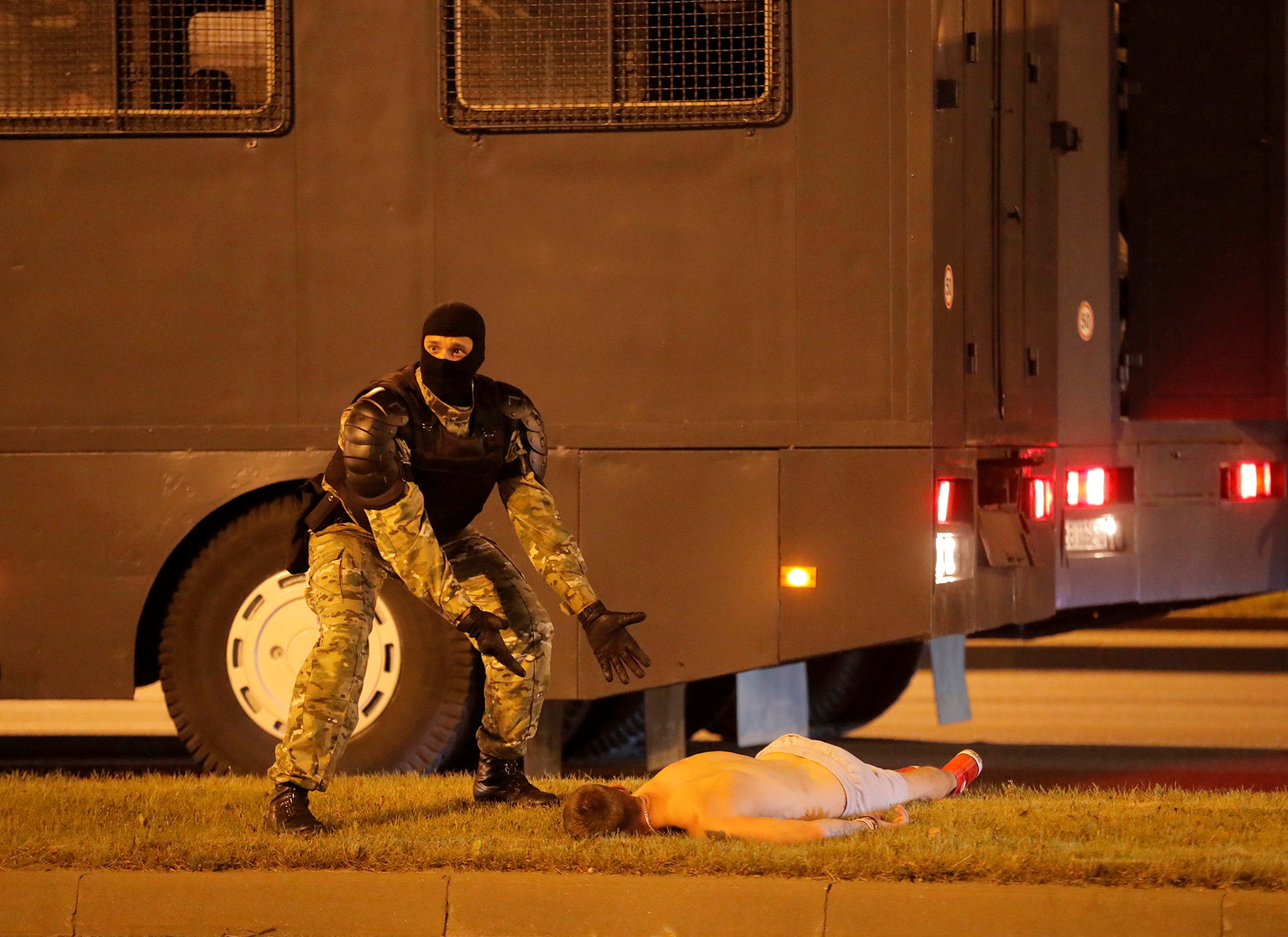 Hundreds were detained as protesters contested strongman President Alexander Lukashenko's claim of winning a 6th electoral term on August 9, 2020. The protests erupted after an exit poll showed Lukashenko beating main opposition challenger Svetlana Tikhanovskaya, a 37-year-old female candidate.
Beginning the evening of August 9, thousands of protesters took to the streets of Minsk and other cities to denounce the result, sparking clashes with the police.
Reports from pro-opposition media showed police firing stun grenades and rubber bullets into the crowds. A police van was also seen ramming into the demonstration and running down protesters.
Young participants were seen covered in blood, lying immobile on the ground, or being dragged away by police.
On February 18, 2021, a Belarusian court sentenced to two years in prison two Belarusian journalists from Poland-based TV news channel Belsat who filmed protests against President Alexander Lukashenko. Their lawyer said they would appeal the verdict.
United States and #BlackLivesMatter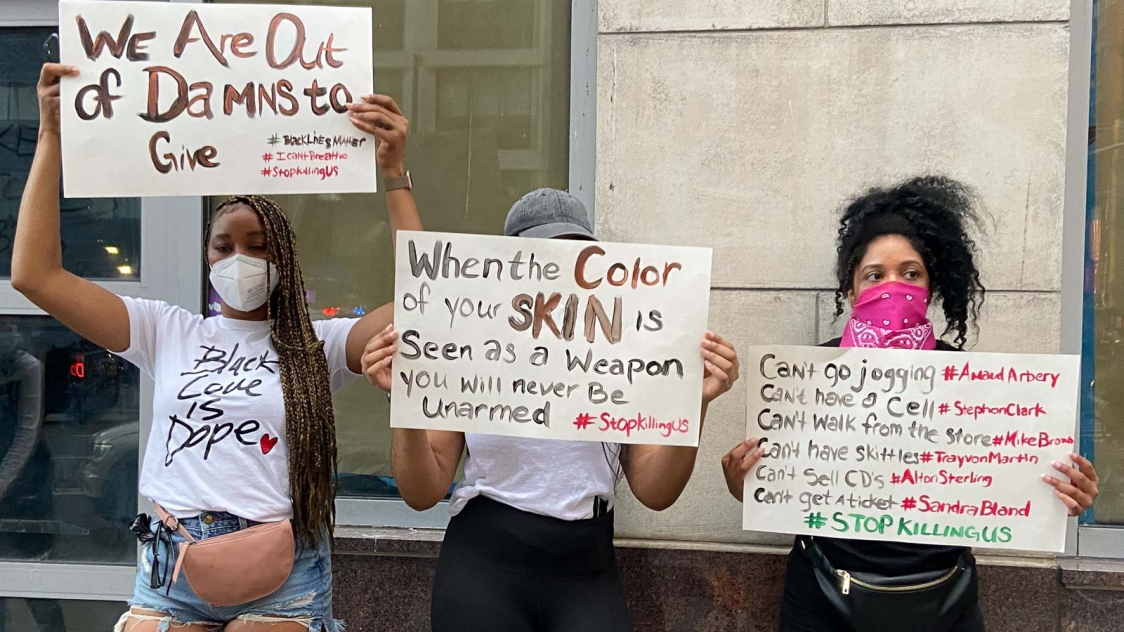 What began with the death of unarmed Black man George Floyd at the hands of police in the United States sparked massive condemnation across the country and then further to different parts of the world.
The movement started in May 2020 when a white cop pinned down Floyd with his knee for nearly 9 minutes as Floyd pleaded, "I can't breathe."
The outrage caught on in Europe and Asia as protesters took to the streets to rally against racism and police brutality. The protests also reawakened perceptions of colonial histories.
In Belgium, for instance, the modern royal family was dragged into the fray when the prince defended the record of his ancestor, King Leopold II, who once owned the then Congo Free State as a personal estate. People smeared a statue of Leopold's bust with red paint.
In January 2021, President Joe Biden took office, beating second-term hopeful Donald Trump, who was in power during the massive protests. On the day he took office, Biden signed an executive order establishing a government-wide initiative to address racial inequity and systemic racism.
Philippines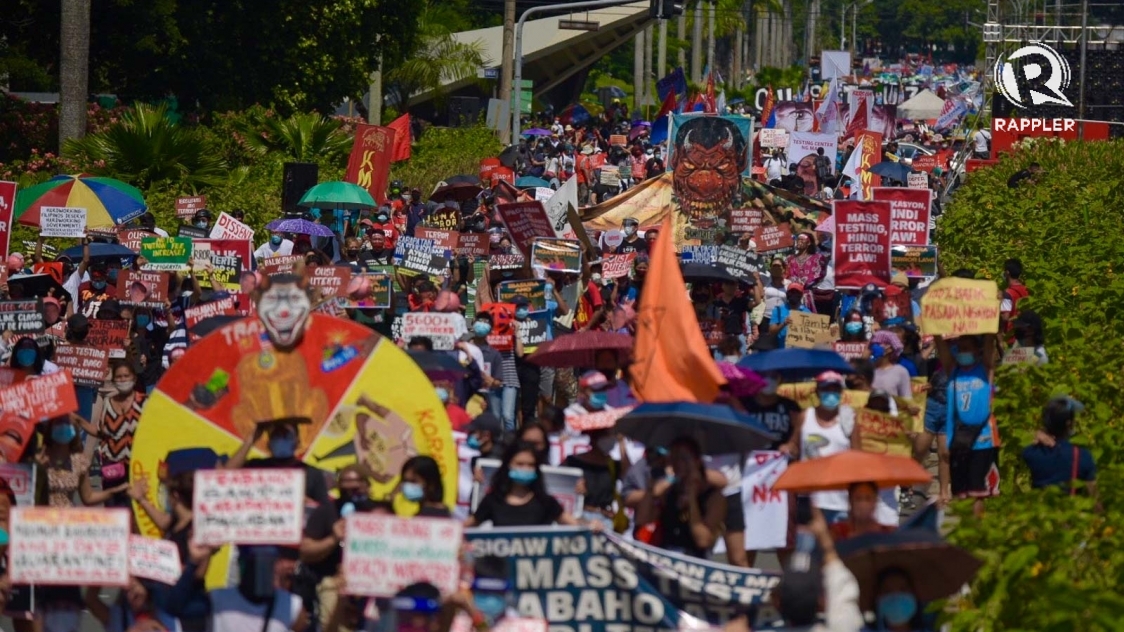 Filipinos have been told to stay at home for almost a year, but from time to time they have gone out to express indignation about various issues carried over from pre-pandemic times.
When Congress voted to reject the franchise renewal of ABS-CBN, the country's largest television network, citizens staged noise barrages outside the network's headquarters in the name of press freedom. ABS-CBN remains off air.
In June 2020, President Rodrigo Duterte certified urgent a controversial anti-terrorism bill that human rights groups say will stifle dissent and endanger government critics. The bill became law a month later, notwithstanding the people's protests. A peaceful mobilization in a university in Cebu ended with police chasing after students and the arrest of at least 8.
People marched against the anti-terror law and other issues in labor, transportation, environment, and human rights on the morning Duterte gave his 5th State of the Nation Address.
Human rights lawyers are challenging the anti-terror law's constitutionality before the Supreme Court.
Hong Kong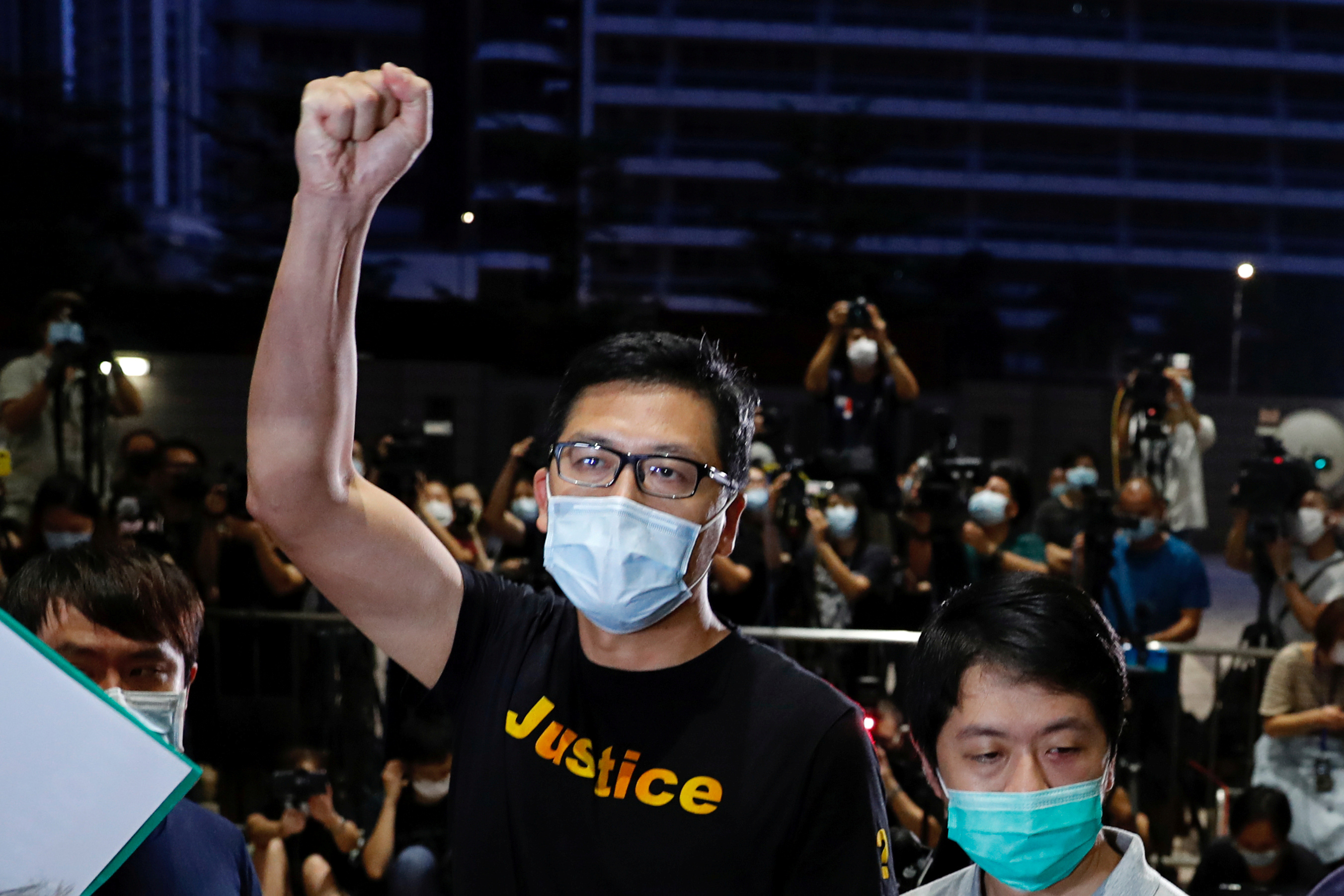 The Hong Kong protests have been in headlines of world news for much of recent memory. This year, the embattled semi-autonomous city tackles an issue similar to the Philippines' anti-terror law: the controversial security law imposed by China.
The new law gives Beijing unprecedented judicial powers in the financial hub, with jurisdiction over cases, secret trials without jury, and a national security agency.
The same way Duterte filed the anti-terrorism law as urgent, Beijing fast-tracked the law. Hong Kong was rocked by months of widespread pro-democracy protests in 2019. (READ: Hong Kong national security law: 5 key facts you need to know)
Hong Kong pro-democracy media mogul Jimmy Lai was arrested on August 10, 2020. He and other critics of China were rounded up by police as part of a widening crackdown on dissent. He was released on bail on Wednesday, August 12.
In February 2021, however, Hong Kong's top appeals court denied Lai bail, saying the lower court's decision last year to grant him bail applied "an erroneous line of reasoning."
Turkey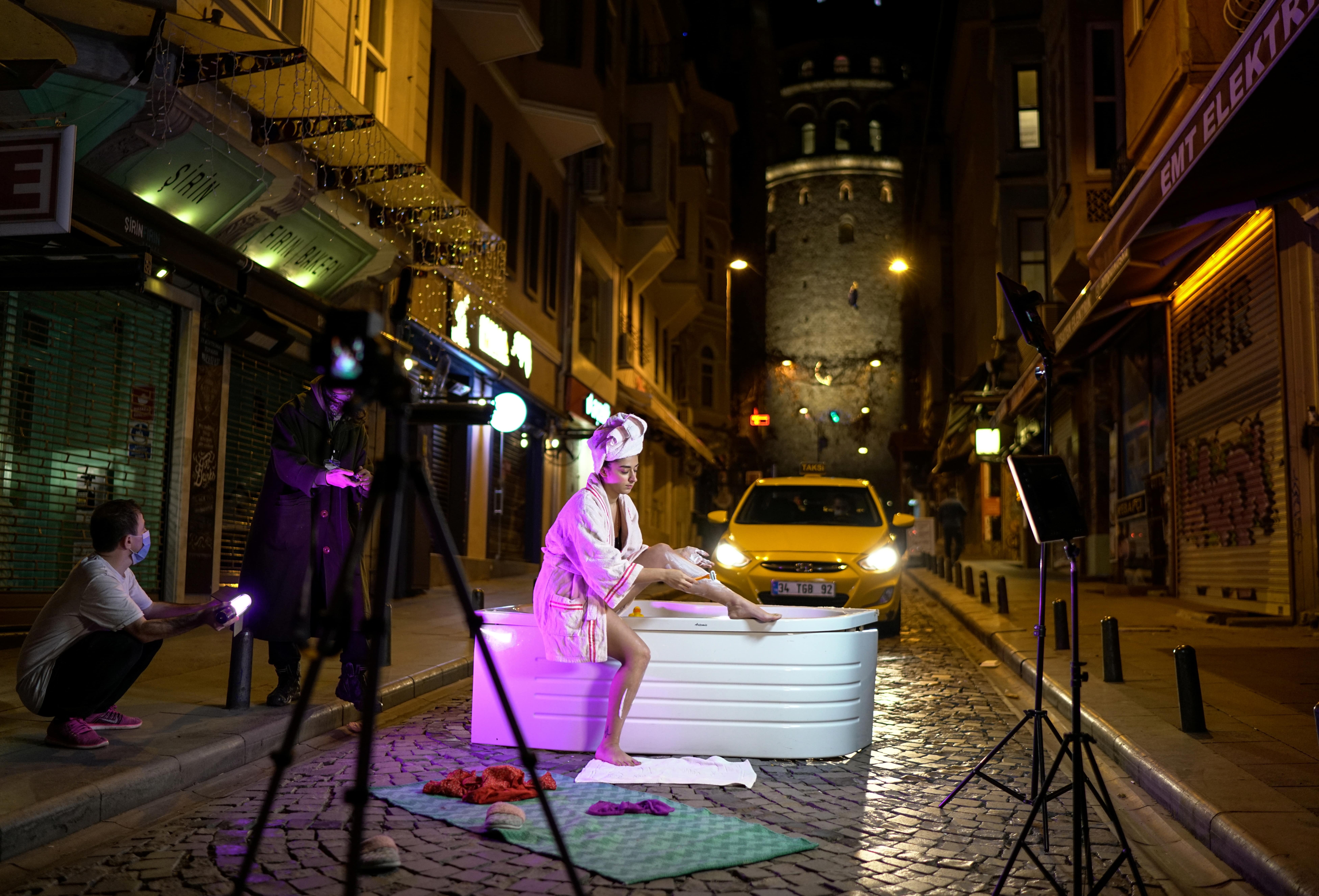 Crowds of women and feminist supporters were seen in face masks and purple placards protesting violence against women in Turkey. Rights group We Will Stop Femicide Platform reported that at least 474 women were murdered by men in 2019, and femicides were increasing every year.
"We encountered many cases where women were found suspiciously dead at home, on the roadside, at the sea, and by the stream. There have been femicides which were disguised as suicide or fire. Women were killed under protection and right after trials for divorce. The women who sought protection were murdered or injured by male violence because their demand wasn't met," the rights group wrote on its website.
Turkey ratified a 2011 Council of Europe accord called the Istanbul Convention that aimed to prevent and combat violence against women and domestic violence. People have marched to call on the government to better implement the accord.
Some reports said the femicides in Turkey inspired the black and white "challenge accepted" trend on social media.
Thailand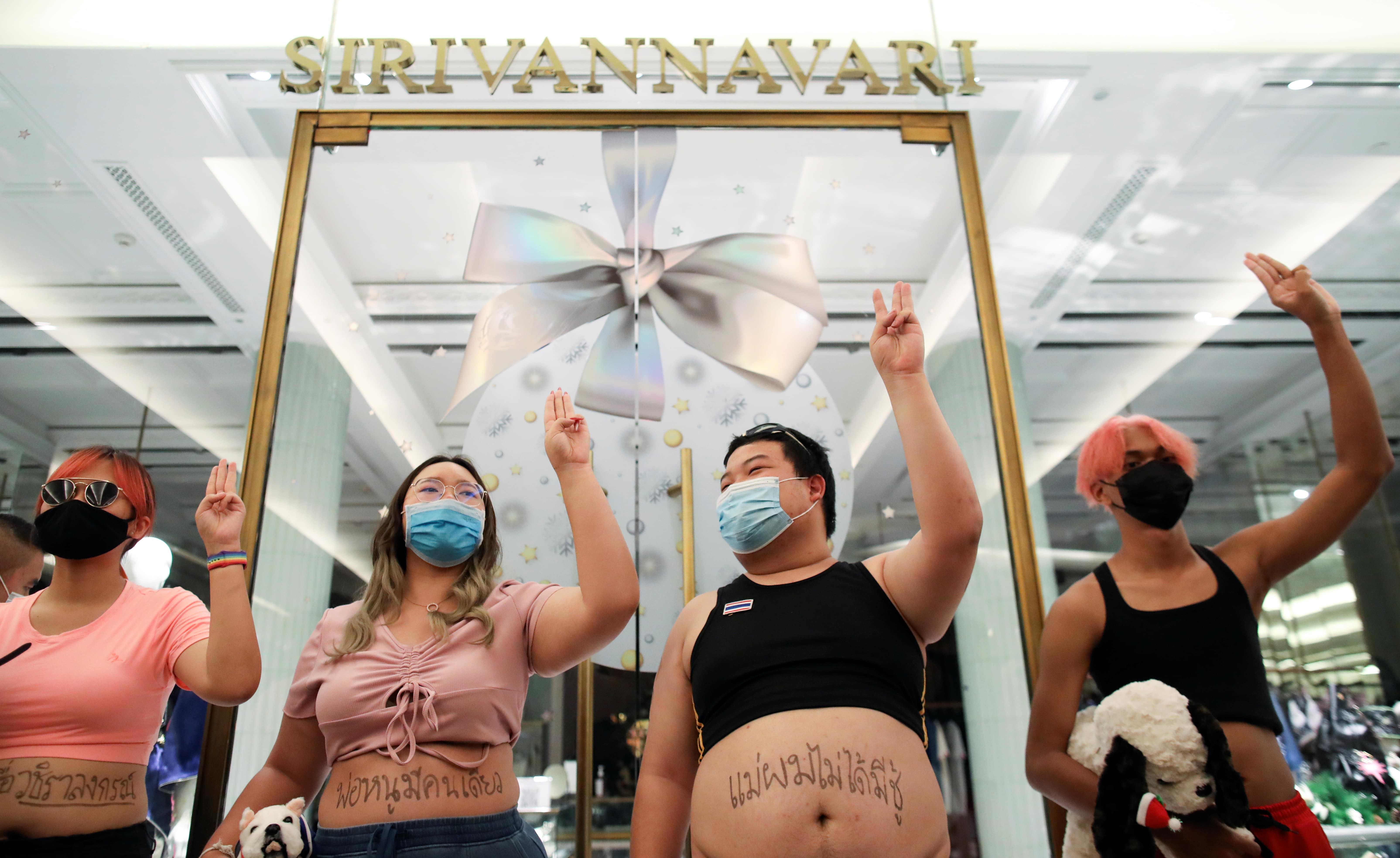 Thousands have been gathering in Bangkok to denounce Premier Prayut Chan-O-Cha's military-aligned administration. Students and the youth are at the forefront of the mobilization.
The movement is demanding revisions to the 2017 constitution, the parliament's dissolution, and is calling for the government to "stop threatening the people."
The activists are also calling for the abolition of the kingdom's draconian royal defamation law, which protects the powerful and wealthy King Maha Vajiralongkorn.
A rally on August 10, 2020 ended with speeches by two activists who were arrested over the weekend, and later released on bail. Participants held up a 3-finger salute, a symbol for freedom taken from The Hunger Games trilogy.
The protests returned in February 2021 after a lull brought on by a second outbreak of COVID-19.
Bulgaria
On July 30, 2020, protesters at two main intersections in Sofia, Bulgaria vowed that they would block traffic and perform other acts of civil disobedience until Prime Minister Boyko Borissov and his conservative government resign, according to a Deutsche Welle report.
The protesters are accusing Borrisov's government and chief prosecutor Ivan Geshev of deliberately delaying investigations into alleged links between authorities and local oligarchs.
Borissov has refused to stand down, saying there is a need for stability as "the world enters into its most horrible crisis," referring to the coronavirus pandemic.
Watchdog Transparency International ranked Bulgaria as the most corrupt region in Western Europe and the European Union in its 2019 Corruption Perceptions Index. – with reports from Reuters/Agence France-Presse/Rappler.com