Here are the common misconceptions about COVID-19 vaccines, and why you should not believe them
Are you, or is someone you know, afraid to get vaccinated against COVID-19 because you heard it kills people? Or perhaps you're hesitant because the pandemic makes you think that vaccines are useless or were developed too fast to be safe?
While these are concerns that should be raised before getting vaccinated, the decision-making process should not stop there. With the disease already killing over 4.3 million people worldwide – more than 29,000 in the Philippines alone – it is important to understand how vaccines work and how they keep people safe from getting severely infected or dying of COVID-19.
Here are five of the common myths and lies about COVID-19 vaccines, and why you should not believe them.
Myth 1: COVID-19 vaccines kill, more dangerous than the disease
FACTS: Vaccines are designed to protect people from the deadly disease, not to cause death. More than 4.3 million people worldwide have died of the disease, but there have been no reports of death proven to be directly linked to the vaccines.
Many of the reported deaths of vaccinated people have not been proven to be caused by the vaccines. For instance, in Germany, there were 10 people who died after getting vaccinated, but Germany's federal institute for vaccines said the deaths had no causal relationship to vaccination.
Various studies have shown that COVID-19 vaccines are effective against COVID-19. While it is true that vaccinated people may still get infected, health professionals say these cases are rare, typically manifest mild symptoms, and usually do not progress to severe illness or death.
In June, the Associated Press reported that nearly all of the deaths due to COVID-19 in the United States were among unvaccinated people. This is consistent with a Reuters report on August 5 that said data from Indonesia's health ministry showed that the death rate due to COVID-19 in Jakarta was more than three times higher in unvaccinated people compared to those who were vaccinated.
Read these fact checks for more information:
Myth 2: Getting vaccinated results in severe side effects
FACTS: The different COVID-19 vaccines currently available may cause different side effects, but these are normal and are signs that the body's immune system is working.
Among the common side effects of COVID-19 vaccination are pain, redness, and/or swelling of the arm, tiredness, headache, muscle pain, chills, fever, and nausea.
Meanwhile, the rumors about COVID-19 vaccines weakening a person's immune system, causing infertility, modifying a human's DNA, or making people magnetic are all false and baseless.
"Serious side effects that could cause a long-term health problem are extremely unlikely following any vaccination, including COVID-19 vaccination," the United States Centers for Disease Control and Prevention (CDC) says.
Studies and health experts all over the world say that the benefits of being vaccinated for COVID-19 outweigh the risks.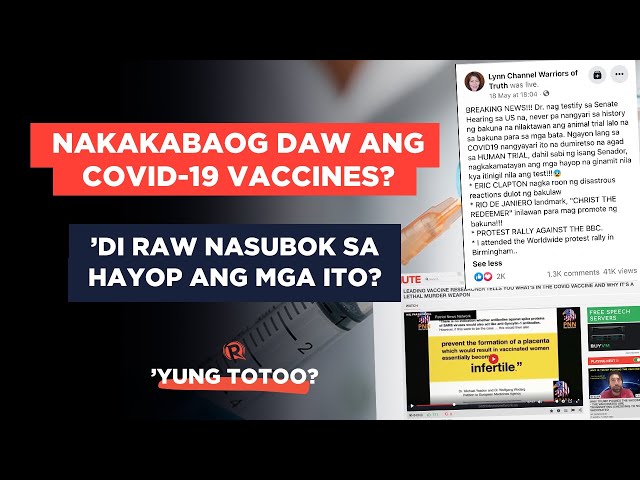 Myth 3: Vaccines cause COVID-19
FACTS: COVID-19 vaccines cannot cause COVID-19. None of the vaccines currently being rolled out in the Philippines contain harmful amounts of the live virus.
As of Thursday, August 11, there are 7 vaccine brands available in the country: Sinovac, AstraZeneca, Sputnik V, Pfizer, Johnson & Johnson, Moderna, and Sinopharm. These vaccines work in different ways, but they are all proven safe and effective in protecting against COVID-19.
These vaccines can be classified into three types: inactivated vaccine (Sinovac, Sinopharm), viral vector (AstraZeneca, Sputnik V, Johnson & Johnson), and mRNA (Pfizer and Moderna). Of these, the first two types use the virus in manufacturing the vaccines, but not in its live state.
The World Health Organization (WHO) says inactivated vaccines are made from the disease-carrying virus, which is then inactivated or killed using chemicals, heat, or radiation. Meanwhile, the viral vector vaccine uses a safe virus to deliver proteins so that it can trigger an immune response without causing the disease.
The mRNA vaccines do not use the virus at all. It delivers a set of instructions to the cells to teach them to make a specific protein that the immune system can recognize and respond to.
Read these fact checks for more information: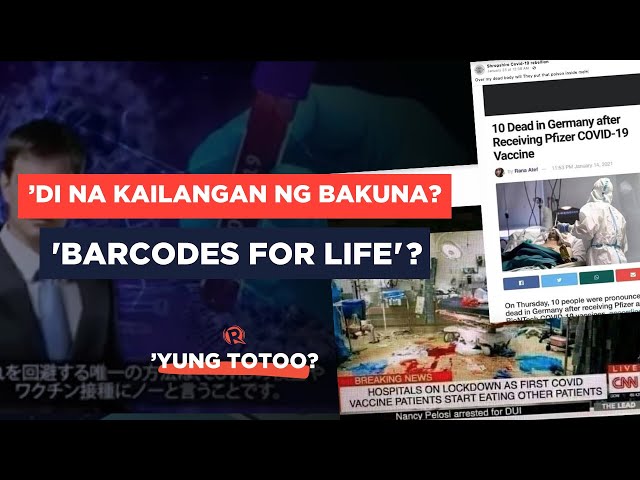 Myth 4: COVID-19 vaccines are experimental, not safe
FACTS: All of the vaccines being rolled out in the Philippines have undergone three stages of clinical trials and have been authorized by the Food and Drug Administration. This means that health experts have deemed them safe to use and effective in giving adequate protection against COVID-19.
Moreover, none of the vaccine types are new. The WHO says scientists have studied them for decades and two out of the three vaccine types available in the country (inactivated and viral vector) have already been used in existing vaccines for other diseases.
The flu and polio vaccines, for instance, are inactivated vaccines, while the Ebola vaccine is a viral vector vaccine.
While Pfizer and Moderna's COVID-19 vaccines are the first mRNA vaccines produced and administered on a large scale, this does not mean that the technology is new. The WHO says the mRNA vaccine technology has been studied for decades, and that it "has been rigorously assessed for safety."
Read these fact checks for more information:
Myth 5: Vaccines contain microchips, meant for mass destruction
FACTS: There are no vaccines that contain microchips that have surveillance features. This claim originated from conspiracy theories blaming US billionaire Bill Gates for the pandemic, which is baseless and has been debunked by different fact-checking organizations.
Medical experts widely concur that the COVID-19 vaccines are humanity's best hope for ending the pandemic.
Read these fact checks for more information:
– Rappler.com