The new rule increasing the capacity of public transportation to 70% takes effect on November 4. Here's what we know so far.
Starting Thursday, November 4, public transportation will be able to carry more passengers, more than a year after the government decided to halve its capacity.
The pandemic task force approved the proposal of the Department of Transportation (DOTr) to allow more passengers in mass transportation until full capacity is allowed.
This was done as part of the government's efforts to help public utility vehicle (PUV) drivers recover lost income due to rising fuel costs, as well as to address the increasing demand brought by the reopening of the economy.
With the new policy taking effect on Thursday, here's what we know so far:
More people but no standing passengers
On Thursday, capacity in public transportation will be at 70%.
Land Transportation Franchising and Regulatory Board (LTFRB) Chairman Martin Delgra III said this covers road-based transport jeepneys, buses, and UV Express in Metro Manila, Bulacan, Rizal, Cavite, and Laguna.
Jeepneys
For traditional jeepneys that have a capacity of 20 passengers, a total of 15 people will be allowed to board the jeepney. Those that have a capacity of 11 passengers, meanwhile, will be allowed to carry 11 people at a time.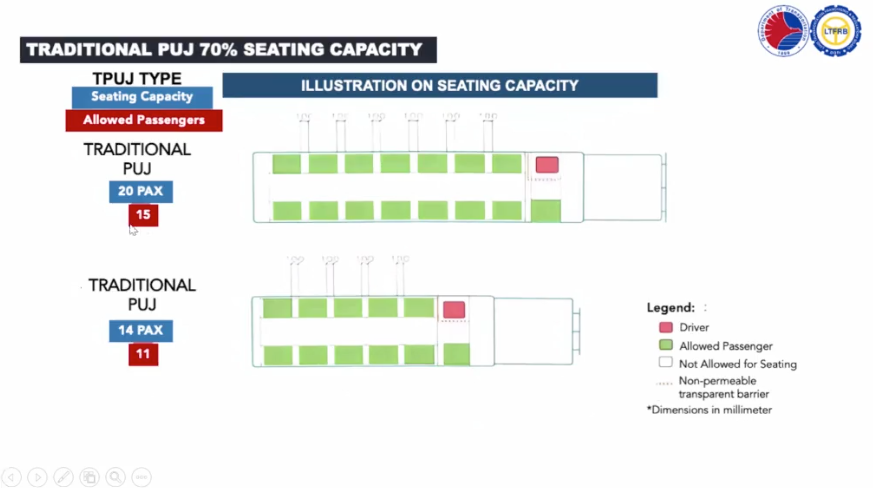 For 19-passenger modern jeepneys, the number of allowed people will be 13.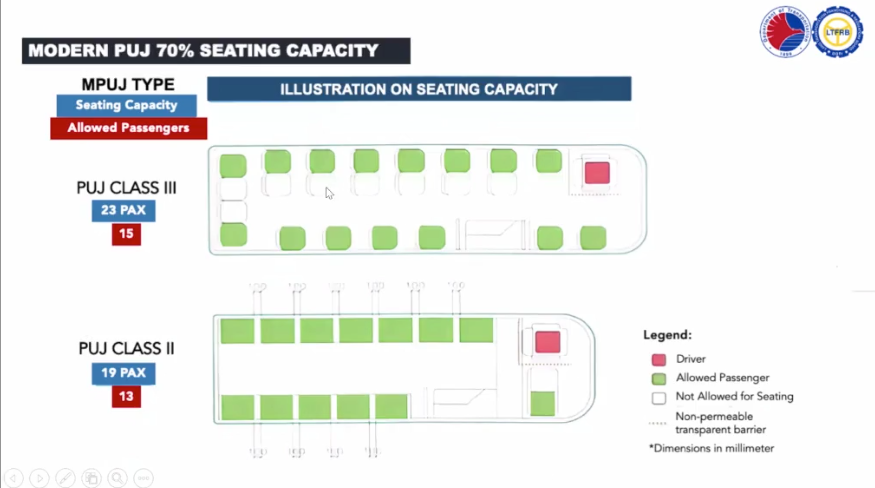 Buses
Just a few days earlier, the DOTr announced that standing passengers will be allowed in buses, but regulators took it back days later.
Citing enforcement concerns from traffic agencies, Delgra said that the regulatory board decided to just revamp the seating capacity.
Take traditional buses as an example. Instead of allowing standing passengers, a number of rows in front will all be occupied, without seats in between.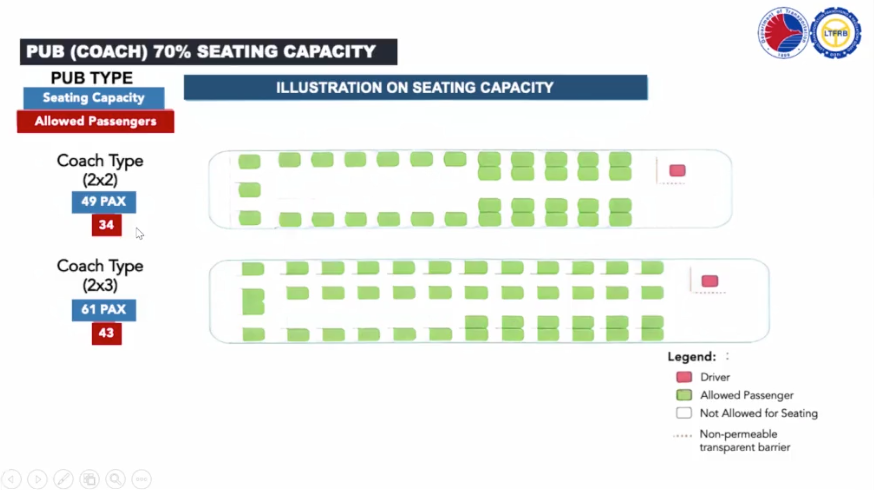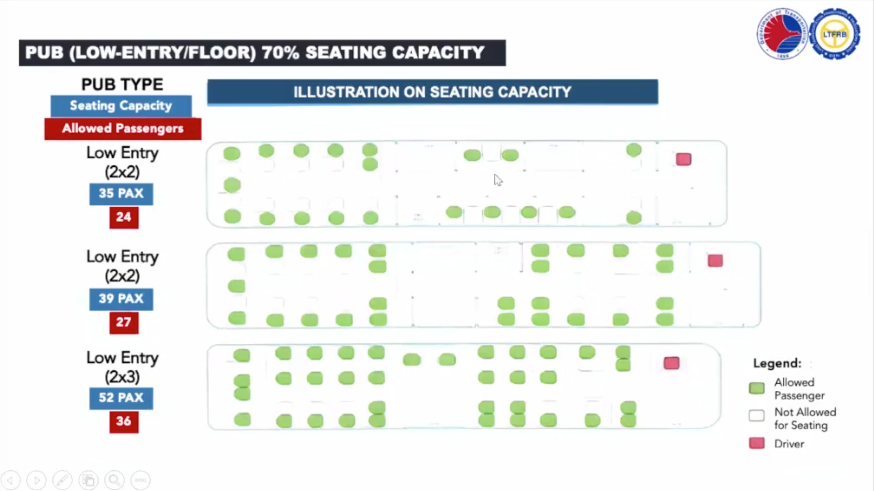 Railways
The seating capacity for railways, meanwhile, will go as planned – an increase from a mere 30% capacity to 70%.
Some railways have four-car trains, hence the higher number of passengers per train set as specified in the table below: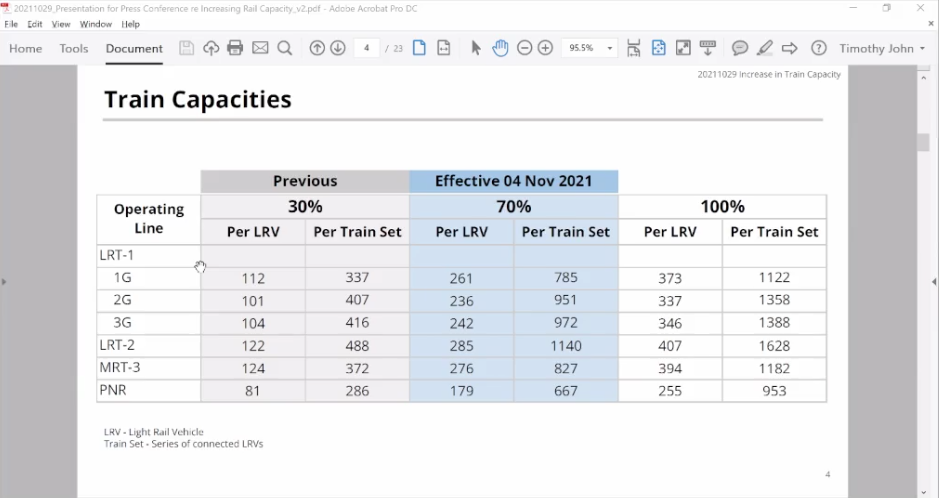 No more plastic barriers
Regulators also scrapped the plastic barrier rule 14 months after it was ordered, finally acknowledging that it is not backed by science.
The LTFRB chief clarified on Wednesday, November 3, that the plastic barrier rule was supposed to separate the driver and the passengers. On the ground, however, the rule seemed to have been lost in translation as jeepney drivers and operators installed plastic barriers in between passengers, too.
For motorcycle taxis, however, the "safety divider" between a driver and a passenger remains.
Road Transport Assistant Secretary Steve Pastor said that it was the decision of the National Task Force against COVID-19 to allow motorcycle taxis during the pandemic. The decision to scrap plastic barriers in motorcycle taxi services will also have to come from them, Pastor said.
Will it be safe?
The DOTr said it will continue enforcing the observance of "strict" health protocols. But it reminded drivers and passengers to conduct safety measures including the following:
Wearing of face masks and face shields
No talking inside public transport
No eating
Keeping public transport well-ventilated
Conducting frequent disinfection
Not allowing passengers with COVID-19 symptoms inside PUVs
Physical distancing
Medical experts around the world have pointed out that ventilation is just as important as wearing masks to reduce the risk of airborne infections. This is why a jeepney, which is not airconditioned and offers natural ventilation, is a "safer option" sans plastic barriers.
Asked whether regulators will order airconditioned PUVs to have their windows opened, Delgra said instead that the regulatory board "will encourage" bus and UV express drivers to do so to have proper ventilation inside.
Delgra acknowledged that it is not possible – and safe – for buses to be driven while the door is open, but he noted that the headway between bus stops, at least in Metro Manila, is "about one to two minutes" so doors will open every time a passenger rides or gets off.
Transportation officials also addressed safety concerns, citing research findings that the chances of getting COVID-19 in public transportation are very minimal with the use of face coverings.
DOTr Assistant Secretary Goddes Libiran said the department analyzed COVID-19 cases and public transportation capacity in 10 countries in the Asia Pacific, including the Philippines.
The department's research, according to her, found that public transport capacity "has no significant correlation" with coronavirus cases. Libiran also said that evidence suggests that a high vaccination rate prompts "higher capacity."
Earlier, the DOTr cited the Vietnam case, which showed that Hanoi was able to sustain its regular bus ridership, with all passengers wearing face masks with some using hand sanitizers.
A study by the Collaborative Group for Modelling COVID and Mobility in Colombia also said proper ventilation, where air renewal happens every three minutes, is important to reduce transmission of the coronavirus when combined with other health interventions. But the group said that the ideal trip "should be less than 15 minutes."
The DOTr has been batting for a higher public transport capacity since 2020, but it found its opening only this year, given higher vaccination rates and rising fuel costs. – Rappler.com