Celebrate Independence Day with this bundle promo, available only from June 9-23 this year
When facts are rock solid, not even the most powerful can defeat them.
2021 is especially important for Filipinos, because we are less than a year away from the next presidential elections. When a lot is at stake, a lot is required of citizens so they can make informed decisions.
How does one sift through the noise on social media? By knowing the facts.
Last May, for instance, we saw veteran journalist, author, and Rappler editor-at-large Marites Vitug debunk the false claims Juan Ponce Enrile made on the West Philippine Sea in President Duterte's weekly televised address. On Vitug's Facebook account, she cited specific passages from her book Rock Solid:
Rock Solid: How the Philippines Won Its Maritime Case Against China, published in 2018, presents a comprehensive account of the epic legal success of the Philippines' territorial claim over that of China. Walden Bello, international adjunct professor at the State University of New York at Binghampton describes it as: "A gem of a book, so comprehensive in its research, so articulate in its presentation. The gold standard in international legal reportage and investigative work."
To celebrate Independence Day, Rappler+ is launching a bundle promo with Ateneo De Manila University Press, available only for a limited time. 
From June 9 to 23, readers will be able to get an annual membership with Rappler+ and a copy of Rock Solid for P3,438. This is 15% cheaper than buying the membership and book seperately, saving buyers P600.
Buy the book + membership here.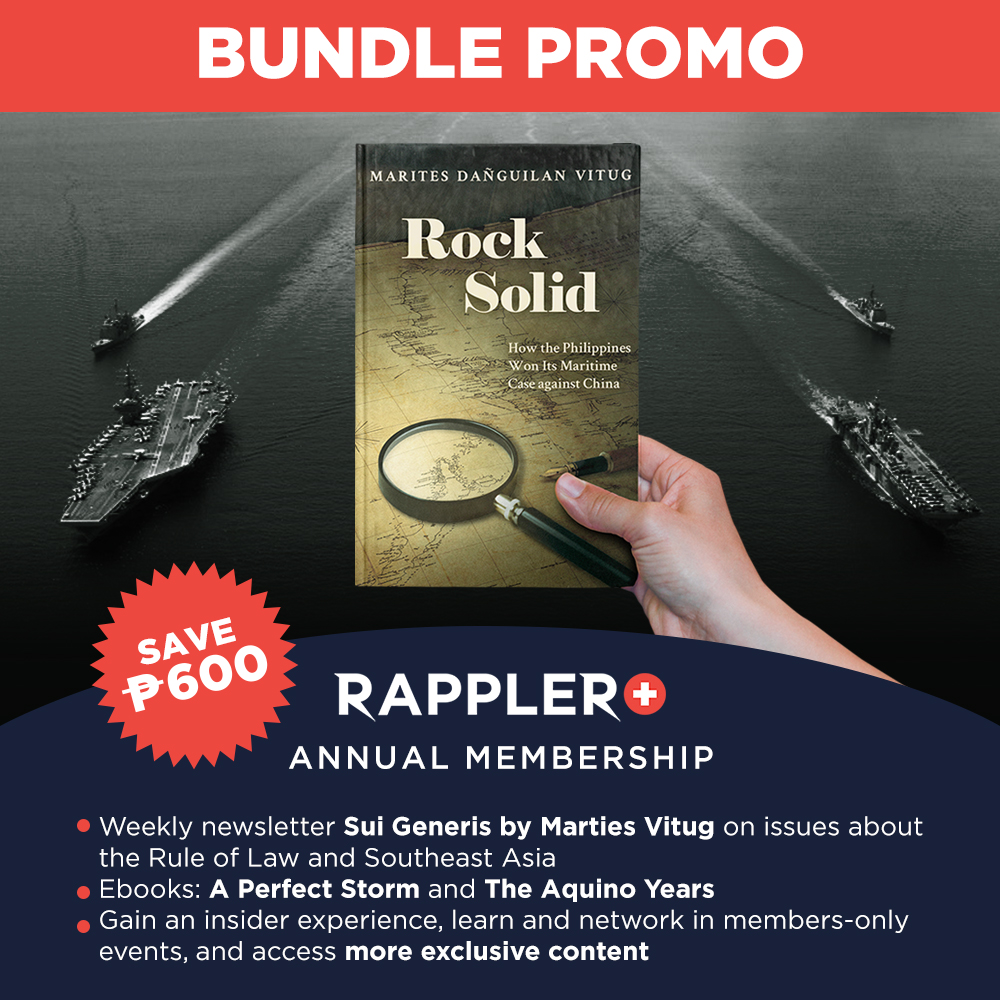 This bundle promo gives readers the opportunity to understand complex issues alongside a community that values facts and truth-telling. In Rappler+, people are given the opportunity to network with fellow members, learn from local and international featured experts and thought leaders, access more exclusive content, and gain an insider experience of the Rappler newsroom.
Rappler+ member and Corporate Relations Officer Althea says: "Rappler is a source I can trust. It's important to me that I have access to information that keeps me abreast on noteworthy events." Membership fees directly support the work of Rappler, keeping our journalism fearless and independent.
This combination of knowledge products will give you the essential information you'll need when you make your choice in 2022. – Rappler.com