A number of senatorial candidates who ran and won in 2019 embraced social media tactics employed by President Duterte during the 2016 presidential campaign
This is part of the research on the use of social media by senatorial candidates which was released exclusively to Rappler+ members ahead of the 2019 elections.
Taking off from the experiences of 2016, most of the candidates who were within a stone's throw of the Magic 12, according to surveys, had some form of social media presence months – or even a year – before the official campaign period. Quite a number of these senatorial candidates embraced some of the social media tactics employed by then-presidential candidate Rodrigo Duterte.
Below are findings from our research, which used data gathered by our Sharktank1, our research tool for monitoring disinformation on social media, as well as data gathered through CrowdTangle for the period February 1, 2018 to February 1, 2019.2
Most candidates had multiple support pages and groups in their name, on top of their own official pages.
Rappler found that the official candidate pages produced just a minute portion of election-related content on Facebook. Most of the candidates had multiple support pages bearing their names outside of the official Facebook pages.
The table below summarizes the top senatorial candidates based on the number of support pages and groups promoting them on Facebook on top of their official pages.
Not counted here are the pages clearly campaigning for candidates but not reflecting their names in page titles. An example of this is the Facebook page If We Elect, which is clearly campaigning for frontrunner Grace Poe. Yet her name is not on its page name.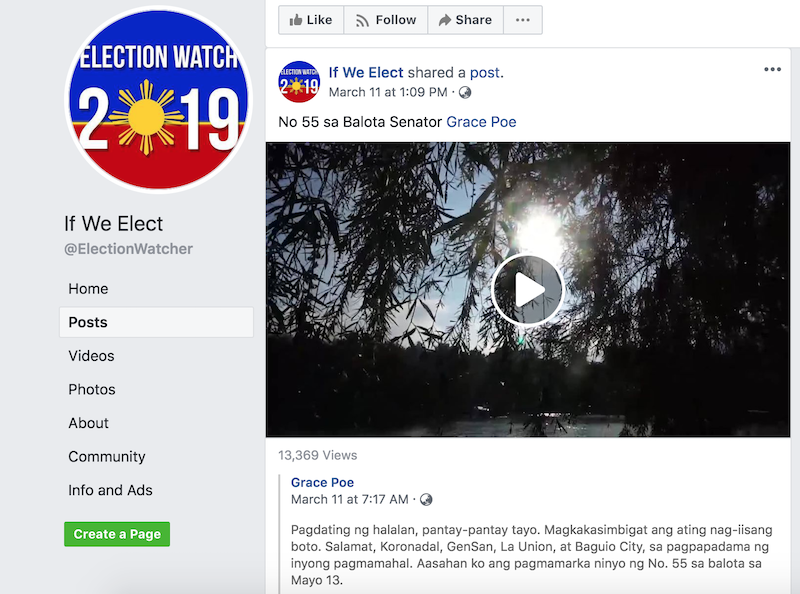 For candidates who ran for elective posts in 2016 – like Grace Poe and Mar Roxas – a number of pages appeared to be remnants of that previous campaign. Some have not produced new content, but quite a number, including the official pages of these candidates, continued to produce content and generate engagement as of writing.
Among the senatorial candidates, the one with the most number of support pages on Facebook to his name was former special assistant to the President Bong Go, who had as many as 162 support pages campaigning for him. These were on top of his official page.
Go, who was with Duterte during the entire campaign period, seemed to be following the President's social media campaign template – targeting specific communities in the Philippines and abroad. The image below shows the target locations of some pages in Go's name which were spotted by Rappler.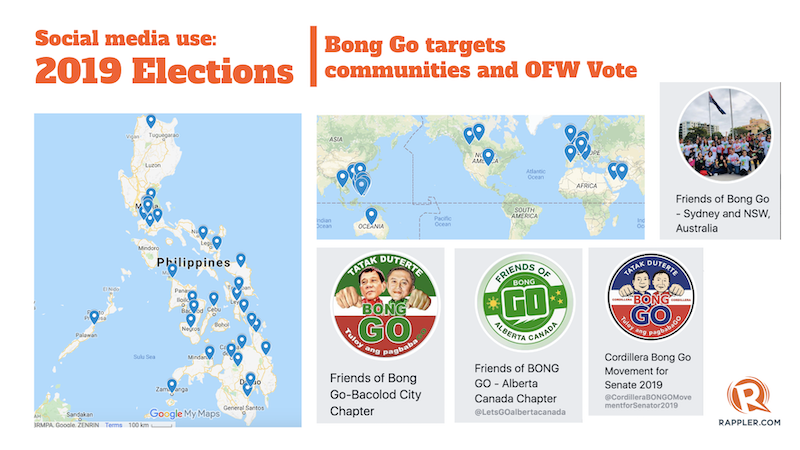 Dela Rosa (with 59), Angara (46), and Marcos (35) come after Go but with less than a third of the number of the latter's support pages.
Go still led in terms of number of Facebook groups (68) campaigning for him, followed by Imee Marcos (33), Grace Poe (12), Ronald dela Rosa (10), Freddie Aguilar (10), and Francis Tolentino (9). The table below summarizes groups and pages per candidate by the number of page likes or group members.
Grace Poe and Mar Roxas, who both ran for president in the 2016 elections, led in terms of number of followers of their official accounts (3,449,887 for Poe and 1,445,680 for Roxas). But if the followers of support pages are considered, Dela Rosa edges out Roxas in terms of total number of members and followers of support pages and groups.
2. Collectively, the amount of content, followers, and engagement in support pages and support groups dwarfed that of the official pages of candidates.
Support pages and support groups on Facebook played an important role in amplifying messages of candidates as data collected by Rappler shows that in terms of volume of content, these pages actually collectively dwarfed that of the main pages of candidates themselves. We point this out to call the attention of regulators.
Go's pages also led in terms of number of posts on Facebook for the period covering February 1, 2018 to February 1, 2019, according to data on CrowdTangle. For the same period, as many as 28,206 posts were published on the support pages apart from 1,601 posts on the official page and 21,184 posts on support groups.
In effect, collectively, Go's pages and groups bombarded Facebook with an average of almost 4,250 posts per month (or over 140 posts per day) over the past year. This volume is over 30 times the amount of content posted on his official Facebook page.
The table below summarizes total content posted on various candidate pages (official and support) and Facebook groups from February 1, 2018 to February 1, 2019:
In terms of total amount of content produced on pages alone, Go (29,807 posts) had the highest number, followed by Dela Rosa (13,186), Marcos (5,876), Angara (4,639), Roxas (2,426), and Aquino (2,329).
The graph below shows volume of posts generated every day beginning January 2018 by pages supporting the 6 most active candidates on Facebook.
In terms of total number of posts across all pages and groups, Imee Marcos followed Go with 35,487 posts. The bulk of these posts were in groups that are in her name. Marcos even outdid Go in number of posts in Facebook groups – 29,611 posts for 2018 versus his 21,184.
Note that content on pages and groups campaigning actively for candidates but do not have the names of candidates they support reflected on the page names are not part of this tally.
For instance, apart from pages specifically in her name, Imee Marcos also benefited from pages created ahead of the vice presidential candidacy of her brother Bongbong. Our scan of Facebook revealed at least 100 Marcos loyalist pages and at least 90 Bongbong Marcos support pages. The daily number of posts on these pages over the past year is shown in the graph below.
This level of activity was partly due to the pending electoral protest of Bongbong Marcos.
The volume of posts does not necessarily translate to engagement. Candidates who got the most interactions on their content, according to CrowdTangle, were Dela Rosa (9,937,211), Go (2,990,385), Marcos (2,069,241), Roxas (1,077,068), Osmeña (813,979), and Aquino (418,170).
3. Coordinated behavior: candidate official pages and support were often linked directly and indirectly – indicating that they were either amplifying each other or amplifying the same messages or content
The visualization below, which shows the combined networks of the top 6 candidates in terms of levels of activity on Facebook, indicates that various pages named after candidates were working in a coordinated fashion.
In the network graph below, indirect links between nodes of the same color indicate that they were sharing content from the same websites or pages. Direct links mean they were sharing each other's content. Take note that the green circles represent Bong Go networks, the red for Imee Marcos, yellow for Roxas, navy blue for Dela Rosa, orange for Angara, and purple for Poe.
Interestingly, in the case of Roxas, a few yellow nodes are separated from his main cluster of pages and are much closer to the network of administration candidates than they are to the Roxas cluster. This cluster includes some anti-Roxas and anti-Liberal Party meme pages.
Meanwhile, a cluster consisting of green and red nodes is separated from the main Bong Go page and is nearer the main Roxas cluster. When we checked, we noticed that the nodes were pages campaigning for Go and Marcos but were also actively attacking Roxas. This is not surprising. As the President's former aide, Go was actively promoted by the same support network that Duterte tapped online. Apart from Go, Duterte and his daughter Sara were also very supportive of the candidacy of Imee Marcos.
On the other hand, among the opposition, Roxas was at one point the one nearest to the Magic 12. As one of Duterte's rivals for the presidency in 2016, he had been at the receiving end of negative campaigning and attacks from Duterte supporters for years now.
In the visualization, the size of the node represents the number of incoming links to it. Notably, Bong Go pages are more pronounced in the visualization above.
If all the Marcos pages (Imee, Bongbong Marcos and Marcos loyalist pages) are included in the network, however, even Go's pages are significantly drowned by the aggregate Marcos network, as shown in the visualization below.
4. Non-political channels, such as pages that published memes and viral content, were also tapped to publish political propaganda
Apart from pages that were directly in the names of politicians, Rappler has also tracked political propaganda in pages whose content are not as directly associated with political messaging such as those that usually share memes and viral content and even buy-and-sell pages.
For instance, senatorial candidates Angara, Osmeña, and JV Ejercito were spotted performing cameo roles in video posted on popular Facebook page Vincentiments. Survey frontrunner Poe, on the other hand, was featured on the page Bob Ong Quotes and Hugot Words. Content on Roxas was seen on Kami.com.ph.
What makes these channels attractive for political campaign communications is their audience size, which was grown using memes and viral content that either reflect universal sentiments or tend to be very relatable and highly clickable.
Pinoy Rap Radio has more than 8 million followers. Kami.com.ph has 8.9 million followers. Bob Ong Quotes has 3.7 million followers. Vincentiments is followed by 1.4 million users.
For the most part, politicians appeared to be using these pages to popularize traits that they wanted to attach to their brand.
For instance, Bob Ong Quotes and Hugot Words shared a post about Poe's "clean track record." Vincentiments, on the other hand, published content around the tagline "loyal and faithful," featuring Angara.
Kami.com.ph, which usually focuses on memes and gossip, featured content on Roxas. These content even included some fact checks on claims about Roxas.
Because they are not like the other usual content of these pages, these types of content tended to stick out.
5. Anonymously-managed pages, groups, and channels on Facebook and other social media were favorite launching pads for black propaganda and false claims which were deployed either to counter negative issues against candidates or attack their rivals.
Beyond building the candidate's brand, Facebook and other social media were used as a countermeasure against issues raised against a candidate, as well as a tool for launching attacks to destroy a rival candidate's reputation.
For example, like her brother, who ran for vice president in 2016, Imee Marcos got a lot of flak from activists and cause-oriented groups on social media who were campaigning to prevent the Marcoses from regaining power.
Running soon after the Sandiganbayan convicted her mother of graft and corruption, the Marcos loyalist pages performed the useful role of managing the Marcos family's historical baggage. Typical content on these pages attempted to explain how the Marcoses acquired their wealth, debunked corruption allegations, or extoled achievements of the former president Ferdinand Marcos. They also debunked stories about human rights abuses committed during Martial Law and regularly attacked the Aquinos and opposition leaders and candidates.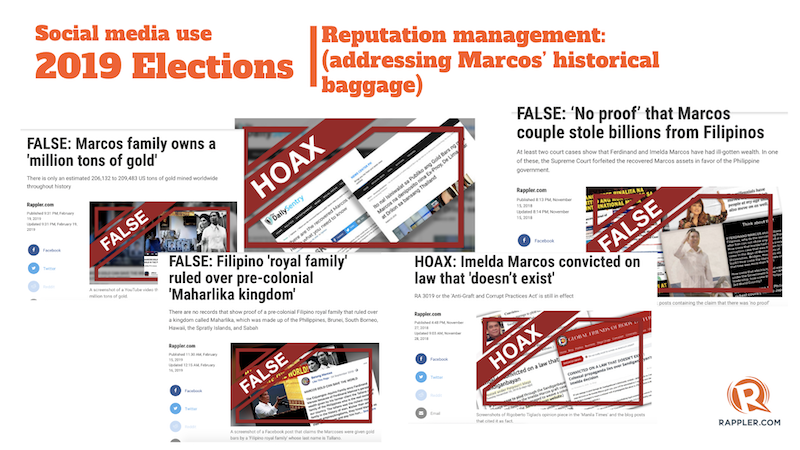 In September 2018, over a month before the Sandiganbayan issued its ruling on Imelda's case, the Facebook page Batang Marcos published a post entitled, "Marcos gold can save the world." The post essentially attempted to attribute the source of the Marcos wealth to his former clients, an alleged "royal family" which supposedly ruled over a pre-hispanic Maharlika kingdom that includes present day Philippines.3
The claim was so fantastic that historians initially refused to dignify it by debunking it. But this specific post alone got over 79,000 shares and more than 5,000 comments.
YouTube was also a favorite channel for this. In February 2019, Rappler fact-checked a video posted on YouTube which claimed that the Marcos family has a "million tons of gold" – which is way more gold than ever produced globally.4 This video, which was published on August 30, 2017 by YouTube channel JDBros, has gotten over a million views as of writing. It remained available on YouTube as of mid-April.
There were many such similar claims that suggest alternative ways (other than corruption) by which the Marcoses obtained their wealth. These were spotted not just on Marcos loyalist pages and accounts, but also on pages supposedly devoted to Philippine history. Even pages which grew their audience by posting "hugot" (or emotional) memes and viral content were occasionally used for political purposes, given their large audiences.
One example is a Facebook post on the page Pinoy Rap Radio which was shared in 2014. The post questioned the allegations of corruption against former president Ferdinand Marcos and claimed – despite evidence to the contrary – that succeeding administrations "could not show proof" of the money Marcos stole from the Filipino people.
This post got more than 331,000 shares, more than 38,000 comments, and more than 369,000 reactions on Facebook. Posted ahead of the 2016 elections, this content could have affected the turnout in the vice presidential race which the dictator's son Bongbong continues to contest at the Presidential Electoral Tribunal.
At the time Rappler spotted this post in November 2018, it was still accumulating shares on Facebook, possibly aided by the fact that Facebook usually reminds its users of content they shared in previous years.
In the wake of the controversy surrounding Imee Marcos' educational achievements, Marcos pages ramped up content belying the statements issued by academic institutions (Princeton, the University of the Philippines College of Law, and the Asian Institute of Management) which denied that the Ilocos governor obtained a degree from them. Among the false claims made by the Marcos pages was former president Corazon Aquino supposedly having Imee's records at the UP College of Law destroyed when she was president.
But by the size of the nodes, the visualization shows that the reach of those campaigning against the Marcoses is dwarfed by the pages defending the Marcoses. For instance, a cluster of red nodes (No to Marcos forever in politics, Block Marcos, Cebu Against Marcos, No to Marcos Burial at Libingan ng mga Bayani, and Edsa Laban kay Marcos) near the Roxas cluster really consists of anti-Marcos pages.
But they are very tiny compared to the huge Marcos page nodes. The anti-Marcos pages also tended to be disorganized and scattered, unlike those belonging to the Marcos network which clearly amplified each other as indicated by the mesh of links among the different nodes.
Overall, what makes social media a perfect tool for black propaganda operations is the anonymity and the element of deniability that it provides. Candidates can easily deny any involvement in content produced by unofficial and anonymously managed pages. Certainly, such content would be difficult to credit to a candidate's campaign spending.
While Pinoy Rap Radio is a verified Facebook page, it does not list an address or any other contact details. The link posted on the page is not really an active website. Rappler tried to chat with the page administrator before it published a fact check story and rated the post on Facebook but got no response. After the fact check was published, the page merely deleted the post and several others like it – around 4 years after it was first published – without issuing any corrections.
Batang Marcos5, which has 93,138 followers as of writing, describes itself as a "personal blog." The YouTube channel JDBros also does not post any contact details.
6. Beyond posts, comments sections were also battlegrounds for political commentary and black propaganda
It is important to note that false claims and political propaganda are not always published as posts. On many occasions that Rappler monitored posts, political propaganda was circulated across comment sections, as seen in the examples below.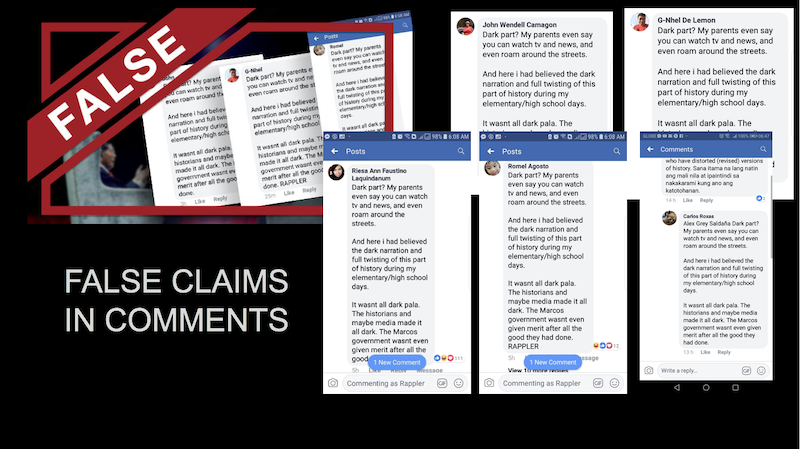 Propaganda gets even trickier to monitor as keyboard warriors, often using assumed names, often swarm the comments sections of news groups with hateful comments and even false claims against candidates, institutions, civil society groups, and journalists.
The sample above shows how similar content can be propagated across comments sections by different accounts. Rappler has spotted many instances like these. Unfortunately, since the Cambridge Analytica scandal erupted, Facebook has disallowed access to comments in its API making it difficult to illustrate how extensive this practice has become.
From the perspective of campaign finance monitoring, it is unclear how exactly the activity of keyboard warriors in comment sections can be quantified and tracked, and how they can be distinguished from volunteer activity.
7. Some candidates' support pages had direct or indirect links to networks which are involved in disinformation, "spammy," inauthentic behavior
On two occasions now, Facebook took down networks of accounts and pages in the Philippines found to have been violating their rules on authenticity: (1) the October 2018 takedown of networks sharing what it described as "spammy" pages; and (2) the January 2019 takedown of pages connected to Twinmark Media, the company behind Trending News Portal.
Interestingly, some candidate pages appeared to be linked to the networks that were taken down either by (1) getting their content shared with the communities and audiences following these pages; or (2) actually sharing content from websites known to have spread disinformation or hoaxes.
The nodes in red in the network visualization below show pages taken down by Facebook in October 2018. Among these nodes were several Marcos pages. These are: ManangImeeSupporters, WeLoveManangImee, AstigMarcos, MarcosWarriors, and dutertemarcosph. Rappler tried to reach out to the Marcos camp to inquire about their connections to these pages but got no response.
In its announcement about the takedown, Facebook said the pages "violated its policies on spam as well as its authenticity policies."6
Also among the pages taken down were Facebook pages Duterte Media and Duterte Phenomenon. Prior to the takedown, these pages exclusively shared these three websites over certain periods: todaystopnews.xyz on average six times a day since October 8; latestnewz.xyz once every day since October 18; and casterph.xyz on average six times a day, for eight straight days since October 15.
Note that these 3 websites are still up, are full of online ads, and have very similar layouts. The articles in all these sites have little to no text, and contain only videos that are very supportive of President Duterte and his administration.
Curiously, from September 8 to October 7, 2018 – before they were taken down – the two Duterte fan pages and several other pages in their network did not post links to external websites but instead focused on sharing Facebook pages linked to senatorial candidates Angara and Osmeña: the pages DailyAngara, youthforsonnyangara, and SO3Supporters.
This is not to say that the Osmeña and Angara pages themselves were behaving inauthentically or have shared false content. A review of these pages shows that they contained graphics and posts about the activities and accomplishments of the two politicians. They included press releases as well as legitimate news reports about them. By sharing content from the candidate pages, however, the pages connected to the "spammy" sites, in effect, extended the reach of these candidate pages and endorsed them to their audience.
Was this done due to contractual arrangements? It is difficult to say. Osmeña, one of the two candidates whose pages were shared by Duterte Media and Duterte Phenomenon, later confirmed to Rappler that he contracted for a few months Nic Gabunada, Duterte's social media campaign manager in 2016. Rappler also learned that Angara was also a Gabunada client. Both have since severed the connection.
8. Impact on polls: Candidates whose strong presence on social media complement their presence in other traditional media and their on-ground campaign significantly improved their standing in the polls
Three of the most active candidates on social media were in the Magic 12: Bong Go, Sonny Angara, and Imee Marcos.
Go, who had been bombarding social media with thousands of content monthly, rose rapidly in survey ratings. As of the February 2019 survey of Pulse Asia, Go was already placing 3rd to 5th in senatorial candidate rankings.7
This is not to say that social media is the only factor here. Go was also among the top spenders in terms of outdoor ads and broadcast advertising, according to data on ads in broadcast news programs that Rappler monitored from February 5 to 11, 2019.
But in a country obsessed with Facebook, social media undoubtedly played a big role in making Go top-of-mind among voters.
Also worth noting: most of those in the top 6 were candidates who are already well known, were incumbents, and who advertised heavily in traditional media. This somewhat offset weak presence on social media.
9. The complex, networked, and decentralized nature of political campaign activities on social media made monitoring campaign expenditures in the digital age challenging
The Commission on Elections (Comelec) has long been trying to establish rules for monitoring campaigns in cyberspace. It emphasized the importance of social media and the internet when it issued new rules guiding the implementation of the Fair Elections Act in relation to the 2019 elections.8 Specifically, the new rules now include in "lawful campaign materials"9 posts on social media that support a candidate.
Comelec Spokesperson James Jimenez stressed that the Commission is interested not in the content of posts on social media. What they are interested in, he said, is the cost of the materials posted, given regulations limiting campaign spending. As part of this effort, in February, the Commission urged the candidates to register their social media pages and blog sites with the poll office's Education and Information Department (EID).10
Just how effective such regulations will be remains unclear. On March 7, 2019, the Commission released a list of candidates who had complied with the rule. Noticeably, a number of the candidates who had a very strong presence on social media as outlined in this research had yet to register their social media properties as of that time. (See below)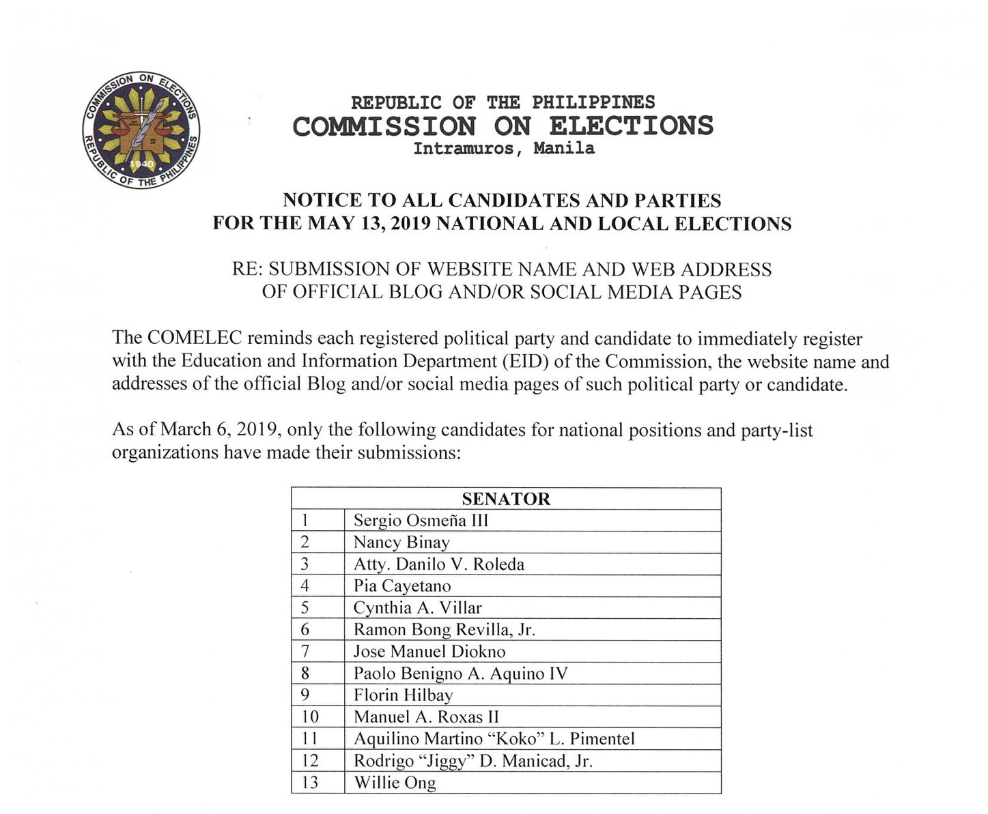 The Comelec has warned candidates and political parties that failure to register their pages and blog sites could constitute an election offense under Comelec Resolution 10488 – the Implementing Rules and Regulations of Republic Act No. 2019 or the Fair Elections Act, in connection with the May 13, 2019 elections.11
However, it has not set a specific deadline for submission. Further, as of writing, the Commission has yet to release the actual pages, social media channels, and websites that the candidates who did comply submitted. It is thus not clear yet if all the support pages were likewise submitted.
Spending on social media and the internet could include (1) cost of personnel creating content and generating engagement, (2) cost of potentially hiring "influencers" to promote content, (3) cost of boosting or sponsoring content on Facebook's advertising marketplace, and (4) cost of tools used to monitor content and engagement across multiple pages, groups, and accounts.
As seen from previous elections, influencers and celebrities who endorse candidates usually claim they are volunteers. For example, the Roxas camp made this claim in 2015, after they released a video featuring a number of celebrities.12 Other camps, including Duterte, made similar claims.13 Candidates have also dismissed levels of content posted by social media users and even influencers as "volunteer activity."14
Even tracking obvious spends such as boosted and sponsored posts on Facebook can be tricky. Will the Comelec be monitoring advertising on support pages? Facebook has vowed to help ensure the integrity of the elections. In other jurisdictions it has made data on sponsored content in candidate pages available on a dashboard. Will the same facility be activated in the Philippines? No announcements have been made yet to this effect.
Most of the candidates within a stone's throw of the Magic 12 appeared to be boosting content or using Facebook's formal advertising options. This observation is based on quick checks of the "Info and Ads" tabs of candidates' official and top support pages in early February. It's possible that other candidates who were not tracked to have ads around that time have since started boosting posts on Facebook and other social media.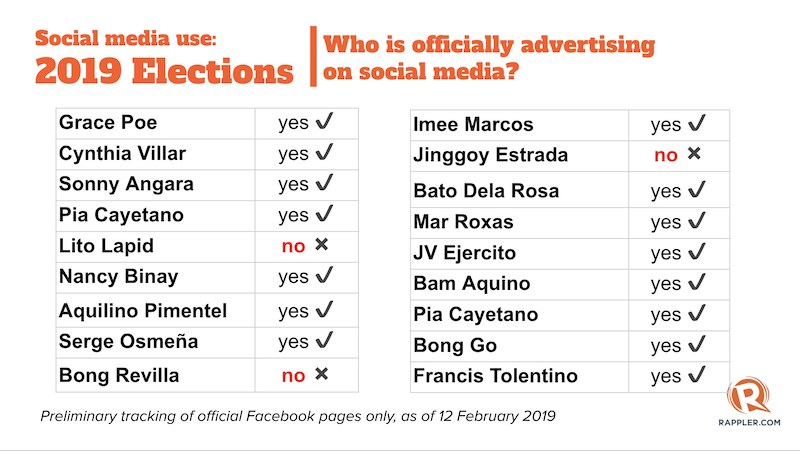 Normally, to facilitate monitoring and study of content in digital systems, researchers rely on application programming interfaces (APIs) to query content on platforms. On Twitter, for instance, it is possible to access content using certain keywords via APIs. This is no longer possible on Facebook, which has significantly reduced access via APIs even to publicly posted content in public pages and groups after the Cambridge Analytica scandal.
While the platform has started introducing transparency features with respect to pages and groups, existing APIs still make it difficult to monitor content in groups and pages. Facebook also has yet to provide access to third parties via APIs for ads posted on pages as of writing.
Below are links the to the other parts of this series:
1 The Sharktank is a tool developed by Rappler which gathers and archives content from public groups, pages on Facebook for research and investigative journalism purposes. Rappler has been using this tool to study disinformation in social media in the Philippines. More information about this tool is available in the Methodology section.
2 CrowdTangle is a content discovery and social monitoring platform, now owned by Facebook. It allows monitoring of public groups, pages, and content on Facebook.
3 "FALSE: Filipino 'royal family' ruled over pre-colonial 'Maharlika kingdom'," Rappler, February 16, 2019, https://www.rappler.com/newsbreak/fact-check/223032-false-filipino-royal-family-ruled-over-pre-colonial-maharlika-kingdom
4 "FALSE: Marcos family owns a 'million tons of gold'," Rappler, February 19, 2019, https://www.rappler.com/newsbreak/fact-check/223461-false-marcos-family-own-million-tons-gold
5 https://www.facebook.com/BatangMarcos.ph/
6 "Removing a Spam Network From Facebook in the Philippines," Facebook, October 22, 2018, https://newsroom.fb.com/news/2018/10/removing-a-spam-network-from-facebook-in-the-philippines/
7 Pia Ranada, "Bong Go rises to 3rd to 5th place in Pulse Asia survey," Rappler, March 18, 2019, https://www.rappler.com/nation/politics/elections/2019/225147-bong-go-rises-3rd-to-5th-pulse-asia-survey-february-2019
8, 10 Comelec Resolution No. 10888: Rules and regulations implementing Republic Act No. 9006, otherwise known as the 'Fair Elections Act,' in connection with the May 13, 2019 national and local elections, Commission on Elections, January 30, 2019
9 Michael Bueza, "Comelec to monitor social media influencers campaigning for candidates," Rappler, February 4, 2019, https://www.rappler.com/nation/politics/elections/2019/222657-comelec-new-rules-monitors-social-media-campaigns-influencers
11 Sofia Tomacruz, "Comelec to candidates: Register social media pages or face poll offense," Rappler, March 8, 2019, https://www.rappler.com/nation/politics/elections/2019/225249-comelec-tells-candidates-register-social-media-pages-or-face-offense
12 Bea Cupin, "Roxas: We didn't spend a cent for music video," Rappler, December 12, 2015, https://www.rappler.com/nation/politics/elections/2016/115595-mar-roxas-leni-robredo-fast-forward
13 "The 2016 presidential candidates and their celebrity supporters, Rappler," April 30, 2019, https://www.rappler.com/entertainment/news/130928-2016-presidential-candidates-elections-celebrity-supporters
14 Jodesz Gavilan, "Duterte's P10M social media campaign: Organic, volunteer-driven," Rappler, June 1, 2016, https://www.rappler.com/newsbreak/rich-media/134979-rodrigo-duterte-social-media-campaign-nic-gabunada