Legarda: 'We need to ratify the Paris Agreement so that we can access the Green Climate Fund... and receive other technical and financial support from developed countries'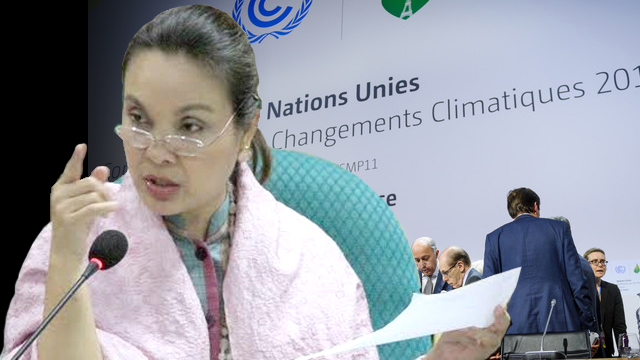 MANILA, Philippines – "Why is the Philippines taking its time [to ratify the Paris Agreement on Climate Change]?"
This was the question raised by Senator Loren Legarda before law students during the first leg of the National Climate Change Education Forum held at the Ateneo Law School on Tuesday, October 25.
"We need to ratify the Paris Agreement so that we can access the Green Climate Fund which will help us finance our climate adaptation programs, and receive other technical and financial support from developed countries," Legarda, a staunch environment advocate, added.
The landmark international climate pact is due to enter into force on November 4, after the threshold for ratification – by 55 countries responsible for 55% of emissions – was reached earlier this month.
Antonio La Viña, who was spokesperson of the Philippine delegation during the Paris climate talks in 2015, called the Paris Agreement the "fastest environmental agreement coming into force."
"This is unexpected that [so many countries] will ratify right away," said La Viña, who is less worried that the country has not yet ratified the agreement.
For him, the "real deadline" for the agreement to "make a difference" is June 2017. He explained that meetings on climate change happen every June and November or December.
"If we have not ratified by June of next year, we are really out of the picture, and that's tragic, because we're the number one affected country in climate change," he told reporters after the forum.
In December 2015, the Philippines and other nations agreed on a global climate pact which aims to keep global temperature rise this century to below 2 degrees Celsius.
Four months later in April 2016, 175 countries including the Philippines signed the Paris climate deal.
The climate deal has been hailed as the first universal, legally-binding agreement on climate change, and countries pledged to reduce the amount of carbon they emit and to ensure their citizens are prepared for the effects of global warming.
The Philippines has pledged to cut by 70% its carbon emissions by 2030 – a target conditional on assistance from the international community.
How about industrialization?
On Tuesday, Legarda also urged the students not to listen to those who "don't understand" and question why the country has to reduce its carbon emissions.
"They say 'Bakit kailangang magbawas? Hindi kayang mag-industrialize. Hindi na tayo magde-develop. Sila nag-develop na at sila ay nagbuga, tayo hindi pa, panahon na nating magbuga.' Mga estudyante ng Ateneo environmental law, 'wag na 'wag ninyong sang-ayunan 'yan. 'Wag na 'wag ninyong sasabihin 'yan, because our submissions are conditional," she said.
(They say 'Why do we need to reduce our emissions? We can't industrialize. We won't develop. Other countries have already developed and they emit, we haven't yet, it's our time to do so.' Students of Ateneo environmental law, don't ever agree to that. Don't ever say that, because our submissions are conditional.)
Legarda added: "There's nothing to lose – we can access funds for mitigation and adaptation. While we await such opportunity, we should not stick to business as usual in the way we pursue development, [and we should be] committed to build the resilience of communities."
During his visit to typhoon-hit Cagayan last Sunday, October 23, President Rodrigo Duterte again talked about his plan to develop the Philippines through industrialization.
"Ayaw niyo kaming umabot sa naratnan ninyo. 'Yan ang problema natin. Ako talaga isa sa mga presidente na hindi bumigay. 'Wag niyo akong bigyan ng problema. I will develop my country in accordance to the needs of my people. Marami na kasing tao, kailangang ko gumamit ng maraming makina. Kung pipigilan niyo ako, papaano ko pakakainin mga kababayan ko?"
(We don't want us to reach what you have reached. That's our problem. I'm one of the presidents that did not give in. Don't give me a problem.  will develop my country in accordance to the needs of my people. There are too many people already, I need to use a lot of machineries. If you stop me, how will I feed my fellow countrymen?)
In the past, he had already expressed his willingness to talk about the Paris Agreement if it takes into consideration the economic plans of the country.
Climate justice
Despite Duterte's stance, Legarda said she is "certain" the country will ratify the agreement as long as it is properly explained to the President.
"It's just a matter of explaining that it's not really an agreement based only on mitigation, but also adaptation, and loss and damage, and that the Philippines will greatly benefit from the Green Climate Fund, and that our contributions of 70% reduction in greenhouse gas emissions is conditioned on technical and financial assistance," she said after the forum.
She said she will reach out to the President to explain the matter "at the proper time." In fact, she said she understands where the President is coming from.
"He is actually batting for climate justice, that we are not the cause of greenhouse gas emissions and yet we are the most vulnerable and we are a very small emitter in the world… It's just a matter of communicating and explaining that the Paris Agreement does not bind us to a 70% reduction of our emissions because it is conditioned on assistance from industrialized countries."
La Viña emphasized that the President's concern on the emissions is "only about 10%" of the Paris Agreement.
"It's 90% about adaptation, loss and damage, finance, [and] technology transfer, of which the President has no complain about, no issue about. His issue is in the 10%, which is not even the most important agreement of the Paris Agreement." – With reports from Agence France-Presse/Rappler.com