It is the first time SpaceX launches both a rocket and a cargo ship that have flown before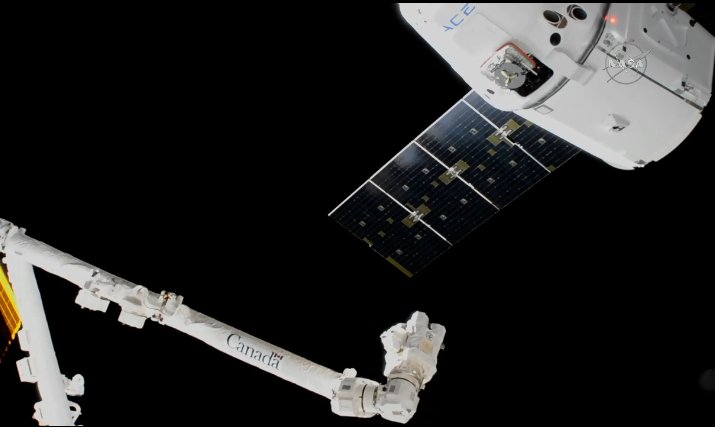 MIAMI, USA – SpaceX's unmanned Dragon cargo ship arrived on Sunday, December 17, at the International Space Station, carrying supplies and experiments for the astronauts in orbit.
"Capture confirmed," a NASA commentator said at 5:57 am (10:57 GMT), when the space station's robotic arm, operated by one of its astronauts, attached itself to the cargo ship as it floated over Australia and Papua New Guinea.
"It's a great day to see Dragon back at ISS again," said another NASA commentator.
The recycled spaceship blasted off on Friday, December 15, carrying 4,800 pounds (2,200 kilograms) of food, supplies and experiments – including one to study thyroid cancer and another to grow barley in space.
Critical science & supplies are making their final approach to @Space_Station on @SpaceX's #Dragon cargo vehicle. Watch: https://t.co/ZuxLDtzW9c pic.twitter.com/QeRKoYcr1r

— NASA (@NASA) December 17, 2017
It was the first time SpaceX launched both a rocket and a cargo ship that have flown before.
Three minutes after launch the booster and second stage of the rocket separated.
The second stage continued to propel the Dragon toward the International Space Station, while the rocket booster landed upright on solid ground at Cape Canaveral, Florida.
The California-based SpaceX company headed by Internet tycoon Elon Musk aims to lower the cost of spaceflight by reusing costly rocket components.
It was the 14th recovery of a booster for SpaceX this year.
The Dragon cargo ship previously flew to the ISS in 2015.
NASA is SpaceX's most important customer, and this mission is SpaceX's 13th of 20 under a $1.6 billion contract with NASA.
The arrival comes as a 3-man space crew featuring American and Japanese rookie astronauts as well as an experienced Russian cosmonaut blasted off from Kazakhstan on Sunday for a 6-month mission at the International Space Station. – Rappler.com