The noted theoretical physicist, author, TV host, and pop icon of science says the Philippines has to focus on building two things: education and entrepreneurship
MANILA, Philippines – Many simply know him as the silver-haired Asian scientist on TV who talks about the history of the universe, the existence of the fourth dimension, and life on other planets, among many other things.
But for his millions of fans around the world – geeks and nerds, mostly, as well as colleagues in the scientific community – futurist, theoretical physicist, author, and radio and TV host Michio Kaku is a pop culture icon.
His PhD in physics from the University of California at Berkeley aside – as well as his more than 30 years as a professor and author of several best-selling books – it is, perhaps, his stint on TV, bringing the distant and inaccessible topic of physics and the universe down to the common man, that's made the Harvard-educated Kaku one of the most recognizable figures in science.  
Kaku was one of two guest speakers at the First Pacific Leadership Academy Executive Series held in November at the SMX Convention Center in SM Aura Premiere. The US-born scientist spoke on the topic of business innovation, and took questions from the audience.
The future of the Philippines
"I think the Philippines is poised to leap into the future by not repeating the same mistakes of the West," said Kaku when asked about the country's role in the future. Citing the aspect of infrastructure, he points out: "In the West we have an ageing infrastructure. We have a subway system that's more than a hundred years old, bridges that are rusting and falling apart, and roads that are crumbling." 
In the developing world, however, "you can start fresh with the very latest in subway and transportation technology." He added: "Instead of wiring your cities, you can go wireless and leap ahead in terms of telecommunication with satellites and microwave towers."
"We also had the big [real estate] crash of 2008. Many countries did not have a real estate bubble, and therefore they didn't suffer as much as those countries that did." But, he pointed out, the priorities of the government should be on two things. 
Education and entrepreneurship
The first is to face the challenge of education. "The jobs of the future require more education," he said. "Let's be very clear about this: science is not going backwards; science is going forward. This means that jobs of the future will require more and more education." 
The second requirement is cultural change. "We need a culture of entrepreneurship and also a culture that does not tolerate corruption. Other countries tolerate certain levels of corruption, and that's like parasite bleeding resources away from healthy corporations."
On entrepreneurship, he said, "it means cutting the red tape and making it easier to start companies and making investments." In America, he cited as an example, "I started a company on my cellphone. That's how easy it is to start a company. You have to cut the red tape so that you unleash the imagination and initiative of entrepreneurs." 
Science in the 21st century
Currently, Kaku holds the Henry Semat Chair and Professorship in Theoretical Physics at the City University of New York. As a recognized authority in Albert Einstein's unified field theory, his goal is to complete Einstein's dream of a "theory of everything," to derive an equation that will summarize all the physical laws of the universe.
According to Kaku, the 20th century was a century of physics with inventions like the space program, satellites, transistors, lasers, x-ray machines. "The 21st century, many people believe, will be the century of biotechnology and nanotechnology."
With biotechnology, for example, "we're going to have a human body shop. We're going to be able to grow human organs as they wear out." He added: "We're going to be able to tackle diseases that were beyond are capability before, cancer for example. The word, 'tumor' will gradually disappear from the English language." 
Raising a scientist
To listen to Kaku describe and predict the future is like watching an extended version of your favorite science show – it's both riveting and perplexing. How can one become such a science geek?  
"The parents have to encourage it – that's what's important," he said. "My parents didn't know what I was doing. But they knew that it was important." 
When he was in high school, for instance, while other kids his age were going through puberty, the he built an atom smasher in his garage. "My mother did not know what I was doing. But she thought it was a good thing and so she let me do it. And that got me into Harvard, which started my formal education as a physicist. So parents play a very important role in terms of encouraging their kids to understand science and technology." 
The question
One question that Kaku gets asked the most is if there are aliens in outer space.
He laughed and said, "Yes." Then he explained: "To reach the Earth from outer space, they would have to be thousands of years more advance than now. If you're walking on a country road and you see an ant hill, do you go down to the ants and say, 'I bring you trinkets. I bring you beads. I give you nuclear energy. Take me to your leader.' No! You step on a few of them, right?"
"We're like ants to them. We have nothing to offer them. We think we're so great that they're going to want to talk to us, and want to give us all their technology and give us an age of Aquarius. But why? We don't do that to the ants. So why should they do it to us? I think they'd leave us alone." 
And what does the one of the world's top physicists think of when he watches a science fiction movie? "I sometimes squirm knowing that they violate a law of physics every 5 minutes. But I love to watch because it's great fun. And also because it forces you to look at the boundaries of what's possible." – Rappler.com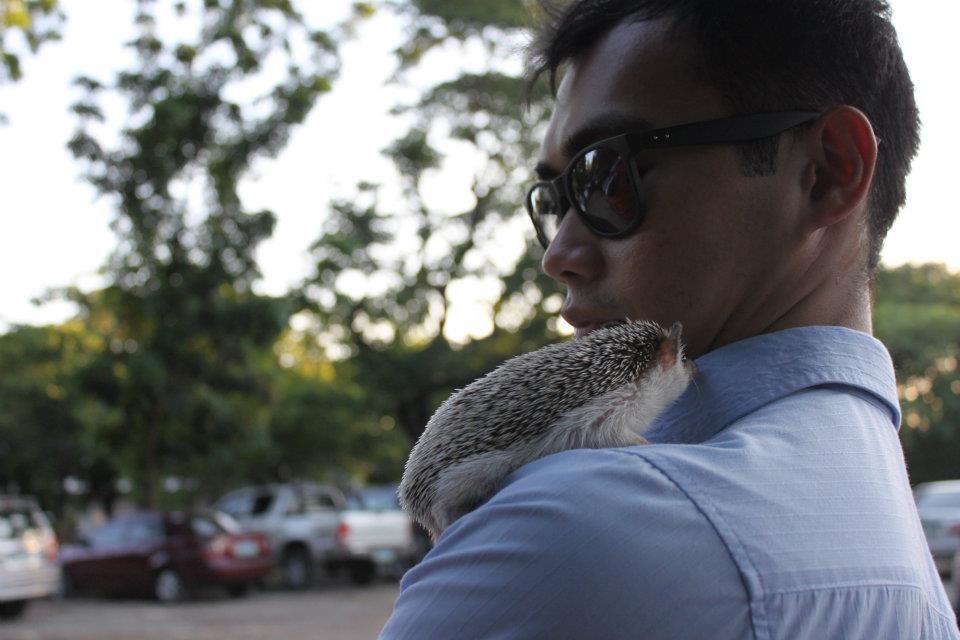 Peter Imbong is a fulltime freelance writer, sometimes a stylist; and on some strange nights, a host. After starting his career in a business magazine, he now writes about lifestyle, entertainment, fashion, and profiles of different personalities. Check out his blog, Peter Tries to Write.