Alvin Tam's fight with hometown boxer Roody Pierre-Paul in Canada brought out the local Igorot community, just as his father did a generation prior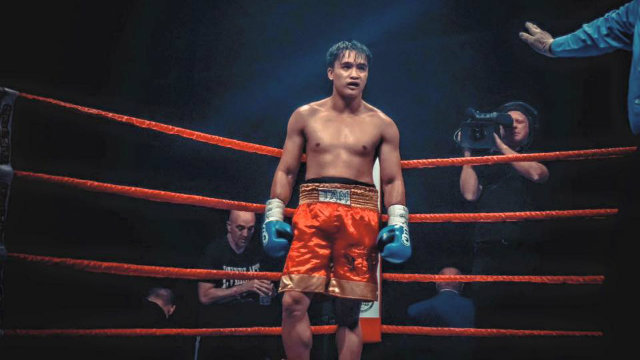 "Gentlemen, when you tell the story, stand in tribute to those gallant Igorots." – Gen. Douglas MacArthur.
He wasn't on a battlefield, but the General's adage could very well refer to young boxer Alvin Tam who bravely took on Laval pugilist and local town hero Roody Pierre-Paul on October 24, 2015. 
Tam (13-5, 3 knockouts) of Kapangan, Benguet, Philippines may have lost the match in this closely contested 6-rounder, but he won the respect and attention of the predominantly French-Canadian audience. The good-looking youngest son of legendary Igorot boxer Rey Tam, who challenged Alexis Arguello for the WBC junior lightweight title in 1978, hadn't been in the boxing ring for two years, the time he spent processing his papers to migrate and settle in Canada.   
Tam only arrived to the French-speaking city of Montreal in February, 2015. Wasting no time, he found a boxing gym and trained hard, doing the daily commute on the Metro from his residence in Plamondon to Downtown Montreal.   
His opponent on this undercard fight was a Québécois southpaw with an 11-3 (5 KOs) record who had the support of his hometown and 95% of the audience. Alvin, who had fought as a bantamweight and featherweight when he snagged a WBC Asian Boxing Council Continental featherweight title, had to bulk up to 135 pounds, which he finds a bit cumbersome. 
It was next to impossible to find an opponent for Tam in Canada weighing less than 135 pounds. 
He was introduced as "The Cold Blooded Assassin" – the only words we understood aside from Alvin's name during the fight. The cheers were mostly in French and a smattering of English, mostly for the local contender. But Tam would not be deterred.  
Yes, we Igorots came from far and wide to root for one of their own. Numbering around 35, around 5% of the audience (tickets were sold out), we Igorots trooped to the fighting arena, a 45 minute drive from Montreal, with our cowboy boots, matching Stetson hats, leather jackets, but minus the Elf truck. 
It was déjà vu all over again, our enthusiasm and the atmosphere reminiscent of the days when his famous dad was king of the ring. And we were loud, 6 of us from Toronto (Alvin's aunts, uncles, cousins and even his 83 year old Grandma Lorginia Leon-Heo) sat with his lovely wife Clayde.   
The rest of the Igorot crowd were from Montreal, a good representation of the Cordillera provinces. This ragtag group cheered and yelled as best we could in Kankana-ey, Ibaloi and Ilocano, not allowing the French-Canadian to drown out our small contingent. The French-Canadian crowd heard a sampling of: Kayam dayta! Mula-am ti patatas! Pinikpikan and manso-em!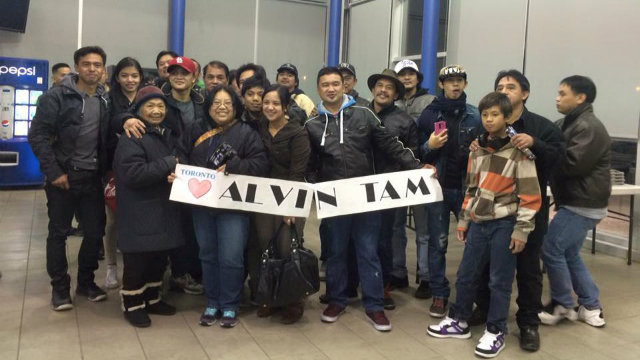 The match started at a slow pace with both fighters still getting their bearings, a round we scored even. Even the second round looked like a draw with Pierre-Paul basking in his hometown's adulation. The third showed more action, Alvin was throwing more jabs, uppercuts and hooks than his opponent, who also managed to hit the Baguio boy several times. 
By the fourth round, the crowd was incensed; we Igorots were more united in chanting his name: Al-vin, Al-vin, Al-vin, Al-vin…
Pierre-Paul suffered facial blows, was cornered in the ring a number of times and got almost knocked out in the latter rounds. Alvin was clearly the aggressor. The audience was on its feet the whole time.  
Having watched quite a lot of boxing, live and televised, we really thought Alvin won, or the decision should be at least a draw.  But we were disappointed, the bad news coming forth in an unfamiliar language, the final score was 59-55, unanimously in favor of Pierre-Paul. 
Still, in the end, the winner ended up with a split lip, bleeding brow, and a beaten body.  Alvin only had a tiny nick under one eye to show for it. He was not sore at all and was still upbeat the day after the fight for the steep and long climb to St. Joseph's Oratory in Montreal with us, his Toronto-based relatives, before our 6-hour drive back home. 
His trainer, Montrealer Ian MacKillop, called Alvin an "exciting fighter with great potential" who, despite his two-year layoff, fought with "the heart of a champion."  
(READ: Fil-Canadian boxer Stan Ahumada has heavyweight championship dreams)
After the fight, he was ranked sixth as a lightweight by the Canadian Professional Boxing Council. 
Tentatively, Alvin has another fight scheduled in January next year. Early on, more Igorots expressed interest and vowed to get tickets early so they would be able to attend future fights. 
Despite the odds and difficulties of living in this cold, alien country – never mind the language barrier – Alvin said he will persevere. He has the discipline, good work ethic, great genes and the brave Igorot spirit. And we, his family, and the whole Igorot-dom in Canada will be there to support him. – Rappler.com