This is AI generated summarization, which may have errors. For context, always refer to the full article.
(UPDATED) FEU avoids another UAAP Finals heartbreak as they defeat UST in Game 3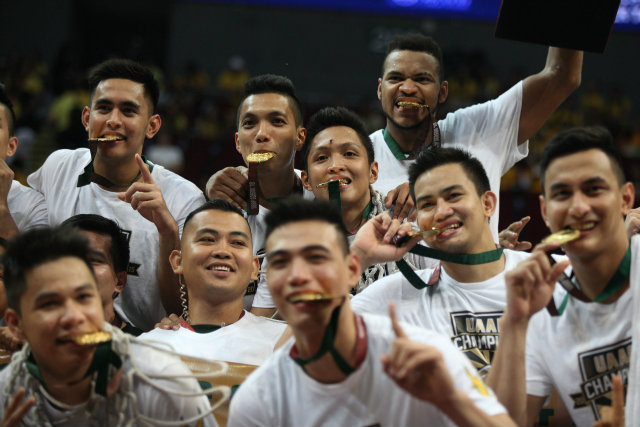 MANILA, Philippines (UPDATED) – The long wait is over.
The FEU Tamaraws avoided blowing a 1-0 finals lead for a second straight year by beating the UST Growling Tigers, 67-62, in a classic Game 3 of the 2015 UAAP Finals to win their first senior's basketball title in 10 years on Wednesday, December 2, at the Mall of Asia Arena.
The Tamaraws evaded another year of heartbreak, as they finally attained the UAAP title that eluded them in their past 3 finals appearances in 2010, 2011, and 2014.
Mac Belo, who scored 23 points and 8 rebounds for FEU in the victory, was named Finals MVP with averages of 17.3 points and 10.7 rebounds. Belo had to be carried off the court in the final moments of the game after suffering his second bout of cramps.
This was when Mac Belo was being carried off earlier after suffering cramps. pic.twitter.com/ej7BrvlsxU

— Naveen Ganglani (@naveenganglani) December 2, 2015
Winning their 20th ring in UAAP history, FEU capped off a tremendous season that included an 11-3 showing in the elimination round, which also had a 9-game winning streak in between.
While FEU managed to get the proverbial monkey of its back, the opposite can be stated for UST, who for the third time in 4 years was eliminated in the championship series – each defeat experienced by graduating players Kevin Ferrer, Jan Sheriff, Ed Daquioag, and Karim Abdul.
On the other end, players Mike Tolomia, Belo, and Roger Pogoy will leave FEU leading the school to their first taste of UAAP glory since the days of Arwind Santos, Jeff Chan, Mark Isip, and company.
Pogoy was on fire in the final quarter, scoring 7 huge points to turn momentum to his team's favor which played an huge role in their win. He finished with 14 points and 6 boards, while Tolomia, despite struggling with a 4-of-17 showing from the field, finished with 13 points.
Daquioag led UST with 21 points and 4 boards while Abdul had 12 points and 5 rebounds. Ferrer was limited to just 6 points on 2-of-7 shooting and was a non-factor for most of the game.
The Tamaraws once again won the rebounding battle, 45-37, and didn't let UST force them into more turnovers as both teams tied with 16 giveaways.
While FEU went an impressive 21-of-26 from the foul line, UST hit just 16-of-26, a number that will haunt them as they look back at another finals loss.
UST went on a huge 16-0 run bridging the third and fourth quarters and went on top 59-53 with 3:42 to go, taking control of the game.
After Russel Escoto nailed a free throw, Pogoy hit 7 straight points to complete an 8-1 Tamaraws run to give them the lead, 61-60. Then with 1:07 left, Tolomia made a big layup on the break to put his team up 3.
Daquioag was then fouled and made both free throws, but a foul on Tolomia allowed him to split a visit to the line, 64-62 with 48 seconds remaining. 
After a messy play ended in a jump ball situation favoring UST, Abdul tried to make a move in the baseline but was called for a travelling violation with 23 seconds left.
Belo was then fouled and split his charities, 65-62, but Daquioag went coast-to-coast on the next play and missed a layup over 3 FEU defenders. 
UST then fouled Escoto who made both free throws. With the clock melting, Ferrer missed two straight triples, sealing the loss for UST and sending the FEU community into pandemonium. – Rappler.com