One little Filipina girl who couldn't return a Rafa Nadal tap got the tennis lesson of a lifetime at Colegio San Agustin in Makati City
MANILA, Philippines – Tennis star Rafael Nadal made his first trip to the Philippines to participate in the second season of International Premier Tennis League. Before taking the court at Mall of Asia Arena, Nadal took the court at Colegio San Agustin in Makati City, trading shots with young students.
Nadal, along with coach/uncle Toni Nadal, hosted a tennis clinic with 60 young people to promote the Rafa Nadal Tennis Academy, which opens in Mallorca, Spain in May.
Each student got to return two shots from the 14-time Grand Slam winner and his uncle, with some rocketing off power returns and others just happy to be on the hard court with the "King of Clay." 
One small Filipina girl, who couldn't have been older than 6, had trouble returning the taps. That's when Toni Nadal jumped into his role as Academy head. The 54-year-old coach mentored the young child, who quickly adapted to the lesson and was able to return two forehands that cleared the net.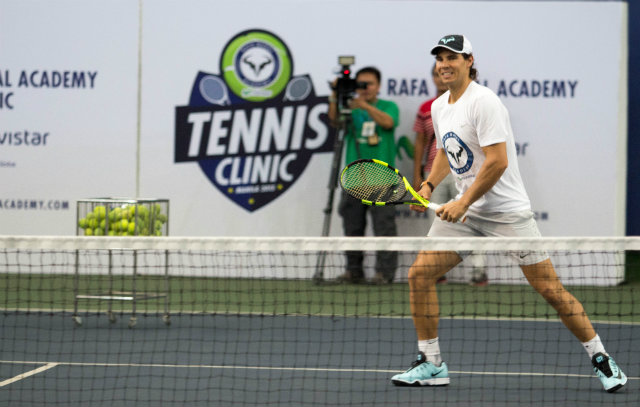 Nadal, 28, says he believes he will return to the Philippines, and expressed hope that Filipinos can join the Academy in the future.
"I'm excited to be playing with the kids here in Manila," said the 9-time French Open champion. "Toni told me that they play really well so I can't wait to see how they're playing. We hope to have some Filipino kids, help them to become good tennis players. We're gonna have the best professionals possible to help them improve as a tennis player."
(READ: IPTL 2015: A guide to big-time tennis in Manila)
.@RafaelNadal returns shots with Filipino students at Colegio San Agustin in Makati @rapplerdotcom #iptl @iptl pic.twitter.com/8dEFfjcjCY

— Ryan Songalia (@ryansongalia) December 6, 2015
When asked how young Filipinos who may be financially disadvantaged could overcome the sport's perception as a "rich kid sport," Nadal highlighted the importance of giving opportunities to those in need.
"Sometimes life is not fair for everybody. That's why it's important that the people who have more than what they really need, it's important to help others and important to be an example for everybody," said Nadal.
"I'm doing that with my foundation, I help the kids. For us it's something important. I know my way is not going to make the difference in the world but hopefully I'm gonna help a little bit."
(IN PHOTOS: Rafael Nadal arrives in Manila for IPTL)
Nadal, who is playing for the Indian Aces, is the highest ranked men's player in action in Manila at no. 5. Nadal's side won't see action until Monday, when they play against the UAE Royals at 4 pm local time. – Rappler.com
Ryan Songalia is the sports editor of Rappler, a member of the Boxing Writers Association of America (BWAA) and a contributor to The Ring magazine. He can be reached at ryan.songalia@rappler.com. Follow him on Twitter @RyanSongalia.