Well-designed stadia are crucial to the development of the game in the Philippines. Sadly, we struggle to produce them
MANILA, Philippines – The Azkals Nation heard some very bad news recently: the Philippines has given up the 2016 ASEAN Football Federation Suzuki Cup group stage hosting. Eventually the reason emerged: the PFF was unable to come to terms with the management of the Philippine Sports Stadium in Bulacan, the venue the AFF deemed acceptable for the biennial meet. Either Malaysia, Singapore or Vietnam will replace us.
It's 2010 all over again. That year it was the semifinal we were unable to host, because of a lack of a proper stadium.
The frustration must run deep for Philippine football fans. In the last half-decade there have been new stadia built. But due to numerous factors, Philippine football still suffers from a dearth of proper, well-designed, football venues. We just can't seem to do it right.
Exhibit A of this phenomenon is the McKinley Hill Stadium in Taguig, formerly known as the Emperador Stadium. Its field is a high-quality artificial carpet from Limonta in Italy. That is pretty much where the good news ends.
Its grandstand, which isn't even centered to the pitch itself, has a roof that is supported by pillars that block the view of spectators. Plus there is a walkway in front of the first row, so people block the view of front-row spectators when they walk in. And there is a rail there, where a long tarp is hung, blocking even more view of the field.
When televised games were once held there, TV5 had to place its camera in the best seats of the house, in the middle of the grandstand. Any higher and the posts would get in the way. So in effect, that grandstand, for all the expense paid for it, has only 30-40 or so decent, unobstructed seats for a televised game, on either side of the grandstand.
On the bleachers on the opposite end, there are fences on the sides of each section. These fences also block spectator views.
There are only two locker rooms, so in the event of a double-header, one set of teams has to change outside.
The lighting in McKinley is patchy. In spots too bright, in other places too dim.
The open-air end bleachers have seats that don't drain. On rainy days they collect water that stays there, even long afterwards. I have been there on a sunny day and seen a puddle of water in every single one of the seats there.
Even the nets that are supposed to catch balls on the sides of the pitch are wrong. They are placed behind the walls and not in front of them. A ball struck into the net often times drops behind the wall anyway.
Of course, the most glaring fault of McKinley Hill is its microscopic field. At roughly 97m by 60m, it is missing 1320 square meters of real estate from FIFA's preferred size, 105m by 68. No wonder that matches there often resemble pro wrestling battle royals more than they do football contests.
It's such a crying shame that this stadium, built just 3 years ago, is so massively flawed, especially when our football community is crying out for better facilities.
McKinley Hill used to host UFL matches, but no longer. It is, however, the venue for UAAP weekend matches this year. More on that later.
But there are other common failings that are visible in our football stadiums. Due to the rising cost of land in the Philippines, many of our best stadiums are in far-flung areas. The Philippine Stadium, the new facility in Biñan, and the upcoming stadium in Santa Rosa's De La Salle campus are far, far away from heavily populated Metro Manila. The FEU Diliman field is also in this category to a lesser extent.
And at least McKinley Hill is a football-specific stadium. Almost every other stadium in the country is a multi-purpose one with a track around it, putting fans at a distance from the spectacle. To add insult to injury, many stadia, like the PSS, have even more buffer space between the track and the seating. Ditto for Panaad in Bacolod. Fans need binoculars to get a good view.
To make matters worse, some facilities not only put a track between the fans and the action, but other sports courts as well. The Marikina Sports Center is a great example. Check it out on Google Maps. There are basketball courts and volleyball courts in between the track and the grandstand on the left.
The Iloilo Sports Complex is also afflicted by this.
But there are other even more head-scratching failings in other places. The Chelsea Blue Pitch in The Circuit is, well, blue. That means it can never host a serious football game, since FIFA's laws clearly state that an artificial football field must be green. It's a pity, since that field and its modest-sized bleachers could have easily hosted UAAP and UFL games and is decently located a short trip away from the Makati central business district.
We mentioned the two dressing rooms in McKinley Hill as opposed to the four that are more ideal. How about a football stadium without any dressing rooms. Yes, it exists. Or at least it did in 2013 when I visited the Governor Mariano F. Perdices Memorial Stadium in Dumaguete for the U23 national championship game between Davao and Negros Occidental. I saw the teams changing before the game beside the field.
Why do we keep on getting it so wrong? Maybe its because the Philippines is not yet a mature football country. Therefore we don't really have a history of building football stadiums. We just don't do it very often, so more often than not, our stadiums are made by entities who are doing it for the first time. Without the experience and expertise, design flaws invariably crop up.
However, anyone with wifi or a data plan and a decent smartphone can, in theory, design a good football stadium. The information is available, for free, on the Internet, thanks to FIFA.
This 125-page pdf file gives exhaustive recommendations of every phase of stadium design and construction, from fire prevention, location, parking, field dimensions, lighting, media areas, etc. There are even sections on dressing rooms for the ball boys and ball girls, and where to put flagpoles. It's all there. No need to reinvent the wheel. But sadly, not enough of our stadium designers have checked it out, apparently. (One exception is the DLSU Santa Rosa stadium designers, who have said they faithfully tried to follow FIFA's specs.)
But even if you do stick to FIFA guidelines, if a facility isn't maintained properly, then it's all pointless. Many of our sports centers are just unpleasant places to be.
The 82-year-old Rizal Memorial Football Stadium has the best artificial turf in the country, a cushy FIFA 2 Star Limonta surface with a shockdrain underneath. But everything that surrounds the pitch is ghetto.
The outside bleachers are weathered and moldy. The track is worn. There is rust on the fences and the roof. The bathrooms are decrepit, and on many days, the water doesn't even run. The clock on the scoreboard has been frozen at 12:25, according to Alvin Ocampo, a former Azkal, since he was a ball-boy during the 1991 SEA Games, if his memory serves him correctly.
Even the air-conditioned VIP area looks sad. The lockers need a makeover. Oftentimes laundry can be seen hanging on the bleachers.
And this is inside. Outside is worse, with street urchins and beggars loitering around, who at times ask for alms from spectators. There is also the occasional homeless person sleeping rough on the steps of the stadium.
The grand old lady is a historic landmark that, if spruced up, could be a dazzling stage for the beautiful game. But as is, it's a tough sell for ordinary Pinoys. Could a guy bring a date to a UFL game there? Would a middle-class family want to bring their kids there? It's no wonder then that matches held there often struggle to attract fans.
For all its flaws, the McKinley Hill Stadium does very well in this respect. UAAP weekend matches are now taking place there, and are drawing very decent crowds. I'm told the DLSU-ADMU game filled the better part of both the grandstand and bleachers. It's easy to understand why. McKinley is modern, clean, and new. Yes, you can bring a date there without fearing it will be your last one together.
It's also in a nice part of town where many alumni of UAAP teams would be living and/or working.
The book "Soccernomics" reported that England began the process of cleaning up and modernizing its stadiums, and that brought about a surge in middle-class attendance in games. Brazil eventually went through this process as well. If club football is to do the same in this country, especially with the proposed national league set to begin next year, we must follow suit.
Is there hope for the Philippines' stable of stadia? Yes. SM is set to open a football field on top of the Mall Of Asia by next year. Whether it will have significant enough seating to be called a "stadium" remains to seen. Read about it here. 
I am told that a stadium will rise in Davao within the next few years. And Cebu's University of San Carlos has carved one out of a side of a hill, as you can see here.
Here is another image courtesy of usapanagfootball's message board. It could be a few years old.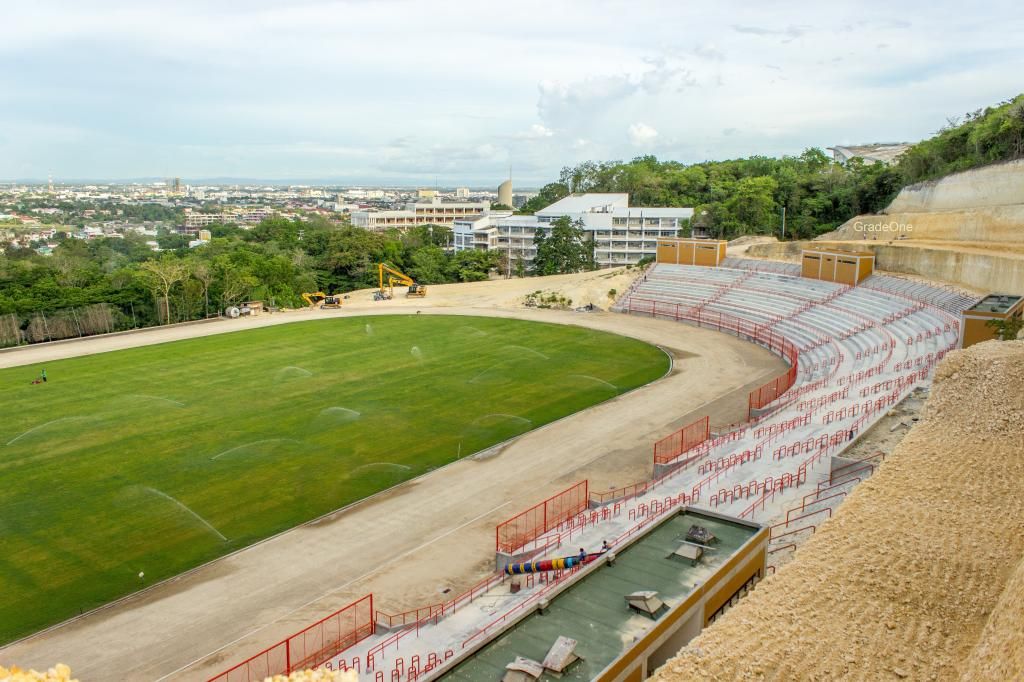 But the one football ground with the potential to be a winner is right underneath our noses. And it's the University of Makati football field.
UMAK was once the venue for the UFL. The Azkals even played a friendly there. But its rather delicate grass field got ruined easily, and this frustrated players to no end. James Younghusband called it "the worst field I've ever played on."
The fixes to Umak are actually quite simple. Just drop in a proper 66m by 102m plastic pitch. Upgrade the lights to TV-standard. Maybe bring in some prefab container-van extra locker rooms. And that's it, really.
Once that is done, Umak pretty much has everything covered. Location near BGC and Makati? Check. Accessibility for the masa? Check, since it is a jeep ride away from the Guadalupe MRT station. Parking for the upper and middle class? Check, since there is a multi-level carpark just behind. Artificial surface? Check. Grandstand that is close to the track and offers unobstructed views of the pitch? Check. Plenty of bleacher seating? Check. Clean, modern, date-friendly environs that won't make you feel like taking a shower once you get home? Check! (UMAK's bathroom fixtures are Kohler.)
So there you have it. With some effort, we could turn UMAK into something the Philippines has never had before: the Perfect Football Stadium.
Follow Bob on Twitter @PassionateFanPH. – Rappler.com