Teddy Atlas' motivational speeches might be one of the best reasons to watch Pacquiao vs Bradley 3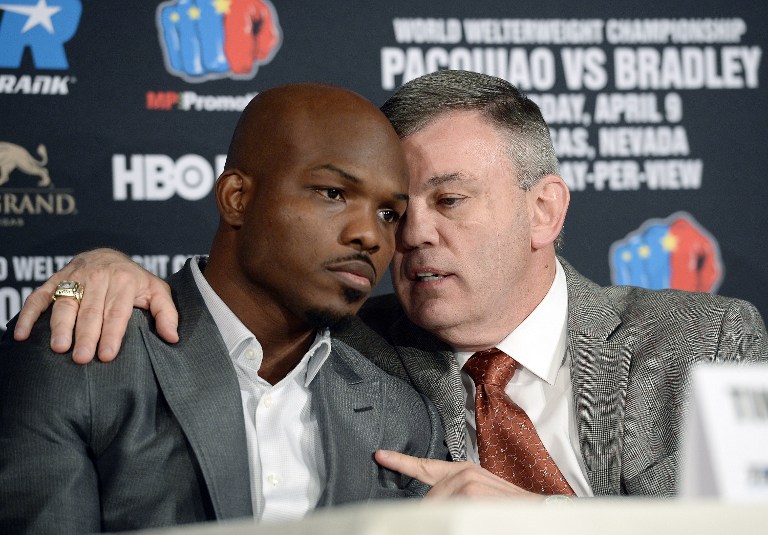 MANILA, Philippines – It's a bad idea to change channels between rounds when Teddy Atlas is working a corner. You never know when he's going to deliver a classic corner speech.
The 59-year-old from Staten Island, NY, has acquired a reputation as a no-nonsense disciplinarian who uses tough love, sentimental parables, and more profanity than an episode of The Sopranos to get his point across between rounds. In other words, he's everything that draws people to a Rocky movie. 
Atlas is not some boisterous bag of hot air, however.
He paid his dues as a young trainer under Cus D'Amato, a mental strategist whose philosophies seemed like adaptations from Sun Tzu's diary. He's led two men – Michael Moorer and Alexander Povetkin – to heavyweight championship wins and trained Mike Tyson as an amateur. He infuses his emotionally-charged pep talks with simple, direct boxing instruction in a manner designed to break through the mental barriers that impede a fighter's performance.
Atlas was named Trainer of the Year by the Boxing Writers Association of America in 1994 but has spent most of the last two decades behind the microphone commentating fights on ESPN and ESPN2.
Atlas' surprising return to training is to the benefit of Timothy Bradley Jr, the two-division champion whose career has received a boost after switching trainers. Atlas has also been a boost to the promotion of Bradley's upcoming third fight with Pacquiao on April 9, which has been mostly met with apathy.
Under Atlas, Bradley (33-1-1, 13 knockouts) looked the best he has in years, stopping Brandon Rios in 9 rounds while boxing a disciplined fight. It took a few rounds for Atlas to warm up, but his "Firemen" speech after round 7 became a viral sensation on social media and reminded boxing fans just why Atlas is must-see TV.
The belief that Bradley has improved under Atlas is what makes some believe the 32-year-old from Palm Springs, California, has a serious chance at earning a clear win over Pacquiao (57-6-2, 38 KOs), following a controversial split decision win in their first fight in 2012, and a Pacquiao unanimous decision win in 2014.
More than just what goes on between the ropes, Atlas' verbal exchanges with Pacquiao's trainer, Freddie Roach, and his fight night corner banter are expected to be a big part of the fight week banter.
Look back at some of the exchanges which made Atlas one of the most quotable boxing gurus in modern times.
Michael Moorer vs Evander Holyfield I – April 22, 1994
Atlas had the unenviable task of trying to lead Moorer to a heavyweight championship in their first fight together. Their opponent was Evander Holyfield, one of the toughest fighters of any era. Moorer was undefeated at 34-0 but had a tendency to sleepwalk through rounds and had a reputation as a defiant pupil, his former trainer/manager Emanuel Steward had told HBO in an episode of Legendary Nights. 
After Moorer was knocked down in round two and failed to heed Atlas' instructions, Atlas gave him an ultimatum: "You go in there and you start backing this guy up and you start doing what we trained to do. Otherwise don't come back to this fucking corner." 
As jolting as that lecture was, it paled in comparison to Atlas' desperate attempt to shock Moorer's system after round 8.
When Moorer came back to the corner, he found Atlas sitting on his stool asking if he wanted to trade places with him. 
Atlas gave it to him straight: Either start fighting harder or live with the "what ifs?" for the rest of your life.
April 2, 2016
"There comes a time in a man's life when he makes a decision to just live, survive, or he wants to win. You're doing just enough to keep him off of you and hope he leaves you alone. You're lying to yourself because you're gonna cry tomorrow. You're lying to yourself and I'd lie to you if I let you get away with that," said Atlas.
Moorer sensed the urgency and picked up the pace ever so slightly, battering Holyfield at times during the last third of the fight and winning a majority decision and the heavyweight championship of the world. The win made Moorer the first southpaw heavyweight champion, but the reign was short-lived. Moorer was knocked out in 10 rounds by George Foreman 7 months later, making the 45-year-old Foreman the oldest man to win the heavyweight title.
Michael Moorer vs Frans Botha – November 9, 1996
Less than two years after the Foreman loss, Moorer was back in the heavyweight title picture, having won the IBF title Foreman had vacated. His first defense was against Frans Botha, an unbeaten but unspectacular South African who had won the IBF belt a year earlier, only to have his decision win over Axel Schulz overturned due to a positive test for steroids. 
Again, Moorer was underperforming, missing shots wildly while allowing Botha to outhustle him. After the uncoordinated Botha beat Moorer around the ring in round 7, Atlas pulled in referee Mills Lane as a prop, threatening to have Lane stop the fight if he didn't perform better.
"You don't wanna fight no more? I swear to God I will have this man stop the fight if you don't want to fight," said Atlas. Lane left in the middle of the speech, figuring he didn't want to be a co-star in this performance.
April 2, 2016
Three minutes later, Atlas still wasn't pleased. This time, Atlas invoked his children to bring the passion out of Moorer.
"What you do in the next 12 minutes you're gonna have to live with for the next 10, 20, 30, 40 years of your life. Your little son, he's not gonna be told his [dad] beat Holyfield. He's gonna be told he lost to a guy named Botha. Francois Botha, who was thought of to be with no talent. Anything you're feeling, he's feeling worse. You're just not digging," Atlas said.
April 2, 2016
Moorer once again found an extra gear, dropping Botha twice in round 11 before finishing the fight in the twelfth. Atlas and Moorer would have one more fight together before splitting prior to a rematch with Holyfield. Atlas was replaced by an upstart trainer: Freddie Roach. Moorer was knocked down 5 times before the fight was stopped after round 8.
Alexander Povetkin vs Ruslan Chagaev – August 27, 2011
To say Atlas had a rocky relationship with Povetkin would be putting it mildly. From the start Atlas clashed with Povetkin's promoter Kalle Sauerland, calling him a "punk" to reporters. Povetkin was unbeaten in their 6 fights together, and Atlas delivered one of his most memorable speeches in their WBA "regular" heavyweight title challenge against Ruslan Chagaev in 2011, pushing Povetkin to fight in memory of his father Vladimir, who died in 2010.
Drawing from a previous speech he had given to Moorer about a matter of minutes lasting forever, Atlas said: "Do you believe in magic? Sometimes we can bring people that left us back. We can bring your father back tonight. You know why? Because they're gonna talk about his son, new world champion. And when they talk about him, they're gonna be thinking about his father."
Povetkin held up a photo of his deceased father after winning the title, but his relationship with Atlas ended the year after, leaving Atlas to declare that he may be done with training forever. "I never want to put everything into a fighter and get betrayed (again)," Atlas told ESPN. 
Luckily for Bradley, Atlas would later change his mind.
Timothy Bradley vs Brandon Rios – November 7, 2015
It took 5 offers from Bradley's wife/manager Monica to replace long-time trainer Joel Diaz, plus the recommendation of Atlas' daughter to get him back in the training game, according to Kevin Iole of Yahoo. The sting of the Povetkin split was still there, and Atlas didn't want to get involved with someone whom he didn't believe in on a personal level. In Bradley, he found a "decent human being" and a partnership budded.
In their first fight together, Bradley was dominant against a Brandon Rios whose best days were clearly behind him. Still, Atlas knew there was more explosiveness in his fighter to unlock. After round 7, he delivered a motivational speech which clearly struck a nerve with Bradley.
"The fire's coming. Are you ready for the fire? We are firemen!" Atlas exclaimed. "The heat doesn't bother us; we live in the heat. We train in the heat."
Bradley maintained eye contact the whole time and was eager to push his game to the next level. In the ninth round, Bradley dropped Rios twice and finished the rugged Mexican-American for the first time in his career.
Bradley and Atlas may have to put out a few more fires on April 9. Whatever happens at the MGM Grand Grand, it's likely to be worth watching – and hearing. – Rappler.com