This year's Arte Suave Manila adds a major twist by opening its doors to purple-belt competitors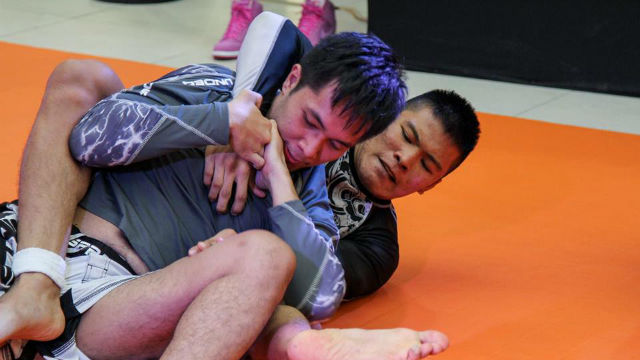 MANILA, Philippines – Triumvirate Fighting Championship is set to stage its second annual Brazilian Jiu-Jitsu tournament dubbed "Arte Suave Manila" from October 29 to 30 at the CommerCenter Alabang in Muntinlupa City.
Arte Suave Manila is a Brazilian Jiu-Jitsu competition that started in 2015, which aims to cultivate the future of the sport in the Philippines and serve as a grassroots platform to discover homegrown talents in a local level.
With its mission to discover and recognize budding practitioners, the two-day tourney originally focused on white and blue belters of the aforementioned martial arts discipline.
Arte Suave Manila will be adding a major twist at this year's event as it opens its doors to purple-belt competitors, who have spent at least 3 years practicing Brazilian Jiu-Jitsu.
The competition will use a standard tournament ladder format in each division and will follow International Brazilian Jiu-Jitsu Federation rules for scoring and sanctioning penalties.
However, Arte Suave Manila made minor adjustments in both Gi and No-Gi categories as all matches will have a 6-minute time period. If necessary, there will be a one-minute tiebreaker.
In addition, no advantage points will be given for near executions of pass, sweep or submission to reduce stalling and impel more aggressive play from all contestants.
One of Arte Suave Manila's main attractions is the submission-only super-fights, where combatants will compete in a 10-minute match. If there is no submission by the end of given time, a draw will be declared.
Arte Suave Manila is set to feature 4 super-fights, but the spotlight is on the battle of the brown belts as Gian Dee of Atos Philippines faces Myron Mangubat of DEFTAC-Ribeiro.
Meanwhile, URCC fighter Drex Zamboanga takes on James Wilson Uy of DEFTAC-Ribeiro.
Gerard Gallos of DEFTAC-Ribeiro shares the mat with fellow purple belt Bryan Lim of Atos Philippines.
Arte Suave Manila will also hold its inaugural female super-fight as Jam Cantos of DEFTAC-Ribeiro squares off with Kaila Napolis of Checkmat Philippines.
Franco Rulloda, the head honcho of Triumvirate Fighting Championship, is expecting a promising turnout at this year's Arte Suave Manila as he looks to bring the Brazilian Jiu-Jitsu tourney to other parts of the country.
"Arte Suave Manila is a league by fighters, for fighters. The sport is growing in the country really fast, and so we're expecting to see high-level Jiu-Jitsu displayed on the mats again this year," he said.
"With a good turnout this year, it can serve as a launch pad for Arte Suave Manila to be introduced outside Metro Manila," Rulloda added.
Rappler is the official media partner of Arte Suave Manila 2016. – Rappler.com