Gotladera, who played for La Salle and Ateneo in the UAAP, admits he must be faster and stronger when he joins the PBA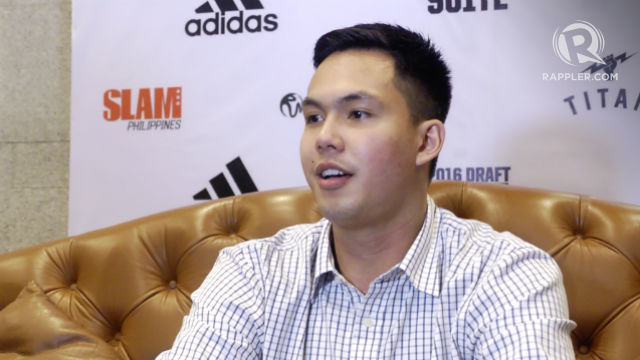 MANILA, Philippines – Former Ateneo Blue Eagles center Fonzo Gotladera sees himself as Marc Pingris-type of player in the PBA, he told the media during the SLAM Draft Suite on Friday, October 28.
Gotladera, who played two years at La Salle before transferring to Ateneo, said, "As of now, I compare myself to a Marc Pingris with the tenacity he has and all the hunger to get rebounds. I think that's the player I can become coming in."
The 6-foot-5 big averaged 4.4 points and 6 rebounds a contest during his final season (2015) with the Blue Eagles, providing the team with a steady presence in the paint.
"I'm confident with blending into any team, cause I've been a team player ever since," he said when asked if there's any PBA franchise he wants to draft him.
The PBA Gilas special draft was already conducted on Thursday, with the results to be revealed on Sunday.
"First I have to be faster. I think that's one aspect of my game that needs to be improved on," he said about what else he needs to improve on.
"Then I think I have to be more stronger, physical-wise, cause I'll be up against I think maybe bigger guys and guys older than me."
On facing larger opponents in the PBA – such as reigning MVP June Mar Fajardo and Greg Slaughter – Gotladera says he's looking forward to the challenge and believes he can present matchup issues as well.
"I'm excited for the opportunity, for the challenge, and I think they might be bigger, but undersized big men also have advantages. I'm excited how it will play out." – Rappler.com