Cleveland grabs a 2-1 lead over Chicago in Major League Baseball's best-of-7 championship showdown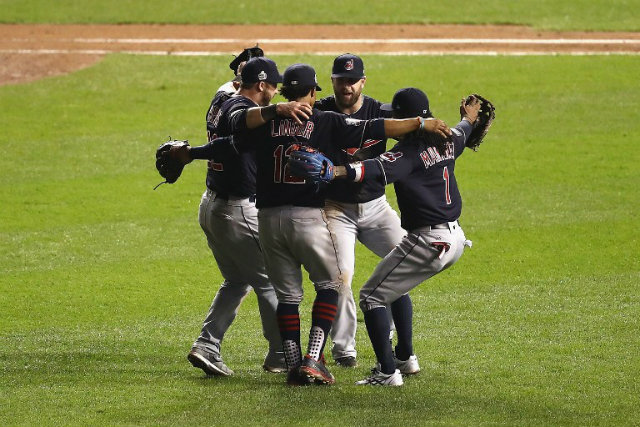 CHICAGO, USA – For the Chicago Cubs to capture their first World Series since 1908 this year and snap America's record longest sports title drought, they must win it in Cleveland after losing 1-0 Friday to the Indians at Wrigley Field.
Coco Crisp singled home Michael Martinez in the seventh inning for the only run as the Indians, despite stranding 7 base runners, won the first World Series game at 102-year-old Wrigley Field since 1945.
"That's a heck of a win," Indians manager Terry Francona said. "We needed something, anything just to put a run across and our staff made it hold up, which was a remarkable effort."
Cleveland grabbed a 2-1 lead over the Cubs in Major League Baseball's best-of-7 championship showdown, which continues Saturday and Sunday in Chicago then returns to Cleveland if more games are needed.
The Indians, seeking their first World Series crown since 1948, took their fifth playoff shutout victory, a major league record for a single post-season campaign, and their second Series blanking of the Cubs.
"We'll learn from tonight, come back and be ready to play tomorrow," Cubs manager Joe Maddon said. "We're seeing good pitching. We have to adjust to it."
Tribe relief pitcher Cody Allen escaped a last gasp by Chicago in the ninth, striking out Javier Baez to end the game with the potential tying run stranded on third base.
"We were in a little bit of a jam there. That's one of those situations you think about throughout the season or spring training or even as a kid. You play that over in your mind," Allen said.
"All you're trying to do is slow the game down as much as possible and just try to make one good pitch. Then you just try to make another one. So we were fortunate enough to string a few good pitches together there and get the last out."
In all, four Cleveland pitchers struck out 8 batters and scattered 5 hits.
The Cubs still have won only two World Series games at Wrigley Field, game 6 in 1945 and game 5 in 1935, both over Detroit.
The game was decided when Cleveland's Roberto Perez singled and was replaced by Indians pinch-runner Martinez, who took second base on Tyler Naquin's sacrifice and third on a wild pitch by Cubs relief pitcher Carl Edwards.
After a pickoff try failed following a video review, Martinez scored on pinch-hitter Crisp's single to right field.
"Coming here and seeing all that blue in the stands, you know the support for the Cubs is worldwide," Crisp said. "Coming in here and getting the victory is big for us."
The Indians did not manage another hit but didn't need it.
Anthony Rizzo led off the ninth for the Cubs with a single to left field, bringing the crowd to its feet for good.
The potential tying run advanced to second on a Wilson Contreras ground out and took third after Jason Heyward reached base on a fielding error by Cleveland first baseman Mike Napoli.
But Baez, who grounded out to end the eighth inning with the potential tying run on third base, was struck out by Allen to send most of the 41,703 spectators home disappointed.
"To be on the field, live that moment of getting the last out and feeling the emotions of getting a win, that's a special feeling," Allen said.
Starters baffle sluggers 
Chicago starting pitcher Kyle Hendricks struck out 6 but surrendered 6 hits and two walks over 4 1/3 innings. 
Cleveland starter Josh Tomlin, who won his two prior playoff starts, allowed two hits with one walk and one strikeout over 4 2/3 innings.
Saturday's starting pitchers will be Cubs right-hander John Lackey, a two-time World Series champion, and Cleveland right-hander Corey Kluber, an 18-game winner who is 3-1 in the playoffs but who will be throwing on short rest after winning Tuesday's opener. – Jim Slater, Agence France-Presse/Rappler.com