The Chicago Bulls are playing with purpose following early season wins over Rajon Rondo's former team the Celtics and the Pacers and Rondo is feeling especially unselfish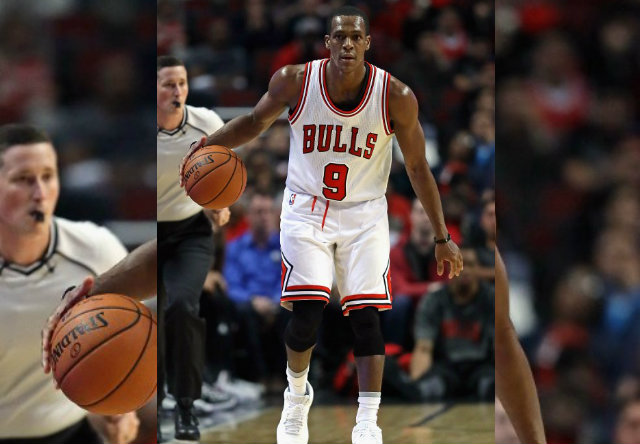 CHICAGO, USA – Point guard Rajon Rondo is leading the way this season for the undefeated Chicago Bulls, who have retooled their roster following the exit of Derrick Rose.
The Bulls are playing with purpose following early season wins over Rondo's former team the Boston Celtics and the Indiana Pacers and Rondo is feeling especially unselfish.
"Everybody wants to score (and) I love passing," Rondo said. "It goes hand in hand."
After trading point guard Rose to the New York Knicks, Chicago overhauled their roster with the addition of 3-time NBA champion Dwyane Wade and Rondo, who signed in the offseason.
Chicago coach Fred Hoiberg has taken the plodding offence that was directed by Rose and turned it into a fast-paced, push-the-ball style with Rondo setting the tone.
"It's been an absolute pleasure," center Robin Lopez said of playing with Rondo. "He sees the floor so well. Greedily, I get a lot of easy buckets.
"He's constantly in attack mode and very generous with the ball. The ball movement has been pretty fantastic."
The Bulls added 7 new players besides Rondo and Wade. Two games into the season they have a total of 59 assists on 81 field goals and Rondo has a whopping 22 of those on 58 minutes of playing time.
Hoiberg wants a point guard who gets the offence organized, calls plays and makes instinctive reads and Rondo is just what the doctor ordered.
"The minute he stepped in that gym in August, he's been committed to talking and setting the tone in practice," Hoiberg said. "It's fun to play with a guy who gets the ball up the floor and gets you open shots. He's done it his whole career."
Rondo said there are no big egos on their team and everybody understands their role once the opening tipoff takes place.
"It's a trickle-down effect. It's contagious," he said. "It starts with the point guard. I'm passing the ball, Michael (Carter-Williams) is doing the same. D-Wade is an unselfish player. Jimmy (Butler) wants to make plays for the next guy."
Chicago also won their first two games last season, beginning with a 22-12 record. The Bulls ended up going 20-28 the rest of the way, prompting the trade of Rose and allowing Joakim Noah to sign with New York in free agency.
Those departures left Jimmy Butler as the main scoring threat and then came the signings of Rondo and Wade. Butler has 40 points in his first two games.
"Everyone wants to play for each other. It's been a thing of emphasis for our team. Guys are finding the next man. It's the right play to make," Rondo said.
The Bulls next game is Monday when they travel to the Barclays Center arena in Brooklyn, New York. – Rappler.com