All 7 former FEU Tamaraws get drafted into the PBA together with 6 ex-NU Bulldogs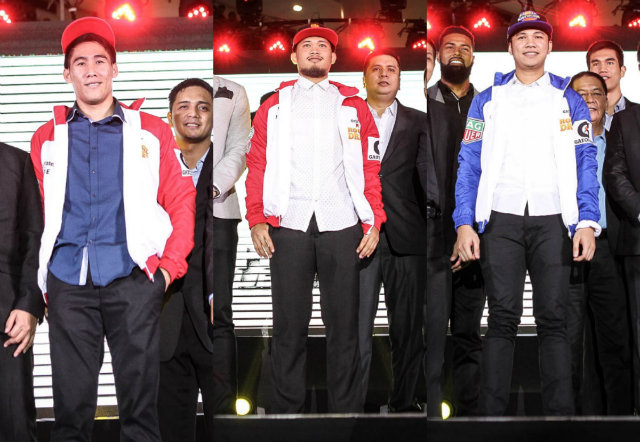 MANILA, Philippines – It's the year of the Tamaraws and the Bulldogs.
A total of 13 players combined from the Far Eastern University (FEU) and the National University (NU) are looking to make their pro basketball dreams a reality after they were selected during the 2016 PBA Rookie Draft held on Sunday, October 30, at Robinsons Place Manila.
Mac Belo, the former UAAP Finals MVP, leads 5 Tamaraws as part of the Gilas Pilipinas pool that joined the PBA through a special draft. Belo was selected first overall by Blackwater.
Mike Tolomia (Rain or Shine), RR Pogoy (TNT), Russel Escoto (Mahindra), and Carl Bryan Cruz (Alaska) are all included in the Gilas draft.
Guards Francis Tamsi and Achi Iñigo, on the other hand, went to Globalport and Phoenix in the second round of the regular draft.
"I'm very happy that all of us got drafted. The Lord is good," Pogoy said in Filipino, beaming.
"I'm glad. I've always been proud of players produced by FEU, so I'm very proud of them," added Tolomia.
All of the Tamaraws in the draft were vital cogs in FEU's run at its first UAAP championship in a decade in 2015. Head coach Nash Racela wished his former players luck on Twitter.
Proud of our FEU boys. Prepare to work harder! Charge!!  pic.twitter.com/PW3TO9e5JP

— Nash Racela (@scwtN) October 30, 2016
Pogoy will be reuniting with Racela at TNT, a prospect that excites the 24-year-old Pogoy just as much as the thrill of going against his former teammates in the PBA.
"I achieved my dream and I'll be with coach Nash again, I'm very excited. We all know TNT is a great team," he said. "And I'm very excited to face them (former teammates) because we've been together for 5 years."
Meanwhile, members of the 2014 champion team for the NU will also begin a new journey as professional players, some even as teammates.
Gelo Alolino, Jeoffrey Javillonar, and Nico Javelona were all drafted by Phoenix and could play together again if they all end up signed.
Reden Celda, Tristan Perez, and John Eman, on the other hand, went to NLEX, Blackwater, and Globalport, respectively.
"We all played together before, so I'm excited," Alolino, who does not plan on relaxing with a big opportunity before him, said in Filipino. "Hopefully we all sign contracts together with Phoenix."
Guard Celda did not expect to get picked by NLEX after he worked out with Mahindra and Phoenix priot to the draft. Nonetheless, he welcomed the chance to be coached by Yeng Guiao and to team up once again with another former Bulldog, Glenn Khobuntin.

"I'll show them every practice that I deserve whatever minutes they give me," he said. "I'm happy that Glenn's there, he's my friend, so there won't be too many adjustments."
These former FEU and NU boys will soon become men when the new PBA season opens Novemebr 20. – Rappler.com