The Cubs must level the Series to force a seventh game that would decide which hoodoo would finally end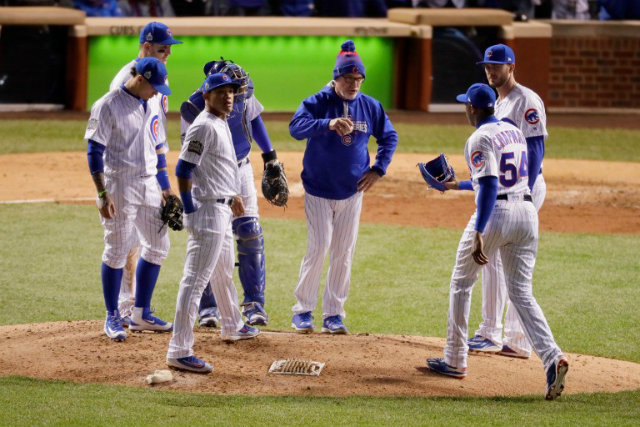 CLEVELAND, USA – On the brink of extending America's longest sports title drought, the Chicago Cubs need a victory Tuesday, November 1 (Wednesday in Manila) at Cleveland to force a winner-take-all showdown for the 112th World Series crown.
The Indians own a 3-2 lead in Major League Baseball's best-of-7 final and are trying to end their own epic championship futility run, last lifting the trophy in 1948.
The Cubs, playing in their first World Series since 1945, last won the title in 1908.
"Even getting to (this) juncture definitely is going to stand out for many years," Cubs manager Joe Maddon said. "Now it's up to us to take it to that seventh game. Then you're really going to have a classic that everybody will remember."
The Cubs must level the Series on Tuesday to force a seventh game Wednesday that would decide which hoodoo would finally end and which team's long-suffering fans would face more heartbreak.
"I've never wanted to play game 7 of a World Series as much as I want to right now," Maddon said.
Cubs right-hander Jake Arrieta, last year's Cy Young Award winner as best National League pitcher, gets the nod again Tuesday after tossing 5 1/3 no-hit innings in Chicago's game-two triumph – the deepest no-hitter bid in a World Series game since 1969.
"We know if we lose we go home," Arrieta said. "We know we've got a challenge on our hands, but this isn't a time of year where anything's going to come easy. We're going to have to earn it."
The Indians counter with right-hander Josh Tomlin, 2-0 in the playoffs, taking the mound on short rest after starting game three, which Cleveland won 1-0.
"The preparation really doesn't change that much," Tomlin said. "You listen to your body a little bit more on the couple days leading up to it, do what you're capable of doing. The body is feeling good.
"I know it's a game 6 and we have a chance of winning a World Series, but you still can't have that mindset of trying to go out there and win the game in the first inning."
Cleveland's short rest factor also hit two-time Series loser Trevor Bauer in game 5 and Corey Kluber, who won the opener a week ago and game four Saturday, would have a second short-rest start if a seventh game is needed on Wednesday.
"Facing Kluber a couple times in this series has made it tough on us," Arrieta said. "He has been great, and on short rest he threw the ball tremendous."
Maddon said short rest should take its toll on the Tribe.
"You would want to believe it should be helpful," Maddon said. "Most pitchers in today's game are used to normal or even an extra day rest as opposed to one less, and especially this time of the year there's going to have to be an adrenaline surge, at least for the Cleveland pitchers, that makes them feel up to par."
But Maddon also notes the rare skills of Andrew Miller and Cody Allen, Indians relievers who have been able to go multiple innings consistently, a rare feat.
"They have abnormal guys out there that are able to do things that I haven't seen," said Maddon. "These guys are human. They only have so many abilities to throw a baseball within the year."
Designated hitters are back
Shifting the scene back from Wrigley Field to Cleveland also returns the designated hitter to bat in place of pitchers, American League rules being used in the AL champion Indians' ballpark.
That allows the Cubs to reinsert slugger Kyle Schwarber into the lineup after he was benched in Chicago.
"It gives them some thunder that they will situate right in the middle (of the lineup), which you have to respect," Indians manager Terry Francona said. – Jim Slater, Agence France-Presse/Rappler.com