Kevin Durant has his best game of the NBA season in a matchup against his former team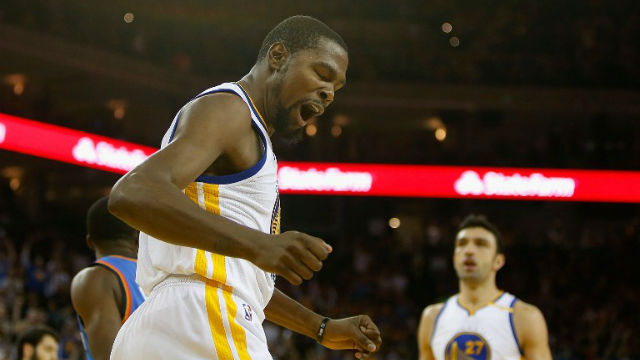 LOS ANGELES, USA – Golden State forward Kevin Durant dropped 39 points on the Oklahoma City Thunder on Thursday, November 3 (Friday morning, Manila time) to lead the Warriors to an emphatic 122-96 victory over his former NBA team.
Durant shocked many when he opted to join the Warriors as a free agent after Golden State ousted the Thunder in last season's Western Conference finals.
Durant downplayed the idea that there was extra emotion in the contest against the Thunder and former teammate Russell Westbrook.
But he looked plenty fired up in connecting on 7 3-point attempts, helping the Warriors to their fourth win in a row after a season-opening loss to San Antonio.
Golden State handed the Thunder their first defeat of the young season.
Westbrook scored 20 points with 10 assists and 6 rebounds for the Thunder, who were coming off a tough 85-83 victory over the Clippers in Los Angeles on Wednesday.
"We just wanted to come out here and play a good brand of basketball," Durant said. "We wanted to defend, get out in front … we get a lot of points up and get stops on the defensive end, we're pretty good, so it's a good night for us."
Durant, who averaged 27.4 points over 9 seasons in Oklahoma City before departing as a free agent, was a force from the opening tip off on Thursday.
He drained a 3-pointer on Golden State's first possession and had 13 points in the first period to help the Warriors battle back from an early deficit.
Klay Thompson hit a 3-pointer and Stephen Curry, twice fouled on 3-point attempts, connected on 5 of 6 free throws as the Warriors used a 14-4 spurt to go up 52-38 in the second quarter.
Three more 3-pointers from Durant helped swell the advantage to 68-43 at halftime.
The Warriors shot 51.1 percent overall. Draymond Green and Zaza Pachulia pulled down 10 rebounds apiece for Golden State.
Victor Oladipo made 4 3-pointers and led the Thunder with 21 points. Rookie Domantas Sabonis added 13 and Steven Adams 11.
Westbrook was booed lustily by Golden State fans when the teams were introduced. Meanwhile, social media pundits breathlessly wondered if his decision to wear a photographer's bib when arriving at the arena was a dig at Durant – who enjoys photography as a hobby.
Warriors coach Steve Kerr said he thought Durant had been portrayed unfairly as denigrating his former team in some pre-season comments.
"He said something about, he loves his new teammates," Kerr said. "That was somehow construed that he didn't love his old teammates.
"It's almost like he has to qualify everything he says by making sure he doesn't insinuate anything."
Asked if he was relieved to have the much anticipated first meeting with Westbrook and the Thunder out of the way, Durant insisted he wasn't focused on the reunion.
"I'm worrying about tomorrow we play the Lakers, trying to finish off this back-to-back," he said. "Keep trying to get better, man, that's all I'm worried about." – Rappler.com